Was ist Top Hat?
Verbessere das Engagement der Studierenden in der Vorlesung oder im Hörsaal, baue das Verständnis der Studenten mit einer Anwendung für das Engagement der Studenten in der Hochschulbildung auf. Beschleunige den Erfolg der Studierenden sowohl innerhalb als auch außerhalb des Hörsaals. Top Hat ist die End-to-End-Plattform für das Engagement von Lehrern und Schülern für Pädagogen.
Wer verwendet Top Hat?
Top Hat macht das Unterrichten von Universitäts- und Hochschul-Professoren unterhaltsam und effektiv. Motiviere deine Studierenden, indem du Fragen stellst, Diskussionen startest und das Wissen der Studierenden mit einer einzigen App misst.
Wo kann Top Hat bereitgestellt werden?
Cloud, SaaS, webbasiert, Android (mobil), iPhone (mobil), iPad (mobil)
Über den Anbieter
Top Hat
Ansässig in Toronto, Kanada
2009 gegründet
Telefon-Support
24/7 Live-Support
Chat
Erhältlich in diesen Ländern
Australien, Kanada, Vereinigte Staaten, Vereinigtes Königreich
Über den Anbieter
Top Hat
Ansässig in Toronto, Kanada
2009 gegründet
Telefon-Support
24/7 Live-Support
Chat
Erhältlich in diesen Ländern
Australien, Kanada, Vereinigte Staaten, Vereinigtes Königreich
Top Hat – Videos und Bilder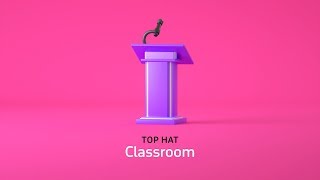 Kosten ähnlicher Produkte wie Top Hat vergleichen
Top Hat Funktionen
Anpassbare Fragen
Anwesenheitsmanagement
Asynchrones Lernen
Aufgabenmanagement
Befragungs-/Umfragemanagement
Berichterstattung / Analyse
Beurteilung-Management
Bildschirm teilen
Datenanalyse-Werkzeuge
Datenvisualisierung
Echtzeit-Chat
Echtzeit-Daten
Echtzeit-Übertragung
Feedback-Management
Fortschrittsverfolgung
Fragenkatalog
Gamification
Gemischtes Lernen
Gruppenarbeitsräume
Höhere Bildung
Integrierter Autorensystem-Kurs
Interaktives Lernen
Interaktives Whiteboard
Klassenbücher
Klassenterminplanung
Kommunikationsmanagement
Kurs-Tracking
Kursverwaltung
Live Results Sharing
Mehrere Fragetypen
Mobile App
Mobiles Lernen
Portal für Lernende
Präsentations-Tools
Quiz
Sitzungsaufzeichnung
Studenten-Management
Studenteninformationen/-dokumente
Studentenportal
Stundenplan-Management
Synchrones Lernen
Test-/Quizerstellung
Tests/Bewertungen
Umfragen & Feedback
Umfragen/Abstimmungen
Urlaubsverfolgung
Virtueller Klassenraum
Vorlagen-Management
Wertung
Zwei-Wege-Audio und -Video
Vaidas
Associate professor in USA
Verifizierter Nutzer auf LinkedIn
Bildungsmanagement, 501-1.000 Mitarbeiter
Verwendete die Software für: Mehr als 2 Jahre
Excellent for its purpose in education
Kommentare: Overall, I have had positive experience with the platform and I would encourage educators to at least take a look and decide if it suits for you. There is no 'one size fits all' approach in higher education.
Vorteile:
I have used the platform for years. Started using it to take attendance, but then transitioned to a more inclusive approach. What I like the most is that you can setup your lecture flow with PowerPoints, include quizzes/assessment points throughout, include videos (or other multimedia), and export grades/attendance at the end. There are a lot of small features that can be catered to individual faculty needs, such as types of questions, integration, etc. Their tech support is excellent! They helped me transition my course to tophat in no time.
Nachteile:
I liked everything about the platform as it suited my needs. My only issue is the pricing model where the students have to pay for access individually. Not all of my students have the means to pay for access (which can really impact their grade if they don' use the platform). However, there is a discount if the platform is used in multiple classes. I also think they have site licenses, too.
SB
Teaching Assistant in USA
Hochschulbildung, 1.001-5.000 Mitarbeiter
Verwendete die Software für: 6-12 Monate
Easy to use and helpful features
Kommentare: Overall I am pretty happy with Top Hat. It would definitely fall in the upper end of programs I have used. The students also seem to enjoy it as well.
Vorteile:
I was able to log into Top Hat and immediately start using it without any training. It's a pretty intuitive site. Seeing the grades and attendance is straightforward and has been easier to edit than other programs that I have used.
Nachteile:
When students are submitting their quizzes or comments there is major lag time and I am not sure if that is because of the software or internet connectivity. I am never entirely sure if I know how many people have turned in their questions. Until about 3 minutes after the questions is over. Also, I wish there was a way to edit slides when they are posted into Top Hat because when I upload sometimes the slides become distorted and I need to make the text smaller or rearrange it so that it fits on the screen and can be read. Also, sometimes the link to videos do not work.
Verifizierter Rezensent
Web Designer in USA
Verifizierter Nutzer auf LinkedIn
Non-Profit-Organisation Management, 2-10 Mitarbeiter
Verwendete die Software für: 6-12 Monate
It works, but isn't the most cost effective solution
Vorteile:
Students answer questions in real time and the percentages of what answers were chosen can then be displayed.
Nachteile:
As a student who had to use the software, the cost can be annoying. You have to pay based on how long you think you'll need the software, which you won't always know if you're not sure whether future classes will use the software. For example, you might decide to pay for 1 years use because it's "cheaper" over time, but you only ended up having a class use it for 3 months. So you wasted money paying for the rest of the subscription and the company gets more money from struggling college students. And of course, the opposite could happen where you pay for 1 quarter, then another classes uses it and you'd have to pay for it again. Before Top Hat came along, iClicker was the more commonly used tech and does the same job. With iClicker, you only had to pay one time for the remote and then you could sell the remote to another student, which was much more cost effective for students.
Shaylynn
Project Manager in USA
Verifizierter Nutzer auf LinkedIn
Bildungsmanagement, 10.000+ Mitarbeiter
Verwendete die Software für: 6-12 Monate
Top Hat Student Review
Kommentare: It has helped me so much with this class. It has given me a new way to go about grasping the material and I would highly suggest it to other people.
Vorteile:
I used it in my economics class, and we had embedded questions within our chapters. It really makes you slow down to understand and grasp the concepts.
Nachteile:
We had problems with being able to go back and view which questions were answered correctly or incorrectly. I also wish there were more functions like notes and bookmarks along with the highlighting.
Verifizierter Rezensent
Law Student in USA
Verifizierter Nutzer auf LinkedIn
Hochschulbildung, 51-200 Mitarbeiter
Verwendete die Software für: 1-5 Monate
Easy to Use Learning Tool
Kommentare: Top Hat is a wonderful asset to have, and I'm glad my professors have been utilizing it. It has increased the regularity and clarity of communication between myself and my professors.
Vorteile:
When it comes to student/professor education software, I have found, as a student, that my favorite software programs are ones that professors are able to access and utilize with ease. The reason for this is that when professors utilize the functions available on education software, my life gets easier. Instead of dealing with streams of AOL emails, I get succinct and clean information and communication through a user-friendly platform. My professors who use Top Hat are VERY comfortable with it and seem to maximize its potential. Top Hat is easy for me to use, and it's evidently really easy for my professors to use. It's clean, sleek, and really user-friendly. Also, I like how Top Hat is device-friendly; their mobile app is great.
Nachteile:
I've been using it for a few months and have not yet run into anything that I have a problem with. Everything's been great so far.