Was ist ATOM?
All-in-one tax practice solution that enables tax and bookkeeping offices to speed up the processing of tax returns, manage their everyday activities, and easily communicate with clients.
Wer verwendet ATOM?
Designed for tax and accounting businesses, it is a practice management solution that automates operations including invoicing, billing, accounting, online reviewing, scheduling, and more.
Wo kann ATOM bereitgestellt werden?
Cloud, SaaS, webbasiert
Über den Anbieter
Automated Tax Office Manager
Ansässig in Lansing, USA
24/7 Live-Support
Erhältlich in diesen Ländern
Vereinigte Staaten
Über den Anbieter
Automated Tax Office Manager
Ansässig in Lansing, USA
24/7 Live-Support
Erhältlich in diesen Ländern
Vereinigte Staaten
ATOM – Videos und Bilder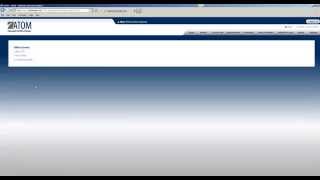 Kosten ähnlicher Produkte wie ATOM vergleichen
ATOM Funktionen
Abrechnung & Rechnungsstellung
Dokumentenmanagement
Kundenportal
Steuererklärungen
Workflow-Management
Ian
Founder in Kenia
Verifizierter Nutzer auf LinkedIn
Computer-Software, 2-10 Mitarbeiter
Verwendete die Software für: 1-5 Monate
Smart & Cost Effective Automation of Customer Experience Data
Kommentare: Using ATOM for automating how we choose who gets to work on specific projects as well as streamlining our financial checks and balances across all of our remotely located teams has been quite the experience.
Vorteile:
What I like the most about using ATOM is the high-level automation we receive in how we handle the information we collect about the experiences of our customers using our data. We've been able to gain impactful insights about how our each of our individual team members performs in varied conditions so now we're now able to use tried and tested data to match them to situations and clients they're all specifically suited to.
Nachteile:
What I liked least about ATOM was the fact that their Tax Automation systems still don't support some international taxation models, especially on our side of the world. We've seen their demos and we think they'll work pretty well for us; but the service just isn't available here.
Computer-Software, Selbstständig
Verwendete die Software für: 1-5 Monate
Versatile Text Editor
Kommentare: Overall, ATOM makes developing a much easier task. I use it to develop JAVA, HTML, and CSS and it's hands down the best text editor I have used.
Vorteile:
As a open source text editor, ATOM offers many extensions that make it much more desirable to work with over other text editors. Emmet for example makes working with HTML5 and CSS a breeze and makes working much quicker.
Nachteile:
To date the only annoyance I have encountered is the fact that the welcoming pages always need to be closed. Otherwise the software has given me no issues!
Russell
CEO in USA
Verifizierter Nutzer auf LinkedIn
Buchhaltung, 2-10 Mitarbeiter
Verwendete die Software für: 6-12 Monate
A budget offering with usability issues
Kommentare: Hard to administer. Time consuming to configure. Several clients told me that they hated it and one refused to use it altogether. Security practices that were recommended to me were questionable and I don't believe that their so-called KBA is actually compliant with industry requirements as it does not rely on any third party to verify the identity of the signer.
Vorteile:
Flat pricing that is quite reasonable for all of the functionality it offers.
Nachteile:
The design (visual and UX) is reminiscent of the mid nineties. Everything is hard to use and clunky. Clients hated using it and found it hard to navigate.
Mariam
Sales Manager in Georgien
Verifizierter Nutzer auf LinkedIn
Bankwesen, 5.001-10.000 Mitarbeiter
Verwendete die Software für: 6-12 Monate
Truly Great text editor
Kommentare: It is also extremely quick and its interface is fairly accessible and manageable, and it can be customised to suit our needs and comfort. It's really helpful for us. Due to its many purposes, it suits us when working in web development. It's so powerful that it is useful for us not only for the members we consider to be novices but also for our expert programmers and thus it's suited for all levels, taking advantage of their varied talents, capacity and functions.
Vorteile:
When we require a different code editor with progressed alternatives, usually the one shown since it contains numerous plugins and addons that come from the clients of the program, either depending on the code we are progressing to alter or the syntax, this is often the one that has the way better libraries since it is exceptionally expandable, we are able divide our venture into numerous windows separated from that it is flexible with the command orders allotting their claim color, as well as a real-time blunder finder, from the same program able to include the addons that Clients offer to quicken time and exertion depending on the work we alter, and in its plan it has different topics.
Nachteile:
Atom can boot slower than modern alternatives, especially when more plug-ins are added. Alternative text editors also appear to be supplied directly out-of-the-box with many additional capabilities, which I consider very useful - even if Atom is promoted as a modular editor that should be tailored for the user. Unfortunately, it is not always successful to rely on an open-source development team to enhance and sustain the product over time, while I see the allure of open-Source software.
Misty
Certified Real Property Appraiser in USA
Verifizierter Nutzer auf LinkedIn
Buchhaltung, 2-10 Mitarbeiter
Verwendete die Software für: 1-5 Monate
AMAZING!!!
Kommentare: The benefits include quicker and more accurate communications/feedback with clients. We have been using ATOM for less than 30 days so we are just beginning to see some of the benefits.
Being able to take a phone message and note the file saves so much time and allows for better follow-up and follow-through. We no longer have to write a phone message and then locate the paper file to make notes. Much more efficient.
Vorteile:
The office management software is everything you need to track clients. Everyone in the office can quickly see the status and note a phone call, message other office staff, or add needed documents without having to interupt the staff member working on the client file or go locate the actual paper file. IT WORKS! The client portal for secure communication with clients is just icing on the cake.
Nachteile:
Wish we would have known about it sooner. We do wish there was an option to pay in full and not require monthly fees. Maybe a limited service to retain client data in same formats even if you could not make changes in the event a business wanted to downsize or close. We have no intentions of closing but was a concern if we no longer wanted a monthly expense. I do wish there was a one button option for moving someone from the lobby to tax prep. Something like the check-in option that front desk staff could click to move clients to each preparers office without accessing the office event screen but this is such a minor thing.