Was ist 1Password?
Sorgst du dich um schwache Kennwörter und die Wiederverwendung von Kennwörtern, die die Sicherheit deines Unternehmens beeinträchtigen könnten? Verbringen deine IT-Teams die meiste Zeit mit Passwort-Reset-Anfragen? Löse diese Probleme mit 1Password! Es ist einfach zu implementieren und zu verwalten und über 30.000 Unternehmen und mehr als 15 Millionen Benutzer weltweit vertrauen ihm.
Wer verwendet 1Password?
1Password bietet Lösungen für Unternehmen, Familien und Einzelpersonen.
Wo kann 1Password bereitgestellt werden?
Cloud, SaaS, webbasiert, Mac (Desktop), Windows (Desktop), Linux (Desktop), Windows (On-Premise), Linux (On-Premise), Android (mobil), iPhone (mobil), iPad (mobil)
Über den Anbieter
1Password
Ansässig in Toronto, Kanada
2005 gegründet
Telefon-Support
Chat
Über den Anbieter
1Password
Ansässig in Toronto, Kanada
2005 gegründet
Telefon-Support
Chat
1Password – Videos und Bilder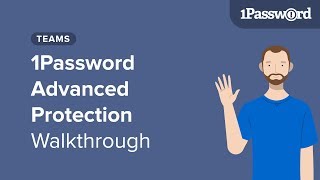 Kosten ähnlicher Produkte wie 1Password vergleichen
1Password Funktionen
Aktivitäts-Verfolgung
Alarmfunktion / Benachrichtigungen
Audit Trail
Bedrohungsanalyse
Benutzer-Bereitstellung
Benutzer-Management
Berechtigungsnachweis-Management
Berichterstattung / Analyse
Cloud-Anwendungssicherheit
Compliance Management
Datensicherheit
Einmalige Anmeldung
Gerätemanagement
Kennwortsynchronisierung
Multi-Faktor-Authentifizierung
Netzwerksicherheit
Passwort-Generator
Passwort-Management
Privileged Account Management
Richtlinien Managemen-
Schwachstellen-Schutz
Sichere Datenspeicherung
Verschlüsselte Passwortspeicherung
Zugangsmanagement
Zugriffskontrollen / Berechtigungen
Alternativen für 1Password
Bewertungen über 1Password
Ronita
Owner in USA
Verifizierter Nutzer auf LinkedIn
Medienproduktion, 2-10 Mitarbeiter
Verwendete die Software für: 6-12 Monate
1Password is the Only Password Manager You'll Need
Kommentare: When it comes to your cyber security and personal data 1Password is the way to go. There is an old saying you get what you pay for but with 1Password you get more. It is well worth the money. Having all your passwords and data needs centrally located in one space will allow you to focus less on your security and remembering all your passwords and more on living and working. A definite recommendation.
Vorteile:
Interface & Accessibilty - The interface is very simple yet powerful creating an intuitive experience that even the least tech savvy can navigate easily. Additionally, it works on all devices and operating systems. Customizable plans - They have 5 different plans available based on your need, whether it's personal or business. Each plan has a different level of features on top of the standard feature, including extra storage and real time monitoring. Live to monitor - As mentioned before they have Live Monitoring and dark web monitoring to ensure that your data isn't being sold or stolen. Pricing - Very affordable and probably underpriced for the amount of features you receive even on the base pricing level.
Nachteile:
The only con I've found with this software is the customer support. While the help desk and customer support is very in-depth and helpful, there is no phone support option, which would be nice if something came up and you needed to speak to a person. Thus far this hasn't been an issue for me, but others may have an issue with this.
Eric
Operation Manager in Kanada
Informationstechnologie & -dienste, 2-10 Mitarbeiter
Verwendete die Software für: Mehr als 2 Jahre
In Betracht gezogene Alternativen:
Very easy to use password manager
Kommentare: All is good so far. Quite happy with the product
Vorteile:
Easy to use and deploy. Very familiar with this software make it easy to use too.
Nachteile:
Pricing can be lower a bit. Compare with the other product in the market
Lawrent
owner in Frankreich
Verifizierter Nutzer auf LinkedIn
Bildungsmanagement, 2-10 Mitarbeiter
Verwendete die Software für: Mehr als 2 Jahre
an impressive tool
Kommentare: Remembering all passwords can be a hassle especially if you don't want to keep too easy-to-guess passwords. 1password allowed me to quickly generate strong passwords and store (and forget) them, relying on the app to autofill and securely keep the passwords at hand. However, with similar services for free such as Keychain or Chrome's password management app, it makes me question the need for paid applications just to get a few more features. For the price though, those features might be worthwhile.
Vorteile:
It is easy to create an account, affordable (starts at $2.99 a month), and very intuitive to use. I like the Watchtower feature that alerts you of weak / compromised / reused passwords so you can keep up with your level of security. I like the autofill and password generator features, and the sense of security the app provides (multi-factor, auto sign-off, travel mode). 1 GB of encrypted file storage provides plenty of storage if you need that much.
Nachteile:
like with any online service, basically, the fact that all my secure password are out in the cloud, is always a bit worrying. I found Laspass's dark web feature interesting, and 1password seems to be missing it.
Travis
Senior Manager, IT in USA
Non-Profit-Organisation Management, 51-200 Mitarbeiter
Verwendete die Software für: Mehr als 2 Jahre
In Betracht gezogene Alternativen:
Inexpensive, Easy to Use Password Manager
Kommentare: 1Password was a great solution for us. Prior to implementation, staff where using any number of methods to remember their logins, including using the same logins multiple times and writing their passwords on post-it user their keyboard. Needless to say, this was not a great security system. 1Password has been a blessing. Each user can store their own information in their private vault. You can also create shared vaults for shared items, such as the copier code for a specific department of the WiFi password for staff. You can store more than just logins - there are a number of templates for securing and sharing information securely with your team.
Vorteile:
Every staff member in our organization now have the ability to use a unique, completely randomized password for every login. All they need to remember is their "1Password" to unlock the application and all of their information is stored.
Nachteile:
There are multiple levels of authentication when setting up a new device, which provides great comfort in the cybersecurity realm. Some of our less tech-savvy users sometimes require help getting up and running. We added this to our onboarding process and it take out IT an extra 5 minutes, but allows our staff to simple "use" the application.
moses
Freelancer in Südafrika
Schreiben & Editieren, Selbstständig
Verwendete die Software für: 6-12 Monate
A very convenient assistant
Kommentare: Usually I need help navigating through a new website or software , but on my first use of 1Password, it felt like i knew what i was doing, a software doesn't get any easier to use than this. At first i was a bit skeptical about using a password manager because i've had a bad experience of a software crashing on me when i needed it most( i almost lost one of my social media accounts) ; But I've learned to trust on a software again ,I now keep copies of my Identity documents, driver's licenses, my business contracts, passports, and a lot of my legal documents i get from any deals i make.
Vorteile:
Its shared vault feature is one of the perfect feature for me and my family because we do a lot of online banking in the family computer. I like its cloud storage as well.
Nachteile:
It doesn't have a free plan for people who can't afford to pay to use it. The cloud storage should be increased.