Was ist iHasco?
iHASCO ist eine cloudbasierte Plattform für Gesundheits- und Sicherheits-, Personal- und Compliance-Schulungen mit einer Bibliothek von mehr als 80 interaktiven videobasierten Kursen.
Die Kurse sind von IOSH, IIRSM, ROSPA genehmigt und CPD-akkreditiert. Das Training kann zu jeder Zeit, an jedem Ort und auf jedem Gerät vollständig oder teilweise abgeschlossen werden.
Mit iHASCO erhältst du eine/n ernannte/n Account-Manager*in und konkurrenzlosen Support von echten Menschen am Telefon, per E-Mail oder im Live-Chat.
Wer verwendet iHasco?
Kleine bis mittlere Unternehmen in ganz Europa.
iHasco – Details
iHASCO
2005 gegründet
iHasco – Details
iHASCO
2005 gegründet
iHasco – Videos und Bilder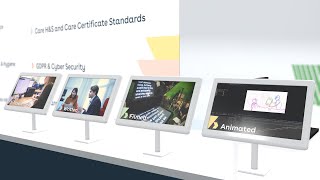 Kosten ähnlicher Produkte wie iHasco vergleichen
Startpreis
127,00 $/Jahr
59,00 $/Monat
9.500,00 $/Jahr
Nicht verfügbar
iHasco – Bereitstellung und Support
Training
Live Online
Dokumentation
Funktionen von iHasco
API
Aktivitäts-Dashboard
Aktivitäts-Verfolgung
Anpassbare Berichte
Asynchrones Lernen
Aufgabenmanagement
Ausbildungsbetriebe
Autorensysteme
Berichterstattung / Analyse
Berichterstattung und Statistik
Beurteilung der Kompetenzen
Beurteilung-Management
Compliance Management
Content-Management
Drittanbieter-Integration
E-Commerce-Management
Echtzeit-Berichterstattung
Einmalige Anmeldung
Erinnerungen
Fortschrittsbericht
Fortschrittsverfolgung
Fähigkeiten-Nachverfolgung
Gamification
Gemischtes Lernen
Hochschulbildung/Erziehung
Inhalt-Bibliothek
Integrierter Autorensystem-Kurs
Integriertes LMS
Kontaktmanagement
Kundenspezifisches Branding
Kursverwaltung
Lernmanagement
Lernpfade/-verläufe
Mehrsprachig
Mobiles Lernen
Modellierung & Simulation
Portal für Lernende
SCORM-Compliance
Selbst-Lernen
Soziales Lernen
Synchrones Lernen
Tests/Bewertungen
Trainingsmanagement
Trainingsverwaltung
Umfragen & Feedback
Unternehmen/Geschäft
Verwaltung von Trainings-Aufzeichnungen
Virtueller Klassenraum
Zertifizierung und Lizenzierung
interaktive Inhalte
Shashank P.
Internet Marketing Analyst in Indien
Verifizierter Nutzer auf LinkedIn
Informationstechnologie & -dienste, 5.001-10.000 Mitarbeiter
Verwendete die Software für: Mehr als 2 Jahre
Best and Latest Mental Health Online Training Platform
Kommentare: Overall experience was good to take the latest training about covid and safety purposes.
Vorteile:
iHasco provide the the best and compliance knowledge about mental health, It provides best properties, and uses of the topic which you have interested. The also provide all information about the conditions it can cause.
Nachteile:
I am facing that some of slides are not always open directly and some time broken. It is also makes some information old practices.
Antwort von iHASCO
letztes Jahr
Thank you so much for your feedback Shashank. I will also ask our technical support team to investigate the issues you were having with the slides. Please do feel free to contact me directly if there is anything else I can help with. Best Regards Amanda Lowndes hello@ihasco.co.uk
Kristian H.
Delivery, Liaison and Development Manager to Jaguar Land Rover in UK
Verifizierter Nutzer auf LinkedIn
Unternehmensberatung, 201-500 Mitarbeiter
Verwendete die Software für: 6-12 Monate
Very valuable experience, really puts things into perspective, certainly learned something new
Kommentare: Really just a broader awareness of potential mental health issues. Many things are taken for granted at work or can be overlooked because of the challenges of work commitment when really they should be glaringly obvious in front of you. This software serves to remind us that we are all human and as such, are vulnerable to stress, anxiety, depression when subjected to unrealistic targets and objectives for lengthy periods of time. . It suggest that working just outside our comfort zone is essentially a good thing, something for the most part I would concur with but for how long though? Can you be comfortable in working out of your comfort zone? a slight paradox but surely there must be a limit to how long you can sustain that way of work life. An hour well worth spending though as there is always something new to learn when undertaking the kind of training.
Vorteile:
It is very clear and easy to listen to. It makes you think of how you engage with colleagues who display some of the symptoms discussed which previously may not have been identified as mental health issues, it clearly identifies your role s a manager when dealing with potential sufferers. Most importantly, I doubt that very few people undertaking this training will not have seen some characteristic in their own well being which they haven't previously identified. I will certainly look at myself in the mirror more often and make sure that I am fully on the ball with mental health awareness and well being.
Nachteile:
There was little not to like. like most training exercises and programmes, areas are covered which most people already have an understanding of but for me, this serves to refresh the memory before embarking on training in areas that I am unaccustomed and have limited experience with. I think the value for money rating is not necessarily valid for general users like myself, I have no idea what the programme costs so not really qualified to make comment. That aside it was well worth an hour of my time.
Antwort von iHasco
vor 3 Jahren
Thanks for the in depth review Kristian!
Verifizierter Rezensent
Senior Copywriter in UK
Verifizierter Nutzer auf LinkedIn
Marketing & Werbung, 10.000+ Mitarbeiter
Verwendete die Software für: Kostenlose Testversion
iHasco eLearning Review
Vorteile:
Nothing really. I suppose it's a blessing that you can hide the tab when you see how unhelpful this particular content is. I also like the goals of the people who made it - it is genuinely a very good aspiration to look after your staff's mental health, it's just terribly executed.
Nachteile:
It seems all wrong for something purporting to help people deal with mental health issues. I'm sure the aim is good - remove the stigma around mental health etc, but it's all phrased as if you can just change your approach and be happy, not depressed. Telling people to replace negative thoughts with positive ones isn't massively helpful, for example. Also, I know it's a feature of the software, but I couldn't help imagining people with mental health problems thinking, 'OK, I'm being made to watch these videos - I'll actually turn the sound up and watch them all the way through' and then feeling even more hopeless afterwards.
Antwort von iHasco
vor 3 Jahren
Thank you for taking the time to leave us your honest review after looking at our Mental Health Awareness Training. The course has been designed to talk about mental health openly and to remind people that there are many small, daily tools that you can use to improve it, but not every option will work for all. We wanted to offer a range of insights and options for people who sit at all different places on the spectrum - including those that are maintaining good mental health and those that want some new things to try. We also offer awareness of - and signposting for - people that are struggling with poor mental health or mental illnesses. We hope this course helps to highlight the importance of looking after yourself, and how your organisation can look after you. Please do feel free to contact me directly if there is anything else I can help with or with any ideas that you feel could improve the course content and delivery. All feedback is greatly appreciated.
Jennifer J.
BI Developer in UK
Krankenhausversorgung & Gesundheitswesen, 1.001-5.000 Mitarbeiter
Verwendete die Software für: Mehr als 1 Jahr
A Training Hub
Kommentare: I have been able to pass courses my company has given me, whilst also watching videos and answering questions easily. The site is easy to navigate, and I get helpful emails when a course I have completed is expiring.
Vorteile:
I have used iHasco for the past year via the company I work for. They set up courses for us to learn about. What I like about iHasco is that it shows all courses available to me, how long they will take, and if any are outstanding and by how long. I also get frequent email updates when a course I have taken has expired or is outstanding, which is a good reminder for me and I have used the updates to complete training that may have slipped through the cracks.
Nachteile:
I didn't seem to find a way to be able to fast forward through videos. On a repeated course that I have to take yearly, I understand I am meant to learn from the start, but I wish there was a way to either see a text version or to maybe up the speed to 1.5x as the course that was set was 30 minutes long.
Bryan L.
HSQE Manager in UK
Verifizierter Nutzer auf LinkedIn
Verwendete die Software für: Mehr als 2 Jahre
Easy to learn software, allows you to learn at your own pace, great for a busy office !
Kommentare: I've been able to undertake DSE learning at my own pace, in the way I've preferred.
Vorteile:
Being able to stop and start learning when time permits. Also the ability to run sessions over and over.
Nachteile:
Can't ask anyone any questions to clarify or explain in greater detail as is possible in a face to face training environment.