Was ist MESHAI?
Mesh AI is a cutting-edge human resource scheduler designed for healthcare professionals in hospitals and clinics. Mesh AI takes your shifts, team roster, and requirements to create the best possible schedules with near-mathematical optimality. It accommodates vacation requests, staff preferences, clinical needs, and last-minute changes with fairness and efficiency. Mesh AI is a booster of morale and eliminator of errors! It is the only human-centered staff scheduler built for healthcare.
Wer verwendet MESHAI?
MESHAI addresses the scheduling needs of healthcare staff and physicians with its socially intelligent staff anti-scheduler. Providing users with staff requests, auto-scheduling, trading and more.
MESHAI – Details
MESH Scheduling
2014 gegründet
MESHAI – Details
MESH Scheduling
2014 gegründet
MESHAI – Videos und Bilder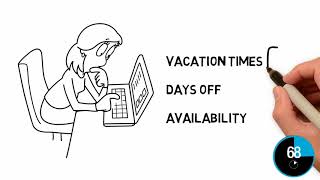 Kosten ähnlicher Produkte wie MESHAI vergleichen
Startpreis
N/A
Nicht verfügbar
12,00 $/Monat
2,50 $/Monat
MESHAI – Bereitstellung und Support
Einsatz
Cloud, SaaS, webbasiert
Android (mobil)
iPhone (mobil)
iPad (mobil)
Training
Persönlich
Live Online
Webinare
Funktionen von MESHAI
API
Aktivitäts-Dashboard
Alarmfunktion / Benachrichtigungen
Anpassbare Berichte
Anwesenheitsmanagement
Arbeitskostenberichte
Arbeitsmanagement
Aufgabenplanung
Automatische Planung
Automatisierte Terminplanung
Berichterstattung und Statistik
Drittanbieter-Integration
Echtzeit-Aktualisierungen
Echtzeit-Benachrichtigungen
Echtzeit-Daten
Eigenständige Schichtplanung
Erinnerungen
Freizeit-Anfragen
Fähigkeiten-Nachverfolgung
Job-Planung
Kalenderverwaltung
Kommunikation zur Schichtverteilung
Kommunikationsmanagement
Kontrolle des Genehmigungsprozesses
Krankheitsausfall-Nachverfolgung
Lohn- und Gehaltslisten-Management
Mehrere Standorte
Mitarbeiter-Datenbank
Mitarbeiter-Self-Service
Mitarbeitermanagement
Mitarbeiterzeiterfassung
Mobile Benachrichtigungen
Mobiler Zugriff
Online-Zeitplanung
Prädiktive Analytik
SMS-Nachrichtenversand
Schichtmanagement
Schichtplanung
Schichttausch
Self-Service Portal
Stempeluhr
Terminplanung
Timesheet Management
Urlaubsverfolgung
Urlaubsverwaltung
Verfolgen der Teilnahme
Zeiterfassung
Zertifizierungs-Tracking
Zugriffskontrollen / Berechtigungen
Überstunden-Berechnung
Ali O.
Software Product Manager in USA
Verifizierter Nutzer auf LinkedIn
Halbleiter, 11-50 Mitarbeiter
Verwendete die Software für: 6-12 Monate
I love MESHAI's smart and simple automatic scheduling.
Kommentare: It saved our time a lot of time by reducing the time we spent on preparing our schedule and addressing the shift change requests.
Vorteile:
It simplifies the task of setting your schedule with your supervisor and coworkers. You just enter your available time in the app, then it automatically finds the best shifts for you and your coworkers. You can also easily change your shift with another person by clicking on the shift you want in your calendar and push Request button.
Nachteile:
Sometimes it can be hard to navigate among multiple teams since you have to switch and select the other team calendar to put a new request for that team.
Antwort von MESH Scheduling
vor 2 Jahren
Thanks Ali for your positive review. Please let your colleagues know we are here to support when they need us. Just chat to us via the chatbox on meshai.io and lets us know how we can be better for your needs.
Mark E.
Physician in Kanada
Krankenhausversorgung & Gesundheitswesen, 11-50 Mitarbeiter
Verwendete die Software für: Mehr als 2 Jahre
A helpful tool to organize on call.
Vorteile:
MESHAI provides an easy way to inform docs of their on call duties and allow them to exchange shifts while keeping the hospital up to date in real time.
Nachteile:
Scheduling still a bit awkward. It would be nice if we could do weekends as one entry.
Antwort von MESH Scheduling
vor 2 Jahren
Thanks Mark for your feedback. We are happy that you find the product easy to work with. Sorry that the scheduling for weekend days together is not what you want. One of our concierge staff will reach out soon to see how we can improve that aspect as well. Please do not hesitate to let us know if there are any other places where improvements are due. Once again, thanks for your continued trust in Mesh AI.
Kaes A.
Staff Surgeon in Kanada
Gesundheit, Wellness & Fitness, 1.001-5.000 Mitarbeiter
Verwendete die Software für: Mehr als 2 Jahre
Interface not elegant plus other pains
Kommentare: As you can imagine, very frustrated and really disappointed.
Vorteile:
cost, plain and simple. otherwise, it has been painful and unintuitive most of the time.
Nachteile:
Design: very dated and not elegant compared to our previous software. To filter your own call days is a hassle, and all members of the same team have the same color, there is little in way of customizing the layout. would not sync within apple calendars over icloud, so my ohone shows my call days on Mesh AI, but my iMac doesn't... Tends to crash on our phones very often (iOS 12+) Cannot share my own calendar with family members which forces my spouse to have to manualy inout my call days on our family apple calendar.
Antwort von MESH Scheduling
vor 2 Jahren
Dear Kaes, I am very sorry to hear that you are not satisfied with your platform. We took all your feedback to the design AND engineering teams to address all. In the meantime, your Mesh AI concierge will reach out to you to see why you have synch and crash issues. Those are new to us and not reported by any others. Again, please accept out apology. We have meant to bring to you a simple applications that works across all platforms equally easily and effectively. We will do whatever possible to earn your satisfaction. That's our promise to you.
Katie C.
HR Officer in Kanada
Krankenhausversorgung & Gesundheitswesen, 201-500 Mitarbeiter
Verwendete die Software für: Kostenlose Testversion
Customer Service is amazing
Vorteile:
CS - [SENSITIVE CONTENT HIDDEN] was answering questions and coming up with solutions within minutes Adaptability - Mesh AI created customization's specific to our collective agreements quickly Cost - Very fortunate to have a chance to use this software to address COVID scheduling needs Analytics - Shift/hour counts very helpful for equal distribution of shifts
Nachteile:
Teams - no ability to manage employees who are cross functioning or on different teams appropriately ERP - no ability to integrate with current ERP (absence tracking)
Antwort von MESH Scheduling
vor 2 Jahren
Thanks a lot for your review Katie. We take pride in supporting and serving our customers and excellence here is out number 1 priority. We hope to be able to continue to provide you with a platform that brings unprecedented efficiencies in all your staff allocation processes. We do have a number of integrations in some of our plans. Please let us know what is needed and we can provide more details on this. We are also working on a number of cross-team functionalities that you will be able to benefit from soon. Stay tuned.
Vanessa P.
Human Resources Coordinator in Kanada
Krankenhausversorgung & Gesundheitswesen, 51-200 Mitarbeiter
Verwendete die Software für: Mehr als 2 Jahre
Fast, easy and accommodating.
Kommentare: Considering the man hours it has taken in the past to juggle the number of complex schedules and rules that are required to complete a full year of physician call, this program has cut that time by at least 75% making it of great value for the money.
Vorteile:
We are delighted with the way MeshAI is capable of handling the plethora of variables that go into our complex physician call schedule. There isn't a 'rule' that we've thrown at them that they haven't been able to implement. It's robust and powerful!
Nachteile:
Can't say as we've found anything we don't like yet.
Antwort von MESH Scheduling
vor 2 Jahren
Dear Vanessa, Thanks for taking the time to review your MeshAI platform. We will do what we can to earn your max 10/10 score. Please let us know how we can improve the ease of use and quality. There are a number of improvements on the way that I am sure will get us closer to perfection. Once again, thanks for your support in your new "partners" at MeshAI.