Was ist VistaCreate?
Einfach zu bedienende Grafikdesign-Lösung mit Tausenden von Vorlagen, die leicht an deine geschäftlichen Anforderungen angepasst werden können.
Wer verwendet VistaCreate?
Crello wurde von Marketingfachleuten für Marketingfachleute entwickelt und wird von Bloggern und Unternehmern oder kleinen Unternehmen verwendet, die täglich Inhalte erstellen müssen.
VistaCreate – Details
VistaCreate
2017 gegründet
VistaCreate – Details
VistaCreate
2017 gegründet
VistaCreate – Videos und Bilder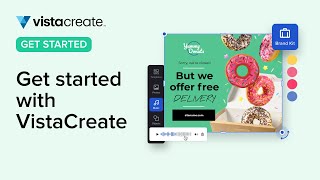 Kosten ähnlicher Produkte wie VistaCreate vergleichen
Startpreis
10,00 $/Monat
12,99 $/Monat
30,00 $/Monat
18,00 $/Monat
VistaCreate – Bereitstellung und Support
Kundenbetreuung
E-Mail/Helpdesk
FAQ/Forum
Wissensdatenbank
24/7 Live-Support
Chat
Einsatz
Cloud, SaaS, webbasiert
Mac (Desktop)
Windows (Desktop)
Linux (Desktop)
Android (mobil)
iPhone (mobil)
iPad (mobil)
Funktionen von VistaCreate
2D-Zeichnung
3D-Modellierung
Animationen und Übergänge
Digitales Vermögens-Management
Drag-and-Drop
Inhalt-Bibliothek
Kundenspezifisches Branding
Medienimport
Rendering
Suche
Texteinblendung
Video-Inhalte
Videobearbeitung
Vorgefertigte Vorlagen
API
Benutzerdefinierte Pinsel
Benutzerdefinierte Schriftarten
Bildbearbeitung
CAD-Werkzeuge
Content-Management
Datenspeicher-Management
Datenvisualisierung
Design-Management
Designvorlagen
Digitales 3D-Asset-Management
Drag-and-Drop-Editor
Drittanbieter-Integration
Druck-Management
Engagement-Tracking
Import / Export von Inhalten
Inhalt-Bibliothek
Kommentare / Notizen
Kundenspezifisches Branding
Mehrsprachig
Mobile App
Muster, Farbe & Kunstlager
Präsentations-Tools
Sichere Datenspeicherung
Social-Media-Integration
Suchen / filtern
Textbearbeitung
Versionskontrolle
Videobearbeitung
Vorschaufunktion
Wasserzeichen
Werkzeuge zur Zusammenarbeit
Workflow-Management
interaktive Inhalte
Siehe die vollständige Grafiksoftware & Bildbearbeitungsprogramme Liste
3D-Objekte
API
Aktivitäts-Dashboard
Animation
Anpassbare Vorlagen
Audiodatei-Management
Berichterstattung / Analyse
Berichterstattung und Statistik
Bildbearbeitung
Bildbibliothek
Bildschirm teilen
Chat / Messaging
Content-Management
Dateitransfer
Daten-Import / -Export
Datenvisualisierung
Diagramm-Erstellung
Dokumentenmanagement
Dokumentenspeicher
Drag-and-Drop
Drittanbieter-Integration
Echtzeit-Aktualisierungen
Engagement-Tracking
Inhalt-Bibliothek
Kommentare / Notizen
Kommunikationsmanagement
Konferenzschaltungen
Kundenspezifisches Branding
Medienbibliothek
Meeting-Management
Offline-Bearbeitung
Offline-Präsentation
Offline-Zugriff
Präsentations-Streaming
Social-Media-Integration
Suchen / filtern
Textbearbeitung
Trainingsmanagement
Versionskontrolle
Video-Management
Video-Streaming
Video-Unterstützung
Videobearbeitung
Videokonferenzen
Vorlagen-Management
Wechselseitige Audio & Video
Werkzeuge zur Zusammenarbeit
Whiteboard
Zugriffskontrollen / Berechtigungen
interaktive Inhalte
Adam G.
CEO in Polen
Verifizierter Nutzer auf LinkedIn
Marketing & Werbung, 2-10 Mitarbeiter
Verwendete die Software für: Mehr als 1 Jahr
A nice and easy way to create social media posts
Kommentare: I use Crello quite often when I want to quickly create a social media post. Crello significantly decreases the amount of time needed to create a good looking post.
Vorteile:
It is really intuitive and easy to use the software. Crello offers a great variety of templates to choose from, so you don't have to start from scratch when designing a post. Furthermore, it supports all popular social media sites (you can choose the size of your image to perfectly match the Facebook Cover, etc.). The UI is clean and simple, you can easily go back to your past projects, copy or edit them. Everything is automatically saved, so you don't have to worry that you will lose something.
Nachteile:
I wish there were more templates to choose from, the number of templates depends on the popularity of the niche you're in, and some of them are quite lacking when it comes to templates. Furthermore, sometimes it is hard to edit something if there are multiple layers already in a design, you have to redo the layering if you want to change something that's on the lowest layer. Furthermore, the placement of some of the options is a bit tricky to grasp when first using the software.
Antwort von VistaCreate
letzten Monat
Hi Adam! Layering logic of the designs on the artboard is quite simple, however, we will be moving forward with improving the layering functionality. There are dozens of new templates added daily and our goal is to multiple the existing quantity of our templates by several time.
Phil D.
SEO Specialist in USA
Informationstechnologie & -dienste, 2-10 Mitarbeiter
Verwendete die Software für: 6-12 Monate
Great if you want something quick and easy to use to make great social media posts and graphics
Kommentare: It's great for me as I need to create a lot of social media posts and Crello makes producing posts a lot quicker than the software I was using before, just because it cuts out a lot of the additional options that something like Photoshop has which aren't really needed for my social media posts.
Vorteile:
Easy to use, great value and also now is integrated with Publer.
Nachteile:
Some glitches with certain browsers not working all the time with it and on occasion I get some what appear to be guide lines appear on the screen which seem to restrict what I am able to do. I'm not sure how to get rid of them and so end up having to go out of a project and then back into it to carry on editing it.
Antwort von Crello
vor 6 Monaten
Hey Phil, thank you for sharing your use case. We are pleased to hear you are now our lifetime user and we hope you will further enjoy working in Crello
Anthony A.
Freelancer in Neuseeland
Animation, Selbstständig
Verwendete die Software für: 1-5 Monate
Outstanding Platform
Kommentare: This is a very professional platform for anyone in need of help of creating a graphic design online.
Vorteile:
This platform makes it simple for me to create designs to be shared on social media, for business or for clients. I can generate and adjust my designs in very little time. The free/starter version provides a number a of great things than most design platforms would offer. I would consider that the monthly cost for the Pro version is fair. VistaCreate provides different layouts for graphic designs and videos, along with a library of pre-made designs that can also be useful as inspiration.
Nachteile:
The only thing I would say is that I feel that there could be more options when selecting a template, perhaps even the option to crop or scale the size.
Gede ananda A.
CEO in Indonesien
Verifizierter Nutzer auf LinkedIn
Bekleidung & Mode, 2-10 Mitarbeiter
Verwendete die Software für: 1-5 Monate
Crello your own Design
Kommentare: Great tools to make promotional material on social media for large quantity and it's faster and more reliable than using conventional design graphic software like Adobe Photoshop. Large variation of media templates helped me a lot and saves me a lot of time.
Vorteile:
Easy to use drag and drop feature, a wide variety of stock material from video, audio, and image ready to use and updated regularly, great social media templates like Instagram Story and Youtube Thumbnails. Recommended If you looking for Consistency in your Image Brand.
Nachteile:
A lot of generic stock material, no opacity control which is vital for some graphic design software and most of the time doesn't work well on older PC because of browser problems.
Antwort von VistaCreate
letzten Monat
Hi Gede, thanks for your feedback. VistaCreate is best compatible with Chrome updated to the latest available version. As for opacity control, we currently have transparancy control, will be adding opacity contol tool. Hope you will enjoy creating designs in VistaCreate!
Victor L.
Developer in Schweden
Verifizierter Nutzer auf LinkedIn
Computer-Software, 2-10 Mitarbeiter
Verwendete die Software für: Mehr als 1 Jahr
In Betracht gezogene Alternativen:
Crello is convenience
Kommentare: When I need something quickly, Crello is my go-to tool. Gone are the days of quickly drafted banners that look like quickly drafted banners, now everything looks like a professional design whether you have five minutes or five hours to complete the design.
Vorteile:
The best thing about Crello is convenience, you can find almost anything and create anything almost instantly. If you just need to create a quick ad, a poster, or a banner and don't really have the time or the budget to do that you can get something that still looks professional in just a few minutes at almost no cost.
Nachteile:
Sometimes you need more advanced editing ability and Crello is not targeting that audience. That is fine of course because Crello focuses on convenience and does a great job at that but having more and better integrations with more advanced design tools (such as Adobe) would ease the workflow for designers.
Antwort von Crello
vor 4 Monaten
Thanks so much for your feedback and good vibes, Victor. We'll forward your suggestion to our management team. Thank you for helping us become better.