Was ist VistaCreate?
Einfach zu bedienende Grafikdesign-Lösung mit Tausenden von Vorlagen, die leicht an deine geschäftlichen Anforderungen angepasst werden können.
Wer verwendet VistaCreate?
Crello wurde von Marketingfachleuten für Marketingfachleute entwickelt und wird von Bloggern und Unternehmern oder kleinen Unternehmen verwendet, die täglich Inhalte erstellen müssen.
Wo kann VistaCreate bereitgestellt werden?
Cloud, SaaS, webbasiert, Mac (Desktop), Windows (Desktop), Linux (Desktop), Android (mobil), iPhone (mobil), iPad (mobil)
Über den Anbieter
VistaCreate
Ansässig in Limassol, Zypern
2017 gegründet
24/7 Live-Support
Chat
Über den Anbieter
VistaCreate
Ansässig in Limassol, Zypern
2017 gegründet
24/7 Live-Support
Chat
VistaCreate – Videos und Bilder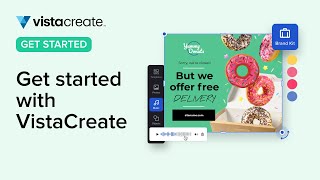 Kosten ähnlicher Produkte wie VistaCreate vergleichen
VistaCreate Funktionen
Animation
Animationen und Übergänge
Anpassbare Vorlagen
Benutzerdefinierte Schriftarten
Bildbearbeitung
CAD-Werkzeuge
Designvorlagen
Drag-and-Drop
Import / Export von Inhalten
Inhalt-Bibliothek
Kundenspezifisches Branding
Medienbibliothek
Medienimport
Mobile App
Muster, Farbe & Kunstlager
Textbearbeitung
Texteinblendung
Video-Inhalte
Video-Unterstützung
Videobearbeitung
Vorgefertigte Vorlagen
Werkzeuge zur Zusammenarbeit
Alternativen für VistaCreate
Bewertungen über VistaCreate
Eric
Founder in Frankreich
Verifizierter Nutzer auf LinkedIn
Konsumgüter, Selbstständig
Verwendete die Software für: 6-12 Monate
Very easy to use image creator and very good results
Kommentare: I like the possiblility to use the software on my pc and i also like the android app. Vistacreate is one of my 3 favorite photo editing solution.
Vorteile:
I love Vistacreate because it gives me unlimited access to professional design and it is so easy to use. I love the templates and that I can change the colors and fonts to fit my brand. The backgrounds are easy to remove and the stickers are so fun. The team account is great for collaborating with my team and I love that the design is completely customizable. I love to take a picture on my phone and use them on the android app.
Nachteile:
It's very difficult to create a rounded image or add rounded corners to an image you want to design. Also, it would be good to send design from vistacreate to vistaprint to automaticaly order and receive physical business documents.
Antwort von VistaCreate
letzten Monat
Hello Eric! Thank you for your feedback. You can make rounded photos using our circle or other rounded masks. As for the connection with VistaPrint, it is already available for US users. Feel free to contact the support team in case of any questions.
Bekleidung & Mode, 2-10 Mitarbeiter
Verwendete die Software für: Mehr als 2 Jahre
Great alternative but needs more enhancements
Kommentare: Overall, I have had a great experience with VistaCreate. I believe that with some improvements, they could be real alternatives to Canva. I have found that the templates they offer are easy to use and look great. The only downside is that they don't offer as many templates as Canva. However, I believe that VistaCreate is a great tool, and I will continue to use it.
Vorteile:
I really enjoy using VistaCreate for its simple and easy-to-use interface. Additionally, it is an excellent tool for creating numerous designs with a wide range of features. However, some bugs and improvements still need to be made with the editor to make it even more user-friendly.
Nachteile:
There are a few things that I don't like about the platform, chief among them being bugs when editing templates and uploading custom fonts. These can be frustrating and time-consuming and can often result in less-than-optimal results.
Antwort von VistaCreate
letzten Monat
Hello John! Thank you for your feedback about VistaCreate. We are working hard to eliminate bugs and improve the user-friendliness of the app. Stay tuned.
Roseanne
Licensed Massage Therapist in USA
Verifizierter Nutzer auf LinkedIn
Gesundheit, Wellness & Fitness, 10.000+ Mitarbeiter
Verwendete die Software für: Mehr als 2 Jahre
Vista Creates ... Vis ta cre ates
Vorteile:
Decently put together. Easy enough to use. The portion available online for ordering is good enough to do what you need to do quickly. Sometimes not as quickly as other times.But oft times, it's fine.
Nachteile:
mobile compatibility is low, slim/to/none in ease of use and user experience value for me is rated really low. finger drag lag is insane; and, I'd much rather prefer to make my design in another program then upload it to vista to print.
Antwort von VistaCreate
vor 3 Wochen
Hi Roseanne! Thank you for the feedback. We are sorry to hear that you have experienced any issues with the app. We would highly appreciate if you share the technical specifications of your mobile device at https://support.crello.com/hc/en-us/requests/new so that our support team can assist you the best. Thank you in advance.
Javier
Professional Language Teacher in Spanien
E-Learning, 2-10 Mitarbeiter
Verwendete die Software für: 6-12 Monate
The best purchase I've ever made.
Kommentare: This has been the tool that has given me better results ever. I can't stress that enough. When a tool exceeds your expectations and allows you to do things that you even couldn't imagine you would be able to do, you can't say enough good things about it.
Vorteile:
I hesitantly purchased a lifetime deal of this product a long time ago. I thought: "Why do I need another stockphoto, stockvideo, stockaudio, image editor... for?". I don't like multipurpouse tools, because these usually are not thorough enough on what they do. It's better for you to buy specialized tools and pay a bit more money to have better tools and better results. But VistaCreate (Crello, when I purchased it. For me it will always be Crello...) probably it's one remarkable exception to my above statement. As I have to create original content for my lessons and students, I do use it on a daily basis and it never disappoints. The stock files you can find are of an astonishing quality and variety. Photos, vectors, audio, video... name it! But not only that, the editing tool is terrific. You can create anything you can imagine in any support you need. Do you need a video to upload to your YouTube channel? You can easily create one. Do you want to create a good Instagram image with your content? Here you have. I can't say more good things about it without sounding too enthusiastic. Just, do yourself a favor and try it. You won't be disappointed.
Nachteile:
I will just say one thing that I would like to see in VistaCreate in the future: when you create images as templates, and you need to replace a concrete object in it, it is not replaced with the same parameters, but on the one from the original file. It's not friendly for content creators that need to replace objects in creations that may be repeated more than a dozen times.
Antwort von VistaCreate
letzten Monat
Hello Javier! We appreciate your feedback. It is nice to see users like VistaCreate. We will also consider your recommendations to improve the app further.
Hak Chong
Principal Designer in Singapur
Internet, 2-10 Mitarbeiter
Verwendete die Software für: Mehr als 2 Jahre
VistaCreate - It gets better and better
Kommentare: I'd classify VistaCreate as an Intermediate Graphics Software. After a short learning curve, you will start appreciating and valuing the hidden features that VistaCreate's developers have built
Vorteile:
I like its combination of having Video and Images under one roof. A close second is its Animation templates, which I really really really like.
Nachteile:
Limited video editing functions. It may not be fair to fault VistaCreate on this aspect because it is primarily a (Static) Graphics Editing Software. But who knows, may as time goes by, their developer will improve and the video editing functions might match those of their graphics editing features.
Antwort von VistaCreate
letzten Monat
Hi Hak Chong! It is a pleasure to receive feedback from our loyal user. Indeed, we keep progressing and adding more functions and features. We will ensure to widen the functionality to meet all needs of our customers.