Was ist Details Flowers?
Einfach zu bedienende Software, die für Floristen und Blumengestaltern entwickelt wurde, um mehr Arbeit zu erhalten und mehr zu verdienen.
Details vereinheitlicht die Angebote, sichert die Verfügbarkeit und Rentabilität der Produkte bis hin zu individuellen Vereinbarungen und vereinfacht den Zahlungsprozess, damit die Floristen zu ihrem Geld kommen.
Maßgeschneiderte Angebote.
Schnelle Eventerstellung.
Umsatzsteigerung.
Design-Galerie und -Portfolio.
Hilft Blumengestaltern, die sofortige Preisgestaltung zu kennen.
Exzellenter Kundenservice.
Vereinheitlicht die Lieferkette für Blumen und Zubehör.
Wer verwendet Details Flowers?
Die Blumensoftware Details ist für die gesamte Lieferkette im Bereich Floristik spezialisiert und hilft Veranstaltungsfloristen bei der Organisation von 2,5 Millionen Hochzeiten pro Jahr.
Details Flowers – Details
Details Flowers Software
2015 gegründet
Details Flowers – Details
Details Flowers Software
2015 gegründet
Details Flowers – Videos und Bilder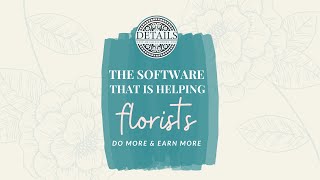 Kosten ähnlicher Produkte wie Details Flowers vergleichen
Startpreis
150,00 $/Monat
150,00 $/Monat
9,00 $/Monat
29,99 $/Monat
Details Flowers – Bereitstellung und Support
Training
Persönlich
Live Online
Webinare
Dokumentation
Funktionen von Details Flowers
ACH Zahlungsabwicklung
Abrechnung & Rechnungsstellung
Aktivitäts-Dashboard
Angebotserstellung
Anpassbare Vorlagen
Auftragserfassung
Auftragsmanagement
Auftragsverfolgung
Automatisierter Kartendruck
Barcode / Tickets scannen
Barcode-Erkennung
Belegmanagement
Berichterstattung / Analyse
Bestandsverfolgung
Bestell-Management
Buchhaltung
CRM
Design-Management
Drittanbieter-Integration
E-Commerce-Integration
E-Mail Marketing
Einkaufswagen
Einzelhandel-Lagerverwaltung
Elektronische Unterschrift
Elektronische Zahlungen
Geschenkkarten-Management
Integration in QuickBooks
Integration in die Buchhaltung
Inventarverwaltung
Kreditkartenbearbeitung
Kundendatenbank
Kundenkonten
Kundenportal
Kundenspezifisches Branding
Liefernachweis
Mehrere Standorte
Mitarbeitermanagement
Mobiler Zugriff
Offline-Zugriff
Preis- / Margen-Management
Produktion-Nachverfolgung
Produktkatalog
Rabattmanagement
Retourenmanagement
Routing
SEO-Management
Schaft-Zählung
Sendungsverfolgung
Suchen / filtern
Transaktionshistorie
Treueprogramm
Umsatzsteuer-Management
Verkaufsberichte
Verkaufspunkt POS
Webseitenintegration
Website-Entwicklung
Wiederkehrende Bestellungen
Zahlungsabwicklung
Heather C.
Owner/ Head Wedding & Event Designer in USA
Verifizierter Nutzer auf LinkedIn
Eventservice, 2-10 Mitarbeiter
Verwendete die Software für: Mehr als 2 Jahre
It's Bloomin Perfect!
Kommentare: I think I covered most of this above, but to wrap it up, by using Details, it has allowed me to use my time more wisely. As a business owner, you wear many hats. I think that Details is a great asset to my company and plan to use it for many years to come.
Vorteile:
My Favorite things about Details list: TIME MANAGEMENT- For 17 years, I used an excel spreadsheet to develop each quote. I was not efficient, and quite time consuming. Details software allows you to create a "recipe" by simply dragging and dropping the stems that you would like in each recipe. It's not only great for building the visual quote but you have the capability of pricing each individual stem, so once the recipe is done, your cost and retail price has already been calculated and entered into the stem counter document. It is simply revolutionary. It has saved me many hours through the years that I have been using this program. Costs Awareness- As I mentioned above, each stem is already priced by you. So once the recipe has been put together, it not only shows you what your cost is, but in a separate column, it shows you what you should be charging based on your mark up. This has FORCED me to see how I was unvalueing my work FOR YEARS. I showed a 12.5% increase in profits in my first year of using DETAILS. That is a HUGE amount of my blood, sweat, and tears that I was simply giving away without even realizing. Increased sales- This one is very simple. I am constantly being told by my brides that they were so impressed with the professional, detailed quote that they received from me. It makes them feel more confident with my quotes over my fellow competitors that are still doing hand written quotes with no images, and very little detail.
Nachteile:
I have been with Details for approx 3.5 years. I started with them in the beginning and have gone through many painful updates, but I would do it all over again because then end result has seriously IMPROVED THE QUALITY OF MY LIFE! I have been a wedding floral designer for 21 years and this has been wonderful. They have integrated so many functions into this program that I love. 1. You can request quotes directly through the program 2. Stem Counter 3. Presentation 4. Costs Page is wonderful to see where you are at budget wise.
Antwort von Details Flowers Software
vor 3 Jahren
Hi Heather! Thank you so much for your wonderful review of our software. I can remember when you started with us-- and we were just getting off the ground. It's probably FUN to see the dramatic changes that have taken place since you began! We have always loved the visual components of the software, and we are glad that it is enhancing the sales experience for your clients. The Cost Awareness is also so amazing. We never want you to undervalue your work-- and with Details-- you won't ever do that again!! We know that brides are impressed with the professional, detailed quote. We are so happy that they are confident with your pricing. Thank you for being a valued Details customer for 3.5 years. We are so happy that you are using your time more wisely-- and focusing on the things that need your attention most-- your clients!! Thanks so much, Corrine Heck CEO/Founder
Eventservice, 2-10 Mitarbeiter
Verwendete die Software für: 1-5 Monate
In Betracht gezogene Alternativen:
Needs Updating
Kommentare: It's works for now. I may reevaluate next year. Support is great but it's not easy to suggest changes and I don't see that any are being implemented. For how old the company is, I expected better. There are many ways that they could improve it and make it more user friendly.
Vorteile:
The support is fast and friendly. The main reason for buying this software is the built in flower pricing. It was fairly easy to start using but I think learning this software was probably easier for me because I've used 3 different types of similar software in the past.
Nachteile:
I'd like to be able to customize the templates more. I need more space for inspiration photos and would like to make it more on brand with my own font etc. I need to be able to drag and drop photos to make it faster. I need to be able to save PDFs so that I have planner's mood boards etc. at hand. I was expecting more inventory to be in there- there are many flowers that are very typically used that aren't there. The Accent Decor items are old and need to be updated, so they aren't very useful.
Antwort von Details Flowers Software
vor 9 Monaten
Hi Rory! Thank you so much for reaching out with your feedback. We are glad that our Support team has been very helpful as we pride ourselves on giving an elevated level of customer support. We also appreciate your feature requests and I have ensured they are all logged! We do have some exciting updates coming soon and we will be sure to let everyone know as soon as they are implemented! We are certainly looking forward to growing together over the next year and thank you for being a valued member of our community.
Einzelhandel, 2-10 Mitarbeiter
Verwendete die Software für: 6-12 Monate
In Betracht gezogene Alternativen:
Floral review
Kommentare: I like this software but it couldn't use updating. The floral reference photos are not good quality at all, and it's a shame being that this is a floral industry software.
Vorteile:
It is presented very professionally and nice to see all accounts and stages of booking process.
Nachteile:
Lack of good photos available for use instead of me having to upload each one. Lack of auto-saving capabilities. Lack of ability to include more than one reference/inspiration photo for a specific item.
Antwort von Details Flowers Software
vor 2 Jahren
Hi Viktoria! Thank you for taking some time to fill out this review! I would like to let you know about our proposal suggestion feature which will allow you to showcase more than one image for a recipe so the client will be able to see different choices! I have sent you a link in an email for you to learn more. We also just released a new autosave feature for the worksheet! You can learn more about this from the Support Center within Details. We would love to hear any other suggestions you may have so feel free to reach back out to us or put in a feature request! Thank you again for your review.
Rachel F.
Office Manager in USA
Eventservice, 11-50 Mitarbeiter
Verwendete die Software für: Mehr als 1 Jahr
Transformed our client proposal system!
Kommentare: Details has saved our team several steps in translating our client proposals to production pack lists as well as made our pricing much more accurate all in an attractive and detailed proposal for our clients
Vorteile:
Having streamlined inventory and floral prices for everyone in our office to use in easy to use worksheets that auto populate everything we need in production
Nachteile:
The inspiration gallery could use some organization (ability to organize by category, etc). Minimal other complaints
Antwort von Details Flowers Software
vor 3 Monaten
Hi Rachel! We are thrilled to hear how much Details has transformed your business by helping to streamline your Proposal process. It is always a joy to hear. We plan to implement some additional organization tools to the Inspiration Gallery in the future and I will be sure to log this request on your behalf. Thank you for sharing your love of Details! -The Details Team
Allyson R.
CoOwner/Designer in USA
Design, 2-10 Mitarbeiter
Verwendete die Software für: 1-5 Monate
Beautiful Proposals
Kommentare: I feel much more confident submitting proposals to my clients!
Vorteile:
The finished product is absolutely gorgeous and certainly helps clients commit to booking due to it's eye catching proposal package! I also love being able to add our rental inventory and additional items in the item gallery. I do wish it took fewer steps to add items but it's nice to have such a high level of customization.
Nachteile:
Integration with invoicing has been difficult. It also takes many steps to finalize the proposal. On average it takes me three to four hours from start to finish, which can be daunting. I'm sure there are ways to streamline the process. My next step is to search for tutorials to help make this a faster process. Something that would be helpful would be an integrated inquiry format that transferred the inquiry form on our website into a client profile. It seems like many things that could be a one or two click fill in when finalizing the proposal takes many repeated steps. I'm sure I'm not running the software as efficiently as I could be. I'll be looking into that in the future.
Antwort von Details Flowers Software
vor 2 Jahren
Hi Allyson! We are so happy to see that you are loving our beautiful software! I would love to let you know that we are currently working on an intake form that you will be able to integrate into your website and the information will then be input into the Details software! This will be out soon after we have properly tested it to make sure it is the best it can be for our clients. I would also like to extend an invitation to schedule a one-on-one training course with a member of our support team. Please reach out to our team so that we can get this set up! Thank you for your wonderful review and we look forward to growing together!