Was ist Multiorders?
Integriere alle Vertriebskanäle und verwalte die Bestellungen mit Multiorders, der Multichannel-Versand- und Warenwirtschaftssoftware: eine perfekte Workflow-Optimierungslösung. Verbinde alle Spediteure und Drucketiketten mit nur einem Klick miteinander. Verwalte die Preise und Lagerbestände aller Vertriebskanäle von einem Ort aus. USPS-Commercial-Plus-Preise verfügbar. Integriere Amazon, Ebay, Etsy, Shopify, Woocommerce, Bigcommerce, SquareSpace und andere Verkaufskanäle. Die beste Lösung für Online-Verkäufer.
Wer verwendet Multiorders?
Für eCommerce-Verkäufer, KMUs und Unternehmen, die sich mit Multichannel-Online-Verkäufen beschäftigen und nach einer Software suchen, die den zusätzlichen Arbeitsaufwand reduzieren würde.
Wo kann Multiorders bereitgestellt werden?
Cloud, SaaS, webbasiert, Mac (Desktop), Windows (Desktop), Linux (Desktop), iPad (mobil)
Über den Anbieter
Multiorders
Ansässig in London, UK
2018 gegründet
Telefon-Support
24/7 Live-Support
Chat
Über den Anbieter
Multiorders
Ansässig in London, UK
2018 gegründet
Telefon-Support
24/7 Live-Support
Chat
Multiorders – Videos und Bilder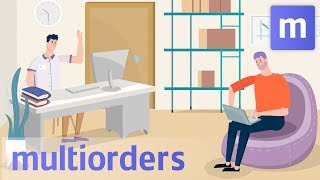 Kosten ähnlicher Produkte wie Multiorders vergleichen
Multiorders Funktionen
Alarmfunktion / Benachrichtigungen
Artikelverwaltung
Auftragsabwicklung
Auftragserfassung
Auftragsmanagement
Auftragsverfolgung
Barcode / RFID
Barcode-/Etikettenmanagement
Barcode-Generierung
Batch Printing
Berichterstattung / Analyse
Berichterstattung und Statistik
Bestandskontrolle
Bestandsoptimierung
Bestandsprüfung
Bestandsverfolgung
Bestell-Management
Bestückung
Check-in/Check-out
Drittanbieter-Integration
E-Commerce-Management
E-Mail Marketing
Einkauf & Empfang
Import- / Export-Management
Inventarverwaltung
Kanalmanagement
Katalogisierung / Kategorisierung
Kostennachverfolgung
Kundenaufträge
Kundendatenbank
Lagerhaus-Management
Lieferanten-Management
Lieferpreisberechnung
Marktplatz-Integration
Mobiler Zugriff
Nachbestellung
Nachbestellungen verwalten
Prognose
Rechnungsmanagement
Retourenmanagement
Rückstandsverwaltung
Sendungsverfolgung
Suchen / filtern
Umsatzsteuer-Management
Verkaufsberichte
Versand auf dem Landweg
Versand-Management
Versandetiketten
Wiederkehrende Bestellungen
Alternativen für Multiorders
Bewertungen über Multiorders
Paul
Managing Director in UK
Verifizierter Nutzer auf LinkedIn
Einzelhandel, 11-50 Mitarbeiter
Verwendete die Software für: 1-5 Monate
In Betracht gezogene Alternativen:
Excellent Service
Kommentare: We have found the Multiorders team (special mention to [SENSITIVE CONTENT HIDDEN]) have been very much focused on us as a customer. They have tried to be extremely flexible to meet our needs. They have been courteous, professional and friendly and they are a great team to communicate with. I would highly recommend working with the Multiorders team.
Vorteile:
The software allows you to easily manage your stock and fulfil orders across multiple channel integrations meaning that your business can quickly expand onto new marketplaces.
Nachteile:
The listing functionality needs some work but we know that Multiorders have some amazing plans around this that will be launched in the summer anyway :)
Antwort von Multiorders
vor 2 Jahren
Thank you for your positive feedback! Our support team is more than happy to read such reviews!
Ignas
Operations Manager in UK
Einzelhandel, 11-50 Mitarbeiter
Verwendete die Software für: Mehr als 1 Jahr
In Betracht gezogene Alternativen:
Perfect software for our needs
Kommentare: What is best about Multiorders - is customer service and support. Very quick response, and guys go the extra mile to sort your issues out and even add functionality that you request. Software is improving in a very fast pace.
Vorteile:
It just does what we need it to do. We have 100-150 daily orders and we need products to be scanned out for each individual order and it does the job just right. Having a scanner connected to the PC, makes creating orders and scanning process smooth and easy.
Nachteile:
Reporting is a bit poor, more various statistical reports would be a very useful function. So we mainly do our statics by downloading the orders/products and analysing them from a CSV file. But we used to do that before we got on Multiorders, so it's not a problem for us.
Antwort von Multiorders
vor 2 Jahren
Thank you for your positive feedback! We are glad that you enjoy using Multiorders. We are constantly working to offer our customers the best possible experience. This includes new functionality and improving existing features. Thank you for your insights, if you will have any further concerns please do not hesitate to contact us.
James
Managing Director in UK
Kunst & Handwerk, 2-10 Mitarbeiter
Verwendete die Software für: 6-12 Monate
Minimal, responsive and clean!
Kommentare: Seamless and the staff are always very friendly and happy to help/
Vorteile:
How gorgeous it looks, how well it functions and how simple it is to use.
Nachteile:
Waiting for shipping integrations to go live but that's the case for any solution.
Kunst & Handwerk, Selbstständig
Verwendete die Software für: 1-5 Monate
A good concept but didn't work in practice
Kommentare: I only used Multiorders for the stock syncing function so cannot comment on the other features, but I was under a lot of stress using the Multiorders app due to the frequent errors. They were not forthcoming with a solution and I had to message multiple times in order to get a response. Stock errors are incredibly detrimental to my business and I felt that I was left in the dark constantly, to the extent where I considered shutting down my second store so I would not need to sync stock. To me, it just seems like they were almost there with the app but it was not reliable enough to be used by users who had stores depending on it (at the time I used it).
Vorteile:
Relatively simple to set up. Customer service was good until my trial ended.
Nachteile:
It didn't work. During the time I used Multiorders I experienced multiple glitches where my stock levels went into the millions, when they should have remained in the tens. This was in response to an order, where Multiorders should have reduced stock just by the amount sold - obviously this resulted in over-selling. They did not fix the stock levels for me, meaning I had to do a manual stock count of hundreds of products. It was also a very laggy and slow interface.
Antwort von Multiorders
vor 2 Jahren
We are terribly sorry for your experience, Anna. The software has come a long way in terms of usability, reliability and general performance since the last time you were with us. We would be glad if you gave our software another chance because it has matured a lot from the early stages when you were using it. If you will ever consider trying to use Multiorders again, please contact us.
Shannon
E-Commerce Specialist in USA
Konsumgüter, 11-50 Mitarbeiter
Verwendete die Software für: 1-5 Monate
Great product, support team & tech team are highly attentive and continue to invest in their product
Kommentare: Very positive. I use tons of cloud apps in my day to day work. This is one of the best teams I have worked with. It's just what we needed.
Vorteile:
The integration with Shopify was so simple. We finished it in about 45 minutes. The main reason I like Multiorders is that it works for shipping and inventory and bundling of products. The software does not require a lot of babysitting; it runs well on its own. Anytime I have had an issue, a question, or a recommendation to improve the product, the support team has listened to me and addressed it right away. We are located in the U.S., and they updated their product to work with some U.S.-specific options like FedEx SmartPost. They are really wanting to make the software product to be the best out there.
Nachteile:
Some of the views could use some additional Sort options, but I know the tech teams are working on this. Keep in mind that when you implement this for inventory control, then Multiorders needs to be the source for the inventory count. You'll see this message many times during the implementation process, and make sure you understand that part and consider it in any other inventory integrations you may have to ERP's, etc.
Antwort von Multiorders
vor 2 Jahren
Thank You for your kind words and continous feedback