Was ist Mariana Tek?
Mariana Tek provides you and your customers the premium customer experience in the boutique fitness market. We allow your brand to shine through in our 5 star branded customer apps that are designed to drive revenue and engagement with your customers. Our product suite provides control over Pick-a-spot and First Come First Serve class management, schedule management, retail and inventory management, payment processing, robust reporting and gives you a common platform for all of your studios.
Wer verwendet Mariana Tek?
Boutique fitness studios committed to providing a best in class experience to their clientele.
Wo kann Mariana Tek bereitgestellt werden?
Cloud, SaaS, webbasiert, Android (mobil), iPhone (mobil), iPad (mobil)
Über den Anbieter
Xplor Technologies
Ansässig in La Madeleine, Frankreich
2009 gegründet
Telefon-Support
Erhältlich in diesen Ländern
Frankreich, Kanada, Vereinigte Staaten
Über den Anbieter
Xplor Technologies
Ansässig in La Madeleine, Frankreich
2009 gegründet
Telefon-Support
Erhältlich in diesen Ländern
Frankreich, Kanada, Vereinigte Staaten
Mariana Tek – Videos und Bilder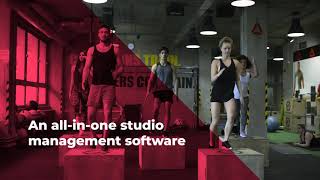 Kosten ähnlicher Produkte wie Mariana Tek vergleichen
Mariana Tek Funktionen
Abrechnung & Rechnungsstellung
Alarmfunktion / Benachrichtigungen
Automatisierte Terminplanung
Berichterstattung / Analyse
Echtzeit-Planung
Kalender-Synchronisierung
Kalenderverwaltung
Klassen-Management
Klassenterminplanung
Kommunikationsmanagement
Kundendatenbank
Marketing-Automatisierung
Mitarbeitermanagement
Mitgliedschaft-Management
Mobiler Zugriff
Online-Anmeldung
Online-Buchung
Online-Zahlungen
Veranstaltungsmanagement
Verfolgen der Teilnahme
Verkaufspunkt POS
Vertrags-/Lizenz-Management
Alternativen für Mariana Tek
Bewertungen über Mariana Tek
Nicole
Owner BFW in Kanada
Sport, Selbstständig
Verwendete die Software für: 6-12 Monate
Excellent Product
Kommentare: Great experience
Vorteile:
Makes my life so much easier. Has everything I need and they are always improving and adding new additions
Nachteile:
Would like a bi weekly schedule option when creating classes as well would be great to insert holidays into the schedule so clients know the reason no a day of no classes. Example - Christmas, New Years etc...
Gesundheit, Wellness & Fitness, 11-50 Mitarbeiter
Verwendete die Software für: 6-12 Monate
In Betracht gezogene Alternativen:
Have never looked back.
Kommentare: Exceptional! We love Mariana Tek and love working with every individual we have had contact with. There is not a better customer service around. There are things that we would like to be able to do and have to find work arounds, but the team is diligent in making changes and helping us get there.
Vorteile:
The integration with our clients and app and the control that clients have over their account, booking, etc. Being able to set booking limits, tagging clients, and having total control over how contracts are used has been amazing. It takes a minute to wrap your head around the "language" of Mariana Tek, but once you do you realize ALL the things you can accomplish.
Nachteile:
There are a few small things that could be better with functionality. However, when we request updates to the platform, we see them. Some things take the engineers longer than others, but we know they are working on things.
Brandon
Administrator in USA
Gesundheit, Wellness & Fitness, 51-200 Mitarbeiter
Verwendete die Software für: Mehr als 2 Jahre
Quelle: SoftwareAdvice
Absolutely horrendous software
Kommentare: Just the general way the software was written and functions is very limiting - some things that should be simple to do or fix are not able to be done without some extensive, janky workaround. Just very poorly written and designed software.
Also just a terrible company to do business with. We've had issues with them consistently over the last 3 years and they are just not friendly - in fact they are off-putting and will threaten you if you bring up any of these issues to them or do something they don't like.
When you add up the cost of Mariana Tek and all the additional platforms that you need for your stack to work properly (MT, Brandbot, bitlancer, Mandrill, etc). It comes out to being up to twice of the costs of the alternatives. And it is not twice as good, in fact it is an inferior product to all the others. I would choose any other option over MAriana Tek. Please do not make the mistake of signing up with them, you will be much better off, happier, less stressed, and less annoyed if you choose something else.
Vorteile:
The only thing good about Mariana Tek is the client app.
Nachteile:
Support is terrible - its basically email in a chat interface - no live chat or phone support. They take forever to respond and are gone on weekends. Something that would take a 5 minute phone call to fix ends up taking days or even weeks to solve. Support staff doesn't know what they are talking about - all they do is direct to the help articles. They don't actually do anything for you or go the extra step to make sure that you problem is fully solved 3 year initial contract, then it renews every year for a year at a time - really scummy practice to lock clients in for a year at a time Requires third party Mailchimp/Mandrill to sent basic transactional emails (reservation confirmed, cancelled, etc) which is insane, no other software requires that and has the basic emails built in Transactional email are required to be built using HTML - which is most likely going to require hiring someone who knows HTML. No simple drag and drop builders like every other platform Doesn't calculate instructor pay - requires either you to export multiple reports to then plug into their janky excel spreadsheet or a third party platform at additional cost to calculate your instructor pay API is terrible - every other software they integrate with has data issues due to their API. If you need to access it on the mobile, the business app is limited to viewing sales and class schedule information. To make any actual changes you need to use mobile chrome browser and it is unusably glitchy
Liz
General Manager in USA
Gesundheit, Wellness & Fitness, 11-50 Mitarbeiter
Verwendete die Software für: Mehr als 1 Jahr
General Gym Manager Experience with Mariana Tek
Kommentare: I would use this for my own personal business if I facilitated group classes in a gym setting. I love it!
Vorteile:
The simplicity of the program makes it easier to train employees quickly, which is helpful when your business is short staffed. It's also customizable in certain areas that help me run this business more smoothly than other systems I've used.
Nachteile:
My least favorite is not being able to adjust class times easily. I have a lot of classes running 7 days a week, and if I want to change something up on the classes, it can be a challenge to do.
Dane
Owner Operator in USA
Gesundheit, Wellness & Fitness, 11-50 Mitarbeiter
Verwendete die Software für: Mehr als 2 Jahre
In Betracht gezogene Alternativen:
ABSOLUTELY LOVE MARIANA TEK! (been a user of Zingfit and Mindbody for 7 years in the past)
Kommentare: Everything has been easy peasy. And their customer service has been OVER THE TOP, before and through COVID. Especially [SENSITIVE CONTENT HIDDEN] ! THANKKK YOU! Everyone else has also been amazing, huge shout out to [SENSITIVE CONTENT HIDDEN] you guys are THE BEST and we could not be happier. I am a customer for LIFE, and have referred all of my friends who own or operate boutique fitness studios and will continue to be a raving fan. Mariana Tek is not simply "our preferred vendor of choice," they are our FAMILY and we do not know what we would do without them =)
Vorteile:
EVERYTHING. Literally. The aesthetic right from the start allows you brand to have an IMPACT. It is sleek, modern, clean, and easy to navigate. Not only does it look great, but it is easy to use as well, and offers a ton of extra features and reports that I did not have with other platforms. And then the obvious customer service that comes with everything. ANDDD it is more affordable than the other options.
Nachteile:
I will let you know when I have something... So far, not a single thing.