Das könnte dich auch interessieren:
Was ist Lumion?
Lumion ist die schnellste 3D-Rendering- und Visualisierungssoftware für Architekt*innen.
Ganz gleich, ob du Modelle in Revit, 3 ds Max, SketchUp, ArchiCAD, Rhino oder einer anderen Anwendung erstellst – mit Lumion werden Designs mit realistischen Bäumen, stilvollen Effekten und Tausenden von Objekten und Materialien aus der Inhaltsbibliothek sofort lebendig.
Es ist keine Schulung erforderlich. In nur 15 Minuten kannst du atemberaubende Bilder, Videos und 360-Grad-Panoramen in blitzschneller Geschwindigkeit erstellen.
Wer verwendet Lumion?
67 der 100 weltweit führenden Architekturbüros nutzen Lumion. Der/die durchschnittliche Lumion-Nutzer*in teilt sich ein Büro mit bis zu zehn anderen Personen und baut neue Familienhäuser und kleine bis mittelgroße Projekte.
Lumion – Details
Act-3D
1998 gegründet
Lumion – Videos und Bilder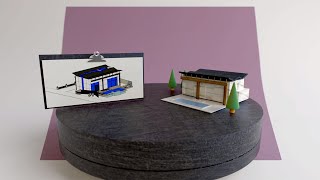 ▶︎
Lumion – Details
Act-3D
1998 gegründet
Kosten ähnlicher Produkte wie Lumion vergleichen
Startpreis
Nicht verfügbar
290,00 $/Monat
N/A
119,00 $/Jahr
Lumion – Bereitstellung und Support
Funktionen von Lumion
360-Site Stream
3D-Modellierung
Abfassung
Animation
BMI-Modellierung
Bildbearbeitung
CAD-Werkzeuge
Datei-Verwaltung
Daten-Import / -Export
Design-Management
Dokumentenmanagement
Drag-and-Drop
Drittanbieter-Integration
Für die AEC-Branche
Grundrisse und Karten
Inhalt-Bibliothek
Komponentenbibliothek
Landschaftsdesign
Offline-Zugriff
Panoramen
Produktvisualisierungen in Echtzeit
Projektmanagement
Rendering
Sichere Datenspeicherung
Skizzen- und Anmerkungstools
Unterstützung mehrerer Dateiformate
Videoerstellung
Vorgefertigte Vorlagen
Vorlagen-Management
Werkzeuge zur Zusammenarbeit
Chanaka A.
Civil Engineer in Sri Lanka
Verifizierter Nutzer auf LinkedIn
Tiefbau, 51-200 Mitarbeiter
Verwendete die Software für: Mehr als 2 Jahre
Most common and easy 3D rendering and visualization software
Kommentare: If you are expecting a high-quality, fast rendering for the designs, Lumion is the option you should choose. It's faster and has many preloaded elements which will aid in designing a perfect simulation. But you got to have a device with high performance to use Lumion and Lumion works only on Windows operating system.
Vorteile:
Lumion has the best output quality of renderings considering all the software out there. And from my personal experience, most professional designers use Lumion due to easiness and effectiveness. And with preloaded elements, the rendering and creating final output becomes quite professional and attractive. Also, it is equipped with many user-friendly features such as drag and drop, compatibility with many other application outputs. Usually, I create the model in SketchUp and use Lumion for rendering. The elite effects in Lumion such as 360 view, virtual reality function, make the rendering life-like and quite helpful when presenting the final design to clients. Most importantly out of all the rendering software, Lumion had the fastest rendering speed and enhanced output options to users which is vital in rendering software.
Nachteile:
Although Lumion is a good application for rendering, it takes quite a heavy processing power in doing the rendering. You got to have a device with higher performance to use Lumion effectively. And this is only available for Windows users. That's quite a disadvantage for Mac and other operating system users.
Betre M.
Civil Structural Engineer in Äthiopien
Verifizierter Nutzer auf LinkedIn
Tiefbau, 501-1.000 Mitarbeiter
Verwendete die Software für: Mehr als 2 Jahre
Lumion is the ultimate tool for exterior renders
Kommentare: Overall, I would say Lumion made our Jobs easy by making Final image renders easy and effective. It doesn't require deep knowledge of rendering and graphics design. And it creates amazing Quality pictures for showing to clients, posters and all printable media.
Vorteile:
Lumion comes with preloaded environment maps to insert your final design for buildings(3D Models) to get your picture perfect final product image. It is very easy to use, drag and drop menu, with very optimized and realistic rendering process and video walk through production tools. It also has vehicles, people and other objects packed library that adds great details to your final image. The redering is seamless and very quick. Overall, it provides you with all the quick fix ups to finalize your final render.
Nachteile:
Though the process is very easy, at times the lumion engine is quite processing power intensive that it crashes background apps. And the final product varies on the Quality of your graphics card and PC processing power.
Sanda V.
Architect in Schweiz
Architektur & Planung, 2-10 Mitarbeiter
Verwendete die Software für: Mehr als 1 Jahr
Probably the easiest and quickest rendering software
Kommentare: Overall I think that lumion is a great rendering software, at the moment it is my main software but just because I work with my office licence. It is very easy to use and generates quick, good quality renderings.
The biggest con for me is the price, which would definitely hold me back from purchasing the software, if I had to use it privately. An indie version for small businesses or businesses, that have just started would be great. Also improvement in render output quality would be great.
Vorteile:
I really like how easy it is to use Lumion, you can learn everything very fast. It offers a lot of in-program features - 3d textures, materials and a decent object library. I also love the skies and sun features, which makes it really easy to add a realistic environment.
Nachteile:
Lumion is probably the most expensive rendering software and they do not offer an indie or student version. Although it is super easy to use and generates really quick renderings, the output quality is not as good as similar rendering softwares, that cost a lot less.
James L.
Project Architect in USA
Architektur & Planung, 11-50 Mitarbeiter
Verwendete die Software für: Mehr als 1 Jahr
Lumion for Fast Rendering
Kommentare: For fast renderings, especially early on, Lumion is great. Additionally, the plants and trees render fantastically. The only downside is the potentially cartoonish nature of the final product. We have found that some materials do this more than others, but it's hard to know which will work without a lot of wasted time doing test renders.
Vorteile:
For architectural rendering, the program is really good about allowing you to set up scenes and get lots of renderings out fast. We used it a lot to do multiple renderings of different design options early on in SD.
Nachteile:
The other program we use in our office is Vray. The materials in Vray are much easier to get right. Whenever we did Lumion renderings, there was always a slight cartoonish-ness to the actual buildings.
Muhammad B.
Designer in USA
Architektur & Planung, 2-10 Mitarbeiter
Verwendete die Software für: 6-12 Monate
In Betracht gezogene Alternativen:
a great product to help Sell 3D designs
Kommentare: so far it helps send the design aspects to the clients with min rendering time and even night time veiws
Vorteile:
what i like it its easy to use compared to using Vray in sketch up or other plug ins. Lumion is its own program, you build you model in Sketch up then import it to Lumion, after that you pull in the model you can add trees people and effects like water moving. render it for views, or even what i like is make a panorama 360 view for VR goggles or even just upload it to Lumion Site and send it to clients to view easily.
Nachteile:
a huge price difference between the Pro and normal version some items you think that should be in the basic is only available on the Pro version and that costs almost $1,400 more. also a lot of trees and plants, and rendering options only in pro even live street views