Was ist Tasks in a Box?
Online-Meeting-Management-Plattform, mit der du deine Meetings effizienter durchführen kannst.
Wer verwendet Tasks in a Box?
Die Lösung wurde für Unternehmen jeder Größe entwickelt und ist eine Online-Meeting-Management-Plattform, die bei Berichterstattung, Erkenntnisgewinn und Projektmanagement hilft.
Tasks in a Box – Details
Tasks in a Box
Tasks in a Box – Details
Tasks in a Box
Tasks in a Box – Videos und Bilder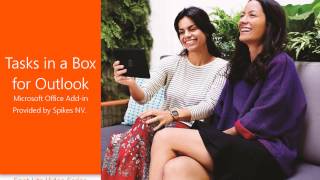 Kosten ähnlicher Produkte wie Tasks in a Box vergleichen
Startpreis
5,25 $/Monat
14,00 $/Monat
12,85 $/Monat
Nicht verfügbar
Tasks in a Box – Bereitstellung und Support
Einsatz
Cloud, SaaS, webbasiert
Mac (Desktop)
Windows (Desktop)
Android (mobil)
iPhone (mobil)
iPad (mobil)
Funktionen von Tasks in a Box
Agenda verwalten
Aktivitäts-Dashboard
Anwendungsverschlüsselung
Aufzeichnung
Benutzer-Management
Berichterstattung / Analyse
Bildschirm teilen
Dokumentenmanagement
Drittanbieter-Integration
Einmalige Anmeldung
Erinnerungen
Filesharing
Gruppenarbeitsräume
HD-Audio/-Video
Host-Steuerung
Interne Sitzungen
Kalender-Synchronisierung
Kundenspezifisches Branding
Live-Chat
Meeting-Management
Meeting-Notizen
Meetings sperren
Mobiler Zugriff
Privater Chat
Präsentations-Streaming
Sprachanrufe
Tagungsraum-Buchung
Teilnehmer-Management
Terminplanung
To-do-Listen Verfolgung
Tools zum Vorbereiten von Meetings
Umfragen & Feedback
Video-Layouts/-Ansichten
Videokonferenzen
Virtuelle Hintergründe
Werkzeuge zur Zusammenarbeit
Zugriffskontrollen / Berechtigungen
Buchhaltung, 2-10 Mitarbeiter
Verwendete die Software für: 6-12 Monate
Finally a great task and project manager, It does it all and is perfect for a small business
Vorteile:
Very easy to use Great for tracking task and projects. I used projects to track clients. If a client has multiple larger projects, I use sub projects for each client. I haven't loss control of any tasks, since i started using TIAB, At first, I had some fear of leaving outlook 2016,but TIAB works well bu y itself or as an Outlook add in. I really like the checklists for each task and the ability to tag task . I use task to trace who is responsible for each task
Nachteile:
I am unable share tasks with clients unless I set them up and pay for them as users. I dont like this.If the user will only get tasks and report status, and there is no need to collaborate, then there should be no charge for the user. I understand charging for users that collaborate and who use the entire application
Umweltdienstleistungen, 10.000+ Mitarbeiter
Verwendete die Software für: Mehr als 2 Jahre
Tasks in a Box (TIAB): good alternative to pricier brands
Kommentare: Great tool to organize tasks, projects, and related meetings, either solo or for a team. Not overly complicated, and reasonably priced (last time I or my employer paid, at least). They need to up their customer service game a bit but it's not terrible.
Vorteile:
The visual design and functionality are excellent. I like the meeting hub and task hub organization. The ability to schedule a meeting, write the agenda, take meeting notes and create tasks in TIAB during the meeting, and finally to distribute meeting minutes to all attendees is fantastic. Plenty of flexibility--but not too much, i.e., not a steep learning curve--in views, filtering and sorting, etc. The mobile app is very clean and functional.
Nachteile:
Minor things. One, being forced to select from a list of reminder times (at due date, 1 day before, 2 days before, etc). The list is useful but we should also be able to select a custom date and time, or even set multiple reminders. Similarly, you can only set a due date, not a start date. I often need to capture a task due far in the future (so I don't lose track of it) and set a date for it to start, i.e. to appear on my radar, so to speak. I've written to TIAB several times, and made suggestions via their somewhat wonky user-request feature, to no avail.
Mark Z.
Owner, Chief Operating Officer in USA
Verifizierter Nutzer auf LinkedIn
Pharmazeutika, 501-1.000 Mitarbeiter
Verwendete die Software für: Mehr als 1 Jahr
No support, does always work
Kommentare: Could be great, but it seems like a one person company
Vorteile:
This is one of the most promising pieces of software especially with email integration. but does not always work well.
Nachteile:
No good support, not sure if they are still in business. Doesn't always work. I lost an entire project board I had it on screen but it was frozen.
Andrew M.
President in Australien
Religiöse Einrichtungen, 11-50 Mitarbeiter
Verwendete die Software für: Mehr als 2 Jahre
Tasks in a Box has great features and integrations
Kommentare: We used Tasks in a Box for a couple of years. It is great for tracking meetings and tasks which can be assigned and tracked in SharePoint and MindManager. When the SharePoint integration failed it became unusable.
Vorteile:
It integrates with SharePoint really smoothly until it stops working. Then you are in trouble. The support is woeful. They didn't respond to any request for support when the SharePoint integration stopped working.
Nachteile:
The lack of support made this product unusable when it stopped working with SharePoint. The best feature for us didn't do the job. No one got back to my numerous requests for assistance. We were left out in the cold.