Was ist Zoho Mail?
Zoho Mail ist ein sicherer E-Mail-Hosting-Service für Unternehmen. Die Software verfügt über eine integrierte Kollaborationsplattform, die es der gesamten Organisation ermöglicht, Daten nahtlos im Posteingang auszutauschen und zu kommunizieren. Die Software ist eine Mischung aus klassischer E-Mail und modernen Tools für die Kollaboration, die die Verwendung von Kommentaren und Likes sowie das Teilen fördern. Zoho Mail ist gut in alle anderen Zoho-Anwendungen sowie in beliebte externe Anwendungen integriert.
Wer verwendet Zoho Mail?
Freiberufler, kleine, mittlere und große Unternehmen
Zoho Mail – Details
Zoho
1996 gegründet
Zoho Mail – Details
Zoho
1996 gegründet
Zoho Mail – Videos und Bilder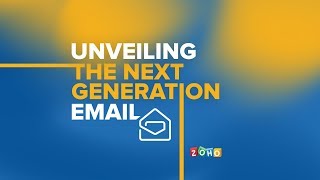 Kosten ähnlicher Produkte wie Zoho Mail vergleichen
Startpreis
1,00 $/Monat
5,00 $/Monat
6,00 $/Monat
N/A
Zoho Mail – Bereitstellung und Support
Kundenbetreuung
E-Mail/Helpdesk
FAQ/Forum
Wissensdatenbank
Telefon-Support
24/7 Live-Support
Chat
Einsatz
Cloud, SaaS, webbasiert
Mac (Desktop)
Windows (Desktop)
Android (mobil)
iPhone (mobil)
iPad (mobil)
Training
Webinare
Dokumentation
Videos
Funktionen von Zoho Mail
AB-Tests
API
Abonnementverwaltung
Aktivitäts-Dashboard
Aktivitäts-Verfolgung
Alarmfunktion / Benachrichtigungen
Anpassbare Felder
Anpassbare Formulare
Anpassbare Vorlagen
Archivierung & Aufbewahrung
Automatische Antworten
Berichterstattung / Analyse
Berichterstattung und Statistik
CRM
Chat / Messaging
Datenwiederherstellung
Drag-and-Drop
Drip-Kampagnen
Drittanbieter-Integration
E-Mail Marketing
E-Mail-Management
E-Mail-Tracking
E-Mail-Verteilung
E-Mail-Vorlagen
E-Mail-Überwachung
Echtzeit-Analytik
Echtzeit-Berichterstattung
Echtzeitüberwachung
Gemeinsamer Posteingang
Inbox-Management
Kampagnen-Segmentation
Kampagnenanalysen
Kampagnenmanagement
Klick-Tracking
Kontakt-Datenbank
Kontaktmanagement
Kundensegmentierung
Kundenspezifisches Branding
Reaktions-Management
Routing
Social-Media-Integration
Spam-Blockierung
Suchen / filtern
Unterschriften-Management
Vorformulierte Antworten
Vorlagen-Management
Warteschlangenmanagement
Whitelist/Blacklist
Workflow-Management
Überwachung
Gabriella N.
Process Design Engineer and CEO in Südafrika
Verifizierter Nutzer auf LinkedIn
Metallabbau, 2-10 Mitarbeiter
Verwendete die Software für: Mehr als 2 Jahre
Great functionality with available set-up resources
Kommentare: I recommend Zoho mail 110%, I have been using it for years now with minimum to no issues.
Vorteile:
I have used Zoho for about four years now, and I was attracted to it by Zoho mail. Zoho mail allows you to have five email addresses with individual mailboxes under one custom domain for free. This is great especially for entrepreneurs and startups, even though you have to purchase the custom domain. The level of functionality is great, it ranks well even when compared to paid services. Another important aspect is that it's not "spammy" and it does not have compromised security. Zoho mail works well, I would recommend it to other business owners and entrepreneurs. It is also continually improving and adding more useful tools such as the MX record checker.
Nachteile:
I like Zoho mail's performance and reliability that is enabled by aspects such as adding SPF and DKIM entries in the domain DNS and adjusting MX records. But depending on skill level, these settings could be seen as challenging and could deter some. I found the manual webpage that's available for setting up for a range of domain providers to be quite helpful. There are other sites that cover how to set up Zoho mail, which I also found to be helpful. I realized that it can take long for Zoho mail to pick up added entries to a domain DNS. This is probably split between Zoho mail and a specific domain provider but perhaps some improvements can be done.
Nabila B.
Human Resources Manager in Malaysia
Verifizierter Nutzer auf LinkedIn
Vermögensverwaltung, 10.000+ Mitarbeiter
Verwendete die Software für: Mehr als 2 Jahre
My Zoho Mail review
Kommentare: Zoho mail is a valuable tool for startups and mid-sized businesses and has worked very well beyond expectations. Similarly, this application's user-friendliness is a strong point. Finally, this is the perfect mail service for those looking for decent mail satisfaction manager software without jeopardizing their company's budget and also meeting everyday expectations.
Vorteile:
The most important characteristic of this postal service is its high value for money, as it is not costly when providing all of the functionality that a business requires. Another plus is that it comes with unbeatable features such as shortcut keys that allow you to quickly access preferred options such as calendar, mission, notes, attachments, and so on. User-friendliness comes last but not least. I never even had to make assumptions when roaming around the app to find the appropriate functionality because the interface is simple to use.
Nachteile:
One field that the company can develop is to provide live support for mailbox installation rather than just video tutorials. Implementing email was a little challenging because the program had to be set up with the help of experts. Aside from that, this program is simple to use. The program has been running smoothly so far after the configuration is complete.
Halimatun Z.
IT Manager in Malaysia
Verifizierter Nutzer auf LinkedIn
Buchhaltung, 1.001-5.000 Mitarbeiter
Verwendete die Software für: Mehr als 2 Jahre
Business email with Zoho Mail
Vorteile:
Zoho Mail is ideal for corporate email since it can handle all of my business requirements, including auto-response, block-listing and allow-listing, and custom signatures on the footnote. It also has sufficient storage capacity for all of the emails, and the method of transmitting bulk email is rather quick.
Nachteile:
One thing that they need to improve is, providing live help for mailbox installation instead of video training. Establishing mail was a little complicated because the program might have to be set up by professionals. Aside from that, there are no issues with running this program. The program has been working wonderfully since everything has been set up correctly.
Vansh C.
Growth Marketer in Indien
Verifizierter Nutzer auf LinkedIn
Marketing & Werbung, 2-10 Mitarbeiter
Verwendete die Software für: 1-5 Monate
A good option if you use other Zoho apps, but it's not without annoyances.
Kommentare: Features-wise, Zoho Mail does not fall short at all. It has everything you need for an email app. It just doesn't feel as refined as Gmail. Bug fixes and a refreshed, more modern UI will make the product near-perfect.
Vorteile:
What I love about all Zoho products is how seamless the complete experience is. The way all the apps communicate with each other is super convenient. This integration is particularly evident between Zoho Mail and Zoho CRM. It's in the simple things, like how the email contact list is integrated with contacts/leads/deals added in CRM. I also love how when you receive an email, you can see, from the Mail app itself, whether this address is a lead, deal or just contact. It's a nice touch. The UI is also extremely easy to navigate. All buttons are where they're supposed to be, and I appreciate the night mode. It's a boon while working in low light conditions.
Nachteile:
Despite its amazing features, my experience of using Zoho Mail on desktop was extremely sub-par. Everything is just slow; there's no other way to put it. The app itself takes a few seconds extra to load occasionally, but that's just the beginning. Formatting emails is infuriating, to say the least. Uploading images in between text can take minutes (these are compressed photos of less than 1MB) even on solid wifi. I often use GIFs, and these take even longer to upload if they don't fail altogether. Resizing images within the emails is glitchy. The font picker does not switch to the right font sometimes. Also, before I send out emails with images/videos/gifs, I usually send out a test to my Zoho and Gmail accounts to see if it looks alright. More often than not, the images and videos will not load on Zoho Mail at all, while Gmail would load them in a split second. As someone who writes a lot of emails, these are not things I can put up with. Also, the UI, while dead easy to navigate, is extremely dull and boring. Gmail is leagues ahead in this regard. I hope this is a one-off incident since I don't see many other reviewers complaining about these on Capterra. It's a shame though, because the overall proposition is so solid and appealing.
Rodolfo R.
General Manager in USA
Computer-Software, Selbstständig
Verwendete die Software für: Mehr als 2 Jahre
Cost/benefit is insane, you will always get more for low price
Kommentare: I'm able to handle all my official business communications though Zoho email, even the smtp part to send emails from my site.
Vorteile:
I loved the capability of have a free tier with enterprise ready functions, how I started as a freelance and be able to setup a "virtual" team right away it was insane, be able to use different personas in one Emil in incredible. The search functionality is amazing too, how you can filter by persons, attachment, content etc, the tus just great. I love the spam protection, it is so good, even categorize common emails that you receive frequent, just be aware need to add those to white list. But is better that way instead of lead a spam email to reach out to you.
Nachteile:
As a newby when I started, it took me some time (not much) to set up, specially the look and feel with my logo.