Was ist Curate?
ENDLICH! Eine Möglichkeit für Caterer, die mühsame Aufgabe, Angebote zu erstellen, zu automatisieren. Curate spart dir über 75 % deiner administrativen Zeit beim Erstellen von Angeboten, Rezepten und Einkaufslisten. Du kannst deine Zeit darauf konzentrieren, wieder unglaubliches Essen zu kreieren, anstatt über langweiligen Angeboten zu sitzen. Curate erstellt Angebote, die auf den Cent genau sind. Es ermöglicht dir, genau zu budgetieren, was der Kunde anfordert, ohne überzubestellen oder sich so zu fühlen, als ob du beim Preis mogeln müsstest.
Wer verwendet Curate?
Curate sorgt für ... nun, Caterer. Ob sie in Hotels, Restaurants arbeiten, unabhängig sind oder irgendwo dazwischen.
Wo kann Curate bereitgestellt werden?
Cloud, SaaS, webbasiert
Über den Anbieter
Curate
Ansässig in St. Louis, USA
2014 gegründet
Telefon-Support
Chat
Erhältlich in diesen Ländern
Australien, Kanada, Neuseeland, Vereinigte Staaten, Vereinigtes Königreich
Über den Anbieter
Curate
Ansässig in St. Louis, USA
2014 gegründet
Telefon-Support
Chat
Erhältlich in diesen Ländern
Australien, Kanada, Neuseeland, Vereinigte Staaten, Vereinigtes Königreich
Curate – Videos und Bilder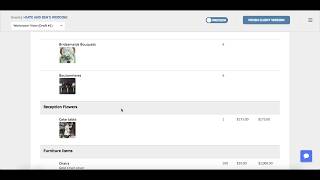 Kosten ähnlicher Produkte wie Curate vergleichen
Curate Funktionen
Abrechnung & Rechnungsstellung
Angebote / Schätzungen
Angebotserstellung
Auftragsmanagement
Bestell-Management
CRM
Daten-Import / -Export
Drittanbieter-Integration
Elektronische Zahlungen
Eventplanung
Kreditkartenbearbeitung
Kundendatenbank
Kundenkonten
Kundenmanagement
Kundenspezifisches Branding
Küchen- / Menü-Management
Lieferanten-Management
Mehrere Standorte
Mitarbeiter-Management
Online-Bestellung
Online-Zahlungen
Produktion-Nachverfolgung
Produktkatalog
Rabattmanagement
Reservierungs-Management
Veranstaltungsmanagement
Verkaufsberichte
Verkaufspunkt POS
Vertrags-/Lizenz-Management
Vertriebsmanagement
Stacey H.
Small Business Owner in USA
Verifizierter Nutzer auf LinkedIn
Eventservice, 2-10 Mitarbeiter
Verwendete die Software für: 1-5 Monate
Time saving program!
Kommentare: I have had more leads turn into proposals, which have then turned into bookings. This was my number one concern. I would get a lead that would then fizzle out because I had no way for clients to fill out an online questionnaire. With the form section I was able to create a simple questionnaire that leads could fill out on their computer or phone easily. I can then automatically create a proposal for them based off of one of my templates.
Vorteile:
This has been the best decision I have ever made for my business! Not only does this program save me time and energy, but it looks professional and is easy to use. My clients love it as well! The entire process from start to finish with my clients is now seamless. The proposals look clean and modern and clients can e-sign the proposal once they approve it. letting me know that they would like to book. No more guessing if it was received or not, or if it was even viewed. This program has been a lifesaver! I have booked more weddings than ever before and I still get to have a life!
Nachteile:
I wish I had more time to explore the program more in depth. I'm discovering new things every day that are great tools. Luckily the Curate team has been fantastic about answering questions or concerns and the onboarding sessions were super helpful to get started.
Eventservice, 2-10 Mitarbeiter
Verwendete die Software für: Mehr als 2 Jahre
In Betracht gezogene Alternativen:
What would I do without curate?
Kommentare: I know that I don't use the program to it's full ability... I don't create recipes or or create orders through Curate, which I'm sure, if I ever grew to be a bigger company with multiple employees, I would definitely see the benefit in but how I use it, is perfect for me. As I have been using it for several years, I have had the pleasure of seeing all of the functionality changes that have been made to the program (for example, adding a section for html color codes is such a fun new feature!) I have raved to other florists about my experience with curate and I have heard from clients about how my quotes were night and day from other floral quotes they had received with presentation, the amount of photos for visuals and the level of detail. Once my clients receive and sign off on their quote, they are confident about what they will be receiving on their wedding day and I am always able to recall exactly what the game plan is months after I've written the quote and am getting ready for production/design.
Vorteile:
Curate has totally changed the game when it comes to writing clean, beautiful quotes for my clients plus it has saved me so much time. It used to take me hours to write quotes and now I've cut my quote writing time in half. I have had clients book me because they were blown away by the detail, and ease of reading the quote compared to other florists they had spoken to. I love that I have all of my financial reporting in one place here, I use the reports function all of the time, it makes my monthly accounting tasks so easy.
Nachteile:
There are a few things I would love to see developed on curate. First of all I would love it if there was an app I could download to my phone. When I'm away from my computer I have to access Curate through my phone's internet browser and it's always a pain to log in and navigate. I would also love to be able to attach external documents to any emails I send through curate. For example, my company has a pdf rental guide that we frequently send to our clients when we send them their proposal. As far as I can tell, there is no way to attach a document to these outgoing emails so I have to send the client a second email with the document and it always seems less clean to me. The less emails my clients get, the better. I'd also love to be able to bold or italicize or underline text in the description boxes (not a big deal but sometimes I need to make a point or draw attention to what is written.
Dana O.
Owner/Creative Force in USA
Eventservice, Selbstständig
Verwendete die Software für: Mehr als 1 Jahr
Feeling confident on my pricing has been such a huge boost since I've subscribed to Ularas!
Kommentare: Individual pricing per stem in arrangements is a confidence booster and knowing my proposals are clean and professional when delivered to the end client.
Vorteile:
The client support has been fabulous and super responsive whenever I've had a crisis question or needed clarification.
Nachteile:
It's a bit complicated and I'm not sure I'd say the last few upgrades have been intuitive. If there's been an offseason and I have not used the software, it's a huge learning curve to catch up to the updates. Again, the intuitiveness of the software is lacking and needs improvement.
Antwort von Ularas
vor 5 Jahren
Thank you Dana, Sorry it's not feeling intuitive! Please come to same Jams in your down time so we can clear up any issues you're having. And if you get stuck, make use of Ularians! We've got some very helpful users in our forum and I'm always lurking in the wings. Also, if you'd like to schedule a private session, I'm always open. Reach out anytime, I'd like to make sure your feeling as confident as possible!
Design, 2-10 Mitarbeiter
Verwendete die Software für: Mehr als 2 Jahre
In Betracht gezogene Alternativen:
Curate changes the game for us!
Kommentare: Honestly it is a game changer. We used to spend hours creating proposals and having to add/subtract stems and pricing and the software does it for you. It has streamlined our processes and communication with our clients and our wholesaler.
Vorteile:
The ease in creating proposals, receiving content and keeping all details in one place. Our company is a full service floral, design and planning company. We use curate through the entire process from initial inquiry, contract management, floral proposals, client intake forms and correspondence, receiving payments, floral ordering and creating using the recipes. The real question is is there anything we don't use curate for? The templates for all the things! The forms for our clients to complete
Nachteile:
ahhh. I wish I had the option of organizing the event properties to my preference instead of alphabetized. I would like to be able to create a detailed timeline for my vendors and clients that I could use the customization feature for instead of having to transfer all my information into canva. I probably need a tutorial on the photo upload feature. It is basically a dump all for our inspo. photos over the years. I would like to be able to search them instead of scrolling through tons of photos. i=I'd also like to see popular pantone colors available in the new color feauture. Also,
Charmidale T.
CEO/Owner in USA
Verbraucherdienste, 2-10 Mitarbeiter
Verwendete die Software für: Mehr als 1 Jahr
Operational Time cuts down significantly
Kommentare: Forever indebted to this system and company. A great groupo
Vorteile:
I absolutely loved this B2C software. The ability to create mood boards, preset templates for emails & quotes, being able to capture customer general information from website to system, keep track of inventory and budget, and receive payment definitely saved time, money, and perishable waste. It absolutely got my business on the right track and I advocate every floral business who does wedding & events to invest in Curate! It will alleviate so much of the headache and complexities of the production, so that you have more time to work on your business rather than in it.
Nachteile:
I really didn't have any cons. Over time, I have seen significant improvements and I applaud that.