Was ist Piktochart?
Bringe deine visuelle Kommunikation auf die nächste Stufe, ohne einen professionellen Designer einzustellen.
Wer verwendet Piktochart?
Piktochart ist das All-in-one-Tool für die visuelle Kommunikation zwischen Fachleuten, die regelmäßig Grafikdesigns erstellen und keine Zeit haben, komplizierte Designsoftware zu verwenden.
Piktochart – Details
Piktochart
2012 gegründet
Piktochart Kosten
Startpreis:
14,00 $/Monat
Ja, kostenloser Test verfügbar
Ja, Gratisversion verfügbar
Piktochart bietet eine Gratisversion und eine kostenlose Testversion. Die kostenpflichtige Version von Piktochart ist ab 14,00 $/Monat verfügbar.
Preismodelle
Kostenlose Testversion
Piktochart – Details
Piktochart
2012 gegründet
Piktochart – Videos und Bilder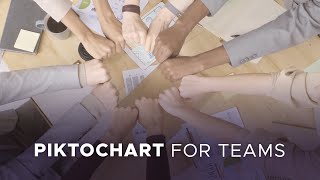 Piktochart – Bereitstellung und Support
Kundenbetreuung
E-Mail/Helpdesk
FAQ/Forum
Wissensdatenbank
Chat
Einsatz
Cloud, SaaS, webbasiert
Mac (Desktop)
Windows (Desktop)
Chromebook (Desktop)
Training
Persönlich
Live Online
Webinare
Dokumentation
Videos
Funktionen von Piktochart
API
Ad-hoc-Analyse
Ad-hoc-Anfrage
Ad-hoc-Berichterstattung
Aktivitäts-Dashboard
Anpassbare Berichte
Anpassbare Vorlagen
Anpassbares Dashboard
Berichterstattung / Analyse
Berichterstattung und Statistik
Content-Management
Dashboard-Erstellung
Data Mapping
Daten-Connectors
Daten-Import / -Export
Datenerfassung und Übertragung
Datenextraktion
Datenmanagement
Datensynchronisation
Datenvisualisierung
Diagramm-Erstellung
Drag-and-Drop
Drittanbieter-Integration
Echtzeit-Aktualisierungen
Echtzeit-Analytik
Echtzeit-Berichterstattung
Echtzeit-Daten
Einmalige Anmeldung
Geografische Karten
Geplante / automatisierte Berichte
Individuelle Anpassung
Kundenspezifisches Branding
Leistungskennzahlen
Mehrfache Datenquellen
OLAP
Prognose
Prädiktive Analytik
Relationales Display
Simulation
Suchen / filtern
Trend-Analysen
Umsatzentwicklung-Analyse
Visuelle Analytik
Visuelle Entdeckung
Website-Analytik
Werkzeuge zur Zusammenarbeit
Widgets
Workflow-Management
Zugriffskontrollen / Berechtigungen
Überwachung
API
Benutzerdefinierte Pinsel
Benutzerdefinierte Schriftarten
Bildbearbeitung
CAD-Werkzeuge
Content-Management
Datenspeicher-Management
Datenvisualisierung
Design-Management
Designvorlagen
Digitales 3D-Asset-Management
Drag-and-Drop-Editor
Drittanbieter-Integration
Druck-Management
Engagement-Tracking
Import / Export von Inhalten
Inhalt-Bibliothek
Kommentare / Notizen
Kundenspezifisches Branding
Mehrsprachig
Mobile App
Muster, Farbe & Kunstlager
Präsentations-Tools
Sichere Datenspeicherung
Social-Media-Integration
Suchen / filtern
Textbearbeitung
Versionskontrolle
Videobearbeitung
Vorschaufunktion
Wasserzeichen
Werkzeuge zur Zusammenarbeit
Workflow-Management
interaktive Inhalte
Siehe die vollständige Grafiksoftware & Bildbearbeitungsprogramme Liste
3D-Objekte
API
Aktivitäts-Dashboard
Animation
Anpassbare Vorlagen
Audiodatei-Management
Berichterstattung / Analyse
Berichterstattung und Statistik
Bildbearbeitung
Bildbibliothek
Bildschirm teilen
Chat / Messaging
Content-Management
Dateitransfer
Daten-Import / -Export
Datenvisualisierung
Diagramm-Erstellung
Dokumentenmanagement
Dokumentenspeicher
Drag-and-Drop
Drittanbieter-Integration
Echtzeit-Aktualisierungen
Engagement-Tracking
Inhalt-Bibliothek
Kommentare / Notizen
Kommunikationsmanagement
Konferenzschaltungen
Kundenspezifisches Branding
Medienbibliothek
Meeting-Management
Offline-Bearbeitung
Offline-Präsentation
Offline-Zugriff
Präsentations-Streaming
Social-Media-Integration
Suchen / filtern
Textbearbeitung
Trainingsmanagement
Versionskontrolle
Video-Management
Video-Streaming
Video-Unterstützung
Videobearbeitung
Videokonferenzen
Vorlagen-Management
Wechselseitige Audio & Video
Werkzeuge zur Zusammenarbeit
Whiteboard
Zugriffskontrollen / Berechtigungen
interaktive Inhalte
Arlette E.
Content creator in Panama
Verifizierter Nutzer auf LinkedIn
Internet, Selbstständig
Verwendete die Software für: Mehr als 2 Jahre
Very easy to use
Kommentare: When I need to do infographics, Piktochart is the software I use. It's online and has the right tools to create professional graphics that look great. It's not a task I do frequently, but when I do, I use this software. I don't have deep knowledge of design or code and with this application I've been able to make infographics and presentations that look professional. I appreciate how easy it's and how many tools it have. I'm a creator of content for social networks and a writer, so I always look for applications that facilitate my work, increase my strengths and hide my weaknesses. Design is one of my weaknesses and, however, this software helps me to turn it into a strength, that's why I like it so much.
Vorteile:
It's a simple and easy to use software that allows to make infographics and presentations quickly and without any effort. It offers templates that can be edited and modified, change the text, the font, place our own images or those offered by the software. It allows me to organize the information in an appropriate way by dragging and dropping elements and adding texts, it has several graphics options that can be adapted to any type of data, I can also insert YouTube videos. I like the tools and elements offered to personalize and enrich the content I want to publish, without having to know the code or the graphic design.
Nachteile:
I really like Piktochart, it has been very useful in my work o I have nothing bad to say about this software.
Erik K.
Sr. Manager of L&D in Kanada
Telekommunikation, 501-1.000 Mitarbeiter
Verwendete die Software für: Mehr als 1 Jahr
Piktochart is great for making quick high-quality visuals
Kommentare: We got Piktochart for the purpose of creating infographics to share key data with our employees. We've been using it for almost 2 years, and have created some great infographics and some amazing posters for courses and leadership programs, as well as company events like food drives.
Vorteile:
The thing I liked most about Piktochart, is how it makes it so easy to make a high-quality visual. Be it a poster, or an infographic, Piktochart makes it super easy for someone like me who is not a graphic designer to end up with a nice graphic at the end.
Nachteile:
Honestly, there's not much I dislike about the product. I think perhaps there could be a few more editing options (or that those options, if they exist, were better surfaced and easier to find).
In Betracht gezogene Alternativen: Canva
Gründe für den Wechsel zu Piktochart: It fit our need better for creating infographics.
Antwort von Piktochart
vor 2 Jahren
Hi Erik! Thanks for leaving us a positive review! You made our day here in Piktochart :) I hope we can connect to find out more about the editing options to improve your experience!
Nanjundaraddi K.
Digital Marketing Executive in Indien
Immobilien, 11-50 Mitarbeiter
Verwendete die Software für: 6-12 Monate
Pikto Chart
Kommentare: Overall not a good experience.
I didn't find value for money.
Vorteile:
Nice collecton of Infographics to create Social Media Post. ready to use graphics elements, charts and maps, High-resulation downloads available.
Nachteile:
They don't have custom size canvas dashboard to design posts. Very bad dashboard interface. Not pleasing templates compared to other products available in the market.
Antwort von Piktochart
vor 2 Jahren
Hi Nanjundaraddi! Thanks for taking the time to leave us a review. To clarify, we do have custom size canvas dashboard. We're sorry if it was difficult for you to navigate. Here's a helpful article: https://support.piktochart.com/articles/235030168-how-do-i-customize-the-width-and-height-of-the-blocks If you have any questions, feel free to reach out to support@piktochart.com. We'll be happy to help!
Amelia G.
Instructional Designer in USA
Hochschulbildung, 1.001-5.000 Mitarbeiter
Verwendete die Software für: Kostenlose Testversion
Usable, Dynamic, and Attractive Designs
Kommentare: Often times when I need to create user guides, attractive marketing, infographics, and other collateral, I don't have the time (or know-how) to make highly professional visual designs on some very tight deadlines. As an Instructional Designer, I very appreciate the many styles, sizes, and types of designs available on Piktochart- ranging from flyers to reports and infographics to social media templates. All of the available materials are very professional, and the interface of the program has the right amount of tools that allow for customization, while not offering infinite options which could quickly become creatively overwhelming,
Vorteile:
The benefits I most appreciate about Piktochart (and the reason I have continued to use it over and against other platforms like Canva) are the stock designs that are available. The templates can be accessed across all membership levels of the software, and they are creative, engaging, and very visually appealing in unique ways!
Nachteile:
The pricing of these platforms always feels somewhat steep to me relative to the cost of other very sophisticated video and audio editing software. I feel I would be more likely to purchase and keep a subscription if it was about half of the monthly price! The paid levels don't feel significantly worth the value relative to the free subscription.
Ellie G.
VP of Marketing in USA
Gastgewerbe, 11-50 Mitarbeiter
Verwendete die Software für: 6-12 Monate
Good product, great for infographs
Kommentare: I used this prodect for flyers, social media, reports, emails etc. I really liked it for presentations and training manuals but for social media and marketing materials it wasn't as good as some other products.
Vorteile:
Creating an infographic is easy and fun on this application. Lots of detailed templates to choose from. No experience in graphic design necessary.
Nachteile:
As for the other features, I dont think this product is the best in its class. Templates are not as varied or creative as its competitors and effects/fonts etc are not as unique.
In Betracht gezogene Alternativen: Canva
Gründe für den Wechsel zu Piktochart: I actually switched back to Canva after using this product for about 6 months.