Was ist Drag?
Die meisten Dinge beginnen und enden als E-Mails, verbreiten sich jedoch schnell über zahlreiche Tools. Höre auf, zwischen Tools zu wechseln und verwalte deinen gesamten Workflow mit Drag über deinen Posteingang.
Drag ist ein gemeinsamer Posteingang für G-Suite-Nutzer. Du kannst Gmail mit nur einem Klick zum Arbeitsbereich deines gesamten Teams machen, um Kunden zu unterstützen, Aufgaben zu verwalten und Geschäfte abzuschließen.
Von über 30.000 Fachleuten in über 30 Ländern eingesetzt. Einfach zu installieren. Einfach einzurichten. Keine Schulung erforderlich.
Wer verwendet Drag?
Mehr als 30.000 Einzelpersonen und Teams verwenden Drag, um E-Mails in über 30 Ländern zu organisieren und gemeinsam zu bearbeiten.
Wo kann Drag bereitgestellt werden?
Cloud, SaaS, webbasiert
Über den Anbieter
DragApp
2018 gegründet
Telefon-Support
Chat
Erhältlich in diesen Ländern
Vereinigte Staaten, Vereinigtes Königreich
Über den Anbieter
DragApp
2018 gegründet
Telefon-Support
Chat
Erhältlich in diesen Ländern
Vereinigte Staaten, Vereinigtes Königreich
Drag – Videos und Bilder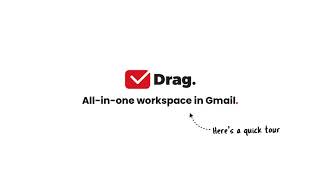 Kosten ähnlicher Produkte wie Drag vergleichen
Drag Funktionen
Abrechnung & Rechnungsstellung
Anpassbare Vorlagen
Archivierung & Aufbewahrung
Aufgabenmanagement
Bearbeiten in Echtzeit
Berichterstattung / Projektverfolgung
Brainstorming
Datenwiederherstellung
E-Mail-Management
E-Mail-Überwachung
Filesharing
Gemeinsamer Posteingang
Ideenmanagement
Kalenderverwaltung
Kanban-Tafel
Kommunikationsmanagement
Mobiler Zugriff
Notizen verwalten
Projektplanung/Terminierung
Reaktions-Management
SaaS-Betriebsführung
Werkzeuge zur Zusammenarbeit
Fernando C.
Games Director in Spanien
Verifizierter Nutzer auf LinkedIn
Unterhaltung, 1.001-5.000 Mitarbeiter
Verwendete die Software für: 1-5 Monate
Enhanced focus and peace of mind
Kommentare: I'm tackling most of the tasks than arrive to me through mail using Drag. Some of my mails become tasks in my external app, which I keep using (because not all of my tasks come from my mail, and I need a way to manage these ones), but Drag definitely helps me managing the tasks that come through my mail by (a) avoiding the overhead of translating many mails to tasks, and (b) allowing me to open my mail and knowing instantly what's going on at a glance.
Vorteile:
The most noticeable improvement has been opening my mail and knowing instantly what's going on at a glance, which frees resources in my mind (peace of mind, what a treasure!) Besides that, I use the GTD method to organize my tasks. Every day I process my inbox following GTD's algorithm: 1. If something takes less than 2 minutes, I do it and archive the mail. 2. If I can delegate it, I do it and either archive the mail or put it in Doing, to follow it up. 3. If I want to do it, I move it to "Doing". This is an improvement over having just a list of tasks outside of my mail, because a lot of mails don't need to become tasks in an external app, and can be managed more easily with Drag, which reduces significantly the overhead of having to create tasks and follow up somewhere else, besides avoiding having to switch between between apps (from tasks to mail, etc), simplifying my workflow and increasing my productivity.
Nachteile:
I haven't found any opportunity cost so far in using Drag. I miss some functionalities, though. Mainly, I miss a way to defer mails I don't want to pay attention to now until a later date. This functionality already exists in Google's Inbox Mail App and I need it because it's one of the steps of the GTD's algorithm I mentioned before.
Cody M.
Controller in USA
E-Learning, 51-200 Mitarbeiter
Verwendete die Software für: Mehr als 1 Jahr
More People Need to Know About Drag!
Kommentare: I can't really imagine using Gmail without Drag now, having used it for over a year. This is especially true for companies that utilize Shared Inboxes and Groups - the collaboration functionality is top-notch. We can basically incorporate project management practices & tools directly into Gmail, as opposed to having a separate tool in another platform.
Vorteile:
The functionality for Shared Inboxes & Groups is excellent. The Kanban inbox style with notes, attachments, internal tagging, and automations to auto-sort email has boosted our team's productivity massively. Our company gets a massive volume of email in our shared inboxes each day, and prior to implementing Drag, emails were sometimes lost or responses were slow. Organization and lack of automation was to blame - Drag has fixed that.
Nachteile:
Though it is very rare, every so often there will be a new back-end update to Gmail which sometimes would cause Drag to glitch out. The Drag team usually anticipates these rollouts and there is no issue, but twice in the past year or so we've encountered an issue. That said, they have always fixed it very quickly, same-day.
Edward B.
Photographer in UK
Fotografie, Selbstständig
Verwendete die Software für: 6-12 Monate
Unethical Practice
Kommentare: The app maybe good but their business ethics are shameful.
Vorteile:
The software itself was ok but ultimately I decided not to carry on with it.
Nachteile:
Buyers beware. My initial purchase was for a year upfront. After a few months I stopped using the software.... all fine. I did the trial, and thought I could get some use from it. Unfortunately that wasn't the case so I was not minded to renew. 12 months down and I get an email stating I have subscribed for another year with invoice details. Obviously I did not want this to happen, and what with watching my events business go up in flames thanks to Covid and all the implications that brings, the renewal date had sailed passed me. As soon as I got the email, I got in touch with support for a refund on the product as its no longer needed. Sadly, they have taken the money and are refusing a refund. No remorse, no sympathy. Utterly reprehensible.
Antwort von DragApp
letztes Jahr
Hi Edward, it's a shame to hear that you were not happy with our services. As communicated to you previously, Drag is a subscription business, which means that, unless the subscriber cancels the subscription before the end of the billing cycle (which has not been done in your case), a new billing cycle is automatically initiated. This is the standard model in software as a service and I'm sorry if it wasn't clear for you. Our terms and conditions are publicly available at: https://dragapp.com/terms. We are happy to support you with other enquiries.
Sahr S.
Founder in Kanada
Verifizierter Nutzer auf LinkedIn
Verwendete die Software für: 1-5 Monate
Drag is a lifesaver for my inbox and gave me the ability to get things done more productively.
Kommentare: This software has helped me streamline my email process and not forget about the emails that have not received a response (whether that's on my end or the other party). It's has allowed for less work to fall through the cracks and for less prospective, current, or future business to be lost.
Vorteile:
Before Drag, my inbox was a mess. I would not have any proper method of keeping track of emails and it got to the point where things fell through the cracks which amounted to lost business. What I like most about Drag is that it resembles kanban boards that I'm familiar with in the software space and it gives me a good means to make sure that emails don't get forgotten about. I also like how it seamlessly integrates into your email using the Chrome extension and doesn't require any additional onboarding steps. Usually, the problem with bringing on new software is that it is too laborious to integrate it into your daily routine. That's not the case with Drag. With the toggle of a button, you can switch it on and off at your discretion, as well.
Nachteile:
One of my email inboxes has over 11,000 emails. I found that integrating Drag with that particular email really slowed things down when it came to website speed. This is more mismanagement on my part and it's my goal to reduce the number of emails I have in that inbox so that I can actually use Drag. In addition, Drag doesn't currently allow you to customize the labels on the kanban board or add any additional steps. To my understanding, this is a feature that they hope to launch in the future, however.
Mazyar m. H.
Candidate in USA
Verifizierter Nutzer auf LinkedIn
Verwendete die Software für: 6-12 Monate
The Solution for Inbox Confusion
Vorteile:
Drag is intuitive, easy to use, and most importantly, visual. All necessary features to turn my daily e-mail torrent into meaningful action. The first step in that process is to organize messages into a hierarchy before reviewing and assign each one. Drag does this right away by letting me sort my messages by importance, subject, whatever I want. The key is the clear visualization.
Nachteile:
While a great product, Drag is still developing. At the moment, it doesn't appear to sort messages by criteria, so I am still doing that by hand. In addition, the column structure (which works great) can easily stretch past your screen real estate. This means a lot of sideways scrolling. I would like to be able to collapse columns or stack them in order to keep the action on a single screen. But I'll bet they play on making such changes in the future.