Was ist lemlist?
Lemlist ist eine E-Mail-Outreach-Plattform, mit der du automatisch personalisierte Bilder und Videos erstellen kannst. Starte erfolgreiche Kundenbeziehungen, indem du deine Kaltakquise-E-Mails von Anfang an hochgradig personalisierst und menschlich gestaltest. Rationalisiere und automatisiere deine Follow-ups, stelle sich wiederholende Aufgaben auf Autopilot und lass dir auf diese Weise nichts mehr entgehen.
Musst du E-Mails schnell und in großem Umfang versenden, ohne Abstriche bei der Qualität? Möchtest du jede einzelne E-Mail einzigartig und personalisiert gestalten? Das Tool bietet dir alles, was du brauchst.
Wer verwendet lemlist?
Unterstützt Agenturen, Vertriebsteams, Personalvermittler*innen, SEOs und kleine Unternehmen beim Wachstum mithilfe von E-Mail-Kommunikation.
Wo kann lemlist bereitgestellt werden?
Cloud, SaaS, webbasiert
Über den Anbieter
lempire
2018 gegründet
Chat
Erhältlich in diesen Ländern
Frankreich
Sprachen
Englisch, Französisch
Über den Anbieter
lempire
2018 gegründet
Chat
Erhältlich in diesen Ländern
Frankreich
Sprachen
Englisch, Französisch
lemlist – Videos und Bilder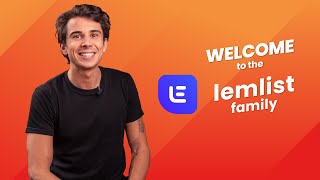 Kosten ähnlicher Produkte wie lemlist vergleichen
lemlist Funktionen
Abonnenten-Management
Berichterstattung / Analyse
CAN SPAM-Compliance
Email-Kampagnen-Management
Für Vertriebsteams/ -organisationen
Kommunikationsmanagement
Listen-Management
Vorlagen-Management
WYSIWYG-Editor
Zielseiten / Web-Formulare
Caleb
Owner in USA
Verifizierter Nutzer auf LinkedIn
Marketing & Werbung, 2-10 Mitarbeiter
Verwendete die Software für: 1-5 Monate
In Betracht gezogene Alternativen:
Lemlist Rocks!
Kommentare: Warming up campaigns is definitely one of the biggest wins. I love how you can still use lemwarm even after warming up a campaign to keep your inbox engaged and healthy. The statistics for lemwarm and many others make it very easy to keep your inbox happy and healthy. The dynamic images and pages definitely help break the normal boring messages that most of us have all received at some point. It creates a very personal touch even if it is automated. They amount of templates available straight out of the box, definitely helps someone get started.
Vorteile:
The ease and flow of the UI/UX is absolutely beautiful. Very Dynamic software and very creative with dynamic images and Landing Pages. One of the biggest things that brought me to the platform from using a different service is "Lemwarm" and the ability to automatically warm up your inbox before getting ready to launch a campaign. So many amazing features. There was definitely thought and intention with the entire platform to embody everything needed to launch a "cold" email campaign that doesn't feel so cold.
Nachteile:
Downsides? What downsides? ;) i definitely haven't found anything about the platform or Lemlist, that I don't love!
Verifizierter Rezensent
Freelancer in B2B Growth & Operations in Deutschland
Verifizierter Nutzer auf LinkedIn
Informationstechnologie & -dienste, Selbstständig
Verwendete die Software für: Mehr als 1 Jahr
In Betracht gezogene Alternativen:
Big fan of this tool. Offering an amazing degree of personaliziation
Kommentare: Lemlist was extremely helpful in personalizing outreach at scale. You get a lot for your money. Extra features like the pods or super fast customer service make this tool a no-brainer when it comes to cold outreach.
Vorteile:
Degree of personalization; bulk import & export functions; extremely helpful customer service (quick & effective responses)
Nachteile:
The only thing about this software which was not to rate five stars was the design (UI). Used light-grey and white elements were sometimes hard to find..
Noah
Customer Advocate Manager in Kanada
Verbraucherdienste, 11-50 Mitarbeiter
Verwendete die Software für: Mehr als 1 Jahr
Great for smaller email campaigns
Vorteile:
Very easy and straightforward to use. Easy to track how a campaign is doing and viewing/replying to email replies is easy as well.
Nachteile:
Instead of sending the email to everyone at the same time, it sends every couple of minutes. This makes larger campaigns harder to do, especially if you have multiple emails in the sequence. To get through the entire list with multiple emails each, it can get extremely backed up.
Wil
Creative Director in USA
Medienproduktion, 11-50 Mitarbeiter
Verwendete die Software für: Mehr als 1 Jahr
In Betracht gezogene Alternativen:
Not fairly priced, yet the backbone is old technology (agency user with 10+ seats)
Kommentare: Due to how often they continually update the platform--and you would expect this to actually be a good thing but it's not--the UI will change and functionality you began to rely on working fast suddenly slows down considerably. They update their platform multiple times a week on the backend. It's like, just build it right the first time and let. it. be. It's not even adding new features it's just busy work. If you run more than 2 email addresses, you're an agency or you have 3 or more users, I suggest using a different platform, you'll get better functionality out of something like woodpecker.co or market.to then Lemlist and for a much more reasonable price. They don't even offer a discount on their $60/seat rate until you have had at least 20 seats.
Vorteile:
I liked that it was fairly quick to actually queue new campaigns on lemlist. I could duplicate a campaign, keep the settings and then just put in the sender and associate a list to it. As an agency using it, I found that was effective, though actually getting the settings I'd put in to take often required a lot of server lag.
Nachteile:
This was fixed but it took about 4 months to do it: how LONG it takes list changes to go into affect. If you for instance had 1k contacts you wanted to remove from a campaign, it would take 20-30 minutes for those to be removed. How poorly they integrated with HubSpot and Salesforce. Sure there was some integration but it required I learn ALOT about the platform to make it work as an agency. I had to make changes on HubSpot to tailor it to work with Lemlist and there is absolutely no automation interaction unless you use a third party software and even then Lemlist doesn't offer many triggers on zapier. Lemlist will throttle you into the ground as an agency if one of your domains has low deliverability the algorithm will stop them all I started sending 150-200 emails per day from each seat and before long it became 50 at most. Their pricing model is pretty insane really. Comparable software goes for half the price of Lemlist with better features and cross platform multi-channel integration. Support wasn't very helpful and very pushy for positive reviews of their support. I often was told whatever issue I had wasn't their responsibility to resolve or wasn't understood so my support requests would get escalated to their dev team who responded 3-4 business days later through the tech, not directly and the answer only rarely was actually salient to my issue so another message would have to be sent by me to clarify which took another 3-4 days.
Jessie
Founder in Belgien
Marketing & Werbung, Selbstständig
Verwendete die Software für: 6-12 Monate
In Betracht gezogene Alternativen:
Use personalized images to catch the attention of prospects in email outreach
Vorteile:
The use of personalized images in email outreach enables you to catch the attention when doing cold outreach. Next to this the platform also enables personalized landing pages and other interesting features.
Nachteile:
I am on an LTD account and upgrading can't be done without losing the LTD account. It would be nice if there would be more love to those who supported lemlist from the getgo by buying an LTD.