Was ist OpenShot Video Editor?
Schneide und animiere deine Videoobjekte mit einer Open-Source-Videobearbeitungslösung für Linux, Mac und Windows.
Wer verwendet OpenShot Video Editor?
Nicht vom Anbieter bereitgestellt
Wo kann OpenShot Video Editor bereitgestellt werden?
Cloud, SaaS, webbasiert, Mac (Desktop), Windows (Desktop), Linux (Desktop), Windows (On-Premise), Linux (On-Premise)
Über den Anbieter
OpenShot Studios
Ansässig in Rockwall, USA
2008 gegründet
Erhältlich in diesen Ländern
Vereinigte Staaten
Über den Anbieter
OpenShot Studios
Ansässig in Rockwall, USA
2008 gegründet
Erhältlich in diesen Ländern
Vereinigte Staaten
OpenShot Video Editor – Videos und Bilder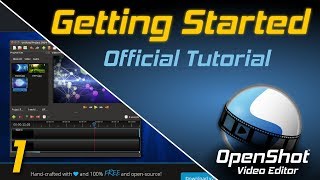 Kosten ähnlicher Produkte wie OpenShot Video Editor vergleichen
OpenShot Video Editor Funktionen
Medienbibliothek
Videobearbeitung
Alternativen für OpenShot Video Editor
Bewertungen über OpenShot Video Editor
Abid
Manager Operations in Pakistan
Verifizierter Nutzer auf LinkedIn
Bankwesen, 5.001-10.000 Mitarbeiter
Verwendete die Software für: Mehr als 2 Jahre
OPENSHOT IS SIMPLY THE BEST VIDEO EDITOR
Kommentare: OpenShot video editor is incredibly easy to use and poweful video editing software which are helping professionals all over the world with its excellent features. OpenShot supports multiple operating systems like Mac, Linux & Windows and it is absolutely free of cost and can be downloaded easily from its website. We can save a video in any of above mentioned OS and can be open it on another. OpenShot can read and wirte most image and videos formats and with the advanced tabs users can use any FFmpeg format.
Vorteile:
I am using OpenShot for last 2 years in editing videos and found it very simple and easy to understand. With the help of this software i can add desired sounds to any of video and also trim the videos to find perfects moments. I can easily drag and drop the videos, audios and images from file manager into OpenShot for editing. There are lots of builtin background videos in OpenShot which makes it very easy to add titles and rearrange it according to the need. Unlimited layers allowed the users to add watermark, sound track and more. You can also add 3D animations such flying text, snow and many other things to your videos to make them looks nice and beautiful. The videos can be speed up and slow down with help of OpenShot and the user interface is so simple that one can easily understand their features in first use.
Nachteile:
OpenShot video editor has all the necessary features and have excellent user interface with all the essential buttons but i would love if they add some external plugins for 3D animations. By adding some extra plugins user can takes some more benefits from this remarkable software.
Gabriella
Process Design Engineer and CEO in Südafrika
Verifizierter Nutzer auf LinkedIn
Metallabbau, 2-10 Mitarbeiter
Verwendete die Software für: Mehr als 2 Jahre
A great video editor that needs a 'splash'
Kommentare: I enjoy using OpenShot, but it would be great if they added a splash screen and a notification window?
It works well and competes favorably with similar programs, even with paid programs, given that it is free.
Its performance is good overall but I have found that the processor you use plays a role.
Vorteile:
OpenShot is a great video editor, I have been using it for over two years now. Its option to separate sound from video in an imported and loaded clip is very good. I use this feature quite a bit and I have not experienced any errors or problems with it. I also like how after separating out the sound I can either remove it or edit it. Another feature that stands out is the razor tool, it makes removing unwanted sections easy. Bringing the remaining clips together is even easier, you just drag and drop, this is something I have found to be a bit messy with other programs. I like how it's not too heavy, I have successfully ran it on an entry-level processor. It would occasionally slow down to load, but the plus here was that it would not crash and I wouldn't lose my work. However, I would be amiss if I did not mention that the processor you use makes a difference!
Nachteile:
The issue that I have or perhaps an ask to OpenShot is that they add a splash screen to show that the editor is starting as well as a notification window that asks you to confirm if you want to open more than one instance. When starting OpenShot it's often not clear whether it's opening or not. I tend to end up with several windows open. Then it becomes a mission to close the extra windows and then wait a bit before starting work to see if there will be more windows opening up. Adding a splash screen and a notification window would be quite helpful, it would save time & effort and eliminate any frustrations!
Shahzan
Youtuber in Sri Lanka
Animation, Selbstständig
Verwendete die Software für: Kostenlose Testversion
Didn't actually expect to be this good
Kommentare: It's one of the best video editing software's I used because how user friendly it was.
Vorteile:
User friendly and was easy to get my job done.
Nachteile:
Love the software but would be better if there's more 3D options.
Cristhian Josue
CEO in Mexiko
Verifizierter Nutzer auf LinkedIn
Design, 2-10 Mitarbeiter
Verwendete die Software für: Mehr als 1 Jahr
Openshot, the free video editor that everyone should try
Kommentare: Openshot is a fantastic tool, I like it very much, it fulfills very well the function of being a free and competitive video editor, it allows us to do almost everything related to post-production, to a greater or lesser extent, but we can do it. If you want to create simple videos, this is a good option
Vorteile:
One point I really like about Openshot is that it's free... just kidding. This video editor allows us to create infinite layers, something that I personally like a lot because I usually used multiple layers, sometimes by the need of the project or simply to have a working order in my timeline. In my opinion, this video editor is a good tool for those who like me some time ago, only want to create simple montages with good quality, "Openshot" satisfies me, it's light and any PC can run it, even the editing in this video editor is done nicely, I like it.
Nachteile:
Openshot looks very antiquated in some aspects, it has 3D animations but they look like they come out of PowerPoint or some version of windows 2000. This video editor can't compete in the graphical aspect with other free editors, let alone paid software or software focused on 3D designs. Simply Openshot isn't an option if you want to use or create animations in your video editor.
Verifizierter Rezensent
Rev Closed Captions Editor in Südafrika
Verifizierter Nutzer auf LinkedIn
Unterhaltung, 10.000+ Mitarbeiter
Verwendete die Software für: 1-5 Monate
OpenShot - Power and Professionalism
Kommentare: For a small business, and even personal use in the form of social media videos, promotional videos I think it's brilliant software. The fact that it's free it's amazing and it doesn't sacrifice quality in the form of having an extensive list of effects and transitions. I find it easy and fast to make videos that look professional, make me look professional online. If you ever get stuck with how to use a feature, there are lots of tutorials online, as well as the built-in tutorial. Really stunning editor that I'll recommend to anyone wanting to make their business's online video presence comes across professional and polished.
Vorteile:
The first feature that has to be mentioned is that this is free software, and that it offers being able to work in 4K. I am impressed that the media library has so many options, that include built in effects, transitions, ability to use titles for vectors and fonts. It's collaboration with Blender means it has those sleek looking 3D effects and titles built in as well, a nice quick way to add something extra to your project to make it stand out. The interface is clean, simple and easy to get used to and adjust to for seamless editing, as well it being free to edit as many clips as you need to, no limits there. I like that it doesn't have a steep learning curve that most video editors do, but it still allows you to do professional editing as you would on a premium software, and advanced edits. I'm transitioning into teaching online, and I've used it to make my own promotional videos for various companies. It's always a pleasure to use as I can make changes fast, add an effect, sometimes play around with what would look good, and not have to dedicate hours to editing anything. When I'm done it looks polished and professional, as if I had used a high-end editor, which I appreciate as building a small business means you don't want to go spending extensively on software.
Nachteile:
I think that if you need to edit a whole movie, it may give you issues with loading, with lag. I noticed that if I tried to import large files, a few hours of a holiday video, that there was an issue with it freezing. However, for most of my work I don't need to edit hours of footage, so I didn't really have an issue with this. I think for most people who are making social media videos, promotional material for their business like I do, even longer advertisment-type edits, OpenShot is perfect for our business or personal editing needs.