Was ist Whispir?
Whispir ist eine Cloud-Plattform zur Automatisierung intelligenter, umfassender Kommunikation.
Wer verwendet Whispir?
Nicht vom Anbieter bereitgestellt
Wo kann Whispir bereitgestellt werden?
Cloud, SaaS, webbasiert, Android (mobil), iPhone (mobil), iPad (mobil)
Über den Anbieter
Whispir
2002 gegründet
Telefon-Support
Chat
Erhältlich in diesen Ländern
Australien, Indonesien, Neuseeland, Philippinen, Singapur und 1 weitere
Über den Anbieter
Whispir
2002 gegründet
Telefon-Support
Chat
Erhältlich in diesen Ländern
Australien, Indonesien, Neuseeland, Philippinen, Singapur und 1 weitere
Whispir – Videos und Bilder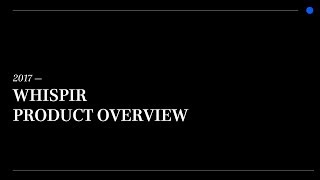 Kosten ähnlicher Produkte wie Whispir vergleichen
Whispir Funktionen
API
Alarmfunktion / Benachrichtigungen
Anpassbare Felder
Anpassbare Vorlagen
Audio / Video-Konferenzen
Aufgabenmanagement
Automatische Antworten
Automatisierung von Geschäftsprozessen
Berichterstattung / Analyse
Berichterstattung und Statistik
CRM
Drittanbieter-Integration
E-Mail-Management
Echtzeit-Berichterstattung
Echtzeitüberwachung
Formularverwaltung
Geplanter Nachrichtenversand
Grafischer Workflow Bearbeiter
Kommunikationsmanagement
Kontaktmanagement
Kundenspezifisches Branding
MMS
Massen-SMS
Massenbenachrichtigungen
Mehrsprachig
Mobile Keywords
Mobiler Zugriff
Multi-Channel-Kommunikation
Personalisierung
SMS-Marketing
SMS-Nachrichtenversand
Verfolgung von Interaktionen
Videokonferenzen
Vorlagen
Vorlagen-Management
Werkzeuge zur Zusammenarbeit
Workflow-Konfiguration
Workflow-Management
Zugriffskontrollen / Berechtigungen
Zwei-Wege-Kommunikation
Verifizierter Rezensent
Senior Client Services Manager in Malaysia
Verifizierter Nutzer auf LinkedIn
Versicherung, 201-500 Mitarbeiter
Verwendete die Software für: Mehr als 1 Jahr
Easy to use features coupled with great Customer Service
Vorteile:
It's easy to use! Cuts down on creative lead time and turn around required when building or revising creative material for our campaigns. Minimal creative/ development knowledge needed. Love it's drag and drop interface.
Nachteile:
As there is with every software platform, there are some occasional kinks that is difficult to troubleshoot and would be required to be raised to their customer service help desk. Because templates are developed on the platform, it might not appear standard across all devices in the market. Additional time for troubleshooting should be allocated in the timeline when planning a campaign.
Ross
Head of ITSM in Australien
Informationstechnologie & -dienste, 5.001-10.000 Mitarbeiter
Verwendete die Software für: 6-12 Monate
In Betracht gezogene Alternativen:
Enterprise ITSM
Kommentare: Rich messaging, rapid stakeholder communications.
Vorteile:
ServiceNow plugin allowing automated alerts on high priority events and incidents.
Nachteile:
Limitations on Alias Manager for reply messages. UX is not always intuitive and takes much trial and error to unravel. The support team has been very good on this point.
Prasad
IT Analyst, Technology Infrastructure Services in Singapur
Versicherung, 501-1.000 Mitarbeiter
Verwendete die Software für: Mehr als 2 Jahre
Ease of Use
Kommentare: We have used Whispir to communicate to agents and users in a timely and reliable manner which improved our relationship with them and in-turn our business.
Vorteile:
Easy to deploy and integrate with our existing applications. Regular and periodic review of business challenges reliable customer support
Nachteile:
usage of same users across different whispir accounts could simply user management.
Mark
Global Head of IT, Travel Insurance in Australien
Versicherung, 10.000+ Mitarbeiter
Verwendete die Software für: Mehr als 2 Jahre
An Effective Messaging Solution
Kommentare: We have used Whispir as our messaging solution for a number of years now. It's not the cheapest on the market, but it gives us a good mix of services for messaging, in a relatively easy-to-use interface. Plus additional savings can be attained when sending at higher volumes. The API is robust and has served us well in our high-frequency implementation. The Whispir platform continues to improve, as with the addition of new integrations into WhatsApp, although we have not used those yet. And we see many areas, like Incident Management and Operations, where the Whispir solution can be used effectively to keep teams informed. I hope they will continue to develop a better UI, and more intuitive menus and navigation in the portal. The Whispir team have been very supportive and responsive, and we're very happy to have them as a messaging partner for our business.
Vorteile:
Whispir features web-based configuration and the ability to segregate projects and teams into Workspaces. This allows us to access our Whispir account from anywhere and build specific work environments for our various products and teams. Whispir provides a unified portal for both SMS and email messaging, which gives us centralized control of our templates and distribution. Pretty much everything we need the Whispir platform to do, can be achieved out of the box. And the support is great!
Nachteile:
While the Whispir portal is relatively simple, it takes a little time to navigate effectively and to figure out where, and what, all the various settings and controls are. For instance, some settings might be global whereas others might only be Workspace-related. Also, it would be great to have more visibility of the status of messages, especially mission-critical SMS. Fortunately, we can always rely on Whispir support to provide us with the information we need, but it would be great to be able to get at it ourselves.
Alina
Senior Project Manager in USA
Versicherung, 1.001-5.000 Mitarbeiter
Verwendete die Software für: Mehr als 2 Jahre
Informational email campaigns to CareFirst members
Kommentare: We run email campaigns related to members' medical insurance. Given the COVID-19 pandemic, we are especially pleased to be able to send members timely information and measure the member engagement using Whispir.
Vorteile:
We send ~1 million emails weekly using the Whispir API. With Whispir's help, we developed an automated process to run our campaigns via the API. We've encountered numerous issues over the last 3 years and have learned a fair amount about running successful email campaigns, specifically, the need to continuously add to our library of mitigation plans. Our account team, [SENSITIVE CONTENT HIDDEN] have provided outstanding support, invaluable guidance and were able to draw on the larger Whispir Support team, as well as their Executive team to suggest solutions to issues encountered. In the process, we have been able to add robustness to our workflow, and significantly augment our campaign success measures.
Nachteile:
The user interface, although intuitive and user friendly, is not always able to handle reporting for the larger email campaigns.