Lokales Produkt
Was ist Productsup?
Productsup ist die führende Product-to-Consumer (P2C)-Plattform, die es Herstellern, Marken, Dienstleistern und Marktplätzen ermöglicht, Commerce Anarchy in kommerziellen Erfolg zu verwandeln. Die Productsup P2C-Plattform bietet eine Reihe von Lösungen wie Feed Management, Marktplatzerfahrung und Social Commerce, Syndication von Produktinhalten sowie Onboarding von Verkäufern und Anbietern. Sie verarbeitet monatlich über zwei Billionen Produkte für über 900 Marken – darunter IKEA, Sephora, Beiersdorf, Redbubble und ALDI.
Wer verwendet Productsup?
Unternehmen, die die Commerce Anarchy meistern und eine All-in-One-Plattform für das Management von Produktinformations-Wertschöpfungsketten über alle digitalen Kanäle hinweg nutzen möchten.
Wo kann Productsup bereitgestellt werden?
Cloud, SaaS, webbasiert
Über den Anbieter
Productsup
Ansässig in Berlin, Deutschland
2010 gegründet
Telefon-Support
Chat
Sprachen
Deutsch, Englisch, Französisch
Productsup Kosten
Startpreis:
Nicht vom Anbieter bereitgestellt
Ja, kostenloser Test verfügbar
Keine Gratisversion
Productsup bietet keine Gratisversion, aber eine kostenlose Testversion.
Über den Anbieter
Productsup
Ansässig in Berlin, Deutschland
2010 gegründet
Telefon-Support
Chat
Sprachen
Deutsch, Englisch, Französisch
Productsup – Videos und Bilder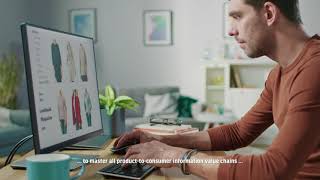 Productsup Funktionen
API
Alarmfunktion / Benachrichtigungen
Auftragsmanagement
Berichterstattung und Statistik
Content-Management
Database Publishing
Datenmodellierung
Datenqualitätskontrolle
Digital Asset Management
Drittanbieter-Integration
E-Commerce-Management
Individuelle Anpassung
Inhalt-Bibliothek
Inhaltserstellung
Inventarverwaltung
Kanalmanagement
Katalogerstellung
Katalogisierung / Kategorisierung
Kategorisierung / Gruppierung
Marktplatz-Integration
Multichannel-Marketing
Preismanagement
Produktdatenmanagement
Suchen / filtern
Vorlagen
Alternativen für Productsup
Bewertungen über Productsup
Antoan M.
Team Leader, Product Data Management in Bulgarien
Verifizierter Nutzer auf LinkedIn
Internet, 51-200 Mitarbeiter
Verwendete die Software für: Mehr als 1 Jahr
ProductsUp is very powerful and solves our data transformation challenges.
Kommentare: We are dealing with a lot of data transformation challenges and Productsup has helped us overcome these in a very efficient way and has greatly reduced the amount of duplication in our work. It has also greatly improved the speed with which we are able to publish products and the quality of the content we publish as we are able to extract and structure more meaningful information from the data we receive.
Vorteile:
Productsup has a huge amount of integrated functions to automate the product data processing. There are predefined templates for a large list of marketplaces and it is also highly customizable, so it fits our specific needs. Our Product Data Team are happy to use it because there is no codding needed. Data transformation rules are applied via a drag & drop interface and one big advantage is that you can instantly see the results in the data view. The support is great! We always receive a very fast and helpful response. If there is something that the 1st line support cannot handle, it is immediately escalated to the IT team and then quickly resolved. We also like that they are constantly improving the product - adding new features, channels, improving the overall performance and they listen to customer feedback.
Nachteile:
It takes a bit of time to get familiar with the system, because it has so many functions. A facility to track changes would be nice, because usually more than 1 person works on a project and it can get a bit messy.
Antwort von Productsup
vor 4 Jahren
Hi Antoan, thanks a lot for your feedback! It is great you love our platform so much and appreciate all the features that make it so intuitive and easy to use. The support team is always happy to help you with any future feed challenges or hosting an in-depth session on new features whenever they are released :) The change log is a feature a lot of clients would like to see implemented into the platform and we definitely have it on the roadmap! The new Data-View will automatically refresh once another user saves a change, so adjustments are a bit more transparent with multiple active users. Please don't hesitate to reach out to us in case you have any more ideas for features or improvements! - Lena Wisser, VP Client Solutions
Roy A.
Manager Marketing Technology in Niederlande
Verifizierter Nutzer auf LinkedIn
Unterhaltungselektronik, 1.001-5.000 Mitarbeiter
Verwendete die Software für: Mehr als 2 Jahre
Absolutely indispensable part of our marketing stack
Vorteile:
We have been using Productsup for a few years now, and are still amazed at the level of control over data it gives to us as a marketing department. Without relying on expensive and scarce development resources, we can create, improve, and send out data to all our partners. We even use it to power things for our own platform. The tool is very user friendly but still very flexible and powerful (though, of course, there is somewhat of a learning curve in the beginning). We don't really use the standard channel integrations, even though they seem to work just fine, but are ale to build our own custom dataflows exactly to our liking. Being able to quickly change product data has helped us out many times over the past year.
Nachteile:
Sometimes during (short, not often) performance hiccups or downtime, the status page isn't updated frequently enoug, which makes it a bit difficult to estimate the severity and estimated length of the problem.
Antwort von Productsup
vor 3 Jahren
Hi Roy, thanks a lot for your feedback! It is great to hear you are satisfied with the platform and it's still meeting all your expectations after all these years of usage. For us it is very important that our clients can customize the platform to their individual needs and your account is a perfect example for this. Although the learning curve in the beginning can be a bit of a challenge, we want to make sure you always feel secure and supported when using our tool - so never hesitate to reach out! We revised the process for our status page updates and will keep it up to date with more detailed information than before. However, if you ever find a post that is not giving you all the answers you need, let us know and we will look into it! Thank you for your input! - Lena Wisser, VP Client Solutions
Verifizierter Rezensent
Conversion Rate Optimization Specialist in Deutschland
Verifizierter Nutzer auf LinkedIn
Informationstechnologie & -dienste, 201-500 Mitarbeiter
Verwendete die Software für: Mehr als 2 Jahre
Leader in Product Content Management
Vorteile:
- Easy to use features - Very user-friendly interface to navigate and use features without developers' assistance. - So many possibilities with the data
Nachteile:
I think the price is quite high, but again, the value it provides is amazing.
Antwort von Productsup
letzten Monat
Dear reviewer, Thank you for the great feedback! Please let us know if there is every anything we can support you with or and improvement potential you see on the platform - we are always keen and open to hear it! Thank you, Lena Wisser SVP Client Solutions
Justin L.
Director in USA
Marketing & Werbung, 51-200 Mitarbeiter
Verwendete die Software für: Mehr als 1 Jahr
Great Feed Management Product
Vorteile:
Ease of use, level of expertise from support, willingness to help figure out account solutions; best overall feed product I've worked with
Nachteile:
Nothing major comes to mind, generally effective solution
In Betracht gezogene Alternativen: ChannelAdvisor
Antwort von Productsup
vor 3 Jahren
Dear Justin, thank you so much for taking the time and leaving a review on our platform! It is a big honor to hear that we are the best feed product you ever worked with - I can promise you that we will continue to work hard so it stays that way. If you ever want to learn more about certain features or have improvement ideas, please reach out to us. - Lena Wisser, VP Client Solutions
Oluwabukola P.
International Accout Manager SEA in Frankreich
Marketing & Werbung, 51-200 Mitarbeiter
Verwendete die Software für: 6-12 Monate
Indispensable Feed Management Solution
Vorteile:
Productsup is the go-to place for your feed management solution across multiple channels. It is a great tool to make quick changes in bulk with a lot of drop rule boxes.
Nachteile:
There are diverse functions, and it could take a while to understand how the platform works. However, the support is fast, and they are able to provide adequate training.
Antwort von Productsup
letzten Monat
Dear Oluwabukola, Thank you so much for your positive response! It makes me very happy to read how important we are in your day to day business and that you enjoy working with out support team! The platform can really be a lot - so many functionalities and options. That's why a super well trained support team is key and I am very proud of the one we have here at Productsup :) Thank you, Lena Wisser SVP Client Solutions