Was ist Bryt?
The Bryt Software PROFESSIONAL VERSION is ideal for lending professionals who are looking for a feature rich loan management system that is intuitive and easy to use.
Our BASIC VERSION is designed for non-lenders who need an easy way to automate, monitor and track loans.
Our 20 MINUTE IMPLEMENTATION will get you up and running quickly. Every inch of Bryt is engineered to make your job easier. Our entire interface is intuitive, easy to adopt, and effortless to use.
Wer verwendet Bryt?
Our Professional Version is built for businesses who specialize in lending. Our Basic Version Is designed for non-lenders who need an easy way to automate, monitor and track loans.
Bryt – Details
Bryt Software
2017 gegründet
Bryt – Details
Bryt Software
2017 gegründet
Bryt – Videos und Bilder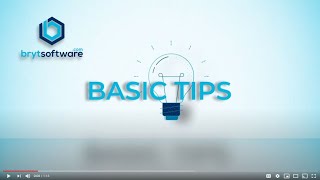 Kosten ähnlicher Produkte wie Bryt vergleichen
Startpreis
29,00 $/Monat
N/A
899,00 $/Monat
Nicht verfügbar
Bryt – Bereitstellung und Support
Kundenbetreuung
E-Mail/Helpdesk
FAQ/Forum
Wissensdatenbank
Telefon-Support
Chat
Training
Live Online
Webinare
Dokumentation
Videos
Ron B.
Executive Vice President, Operations in USA
Finanzdienstleistungen, 2-10 Mitarbeiter
Verwendete die Software für: Mehr als 2 Jahre
Bryt Review
Kommentare: It has been a great experience. The system was very easy to implement and the customer service has been terrific. I have recommended others to use the system as well and will continue to do so.
Vorteile:
The loan pipeline dashboard is probably one of my favorite features within the product. Our management team holds a weekly call to discuss the origination pipeline and the dashboard makes it extremely easy to not only discuss the individual loans but also see what stage/process the loan is currently sitting as well as seeing the financial aspects (loan amount, closing date, funding amount, etc.).
Nachteile:
I would like to see an expanded borrower pipeline similar to the loan pipeline dashboard that could track the stage of the borrower's application (i.e. missing docs, status of credit check, status of background check, etc.) as they progress through underwriting ultimately to an approval or denial.
Nathan T.
Financial Administrator in USA
Staatsverwaltung, 11-50 Mitarbeiter
Verwendete die Software für: 1-5 Monate
Bryt software saved the day!
Kommentare: My experience has been great! There was no pressure from a sales team, the development folks were willing to tweak and customize the software for our needs and everything is running smooth! Most importantly, I feel like my questions and concerns were heard timely and solutions rendered in real time....I feel like the team at Bryt is an extension of my team...
Vorteile:
I appreciate the ease of use, it is intuitive and has all the essential functions our firm needs. We do not offer traditional loans, we issue project specific loans, a little out of the ordinary and Bryt's solution was able to adapt. The implementation and onboarding team were and are a great resource and I feel like I can reach out any time and receive a response within a day. We don't use many of the features, such as late payment calcs, loan origination, or qualification segments, so I cannot comment about more complex loan scenarios.
Nachteile:
One issue is some of menus are buried and there is no active grid view where I can just enter manual payments for borrowers on one screen. Automatic payments will negate this need.
Kali P.
Office Manager in USA
Immobilien, 2-10 Mitarbeiter
Verwendete die Software für: Mehr als 1 Jahr
Great software with a few places to improve.
Kommentare: Overall this software is great! After a little bit of a learning curve (maybe just me), and some help from the team, you'll be up and running and having no issues in no time.
Thanks to Rep and the entire Bryt software team!
Vorteile:
I love the automated features (sending notices, invoices and receipts for payment). There are several great things about this system that are very useful.
Nachteile:
1.) Report writer needs work. With this being said, however, whenever I have a problem, customer support ALWAYS is there to help and create the report, or if they can't create the exact report that I need, they come up with a solution that works! 2.) No help section - if it is after hours or a different time zone, there is no one to offer support or any help whatsoever. Again, this is only when work is being done outside of the normal office hours for Bryt customer service. 3.) Takes some getting used to. Although I am new the mortgage software field. I have done property management for over 15 years, and then we switched to mortgages. So that may be my fault. 4.) No direct mortgage holder option. If you are not the "Servicing Company" of the loans, set up is a bit tricky and takes some getting used to. In my case, I have 1 individual who has mortgages under 4 different companies. This get's complicated when writing reports, letters, or notices, that are mortgage holder specific, but as always, rep and the team have always figured out a way (sometimes even changing the way the software is written) for me to get the information I need. :)
Jennifer S.
manager member in USA
Immobilien, 2-10 Mitarbeiter
Verwendete die Software für: 1-5 Monate
Excellent Customer Service
Vorteile:
The customer support was superb. Before I committed to the product, the team answered all of my questions. After I made the decision to purchase, the set up was quick, and I was able to go live with the product within 2-3 weeks without any issues. The few times I needed additional help with the product, the team got back with me immediately and were extremely helpful. I truly have enjoyed the customer service. It made for a flawless and stress free transition.
Nachteile:
I would like to be able to print out invoices, schedules, etc. Currently, you can print them using the generic screen print option, but it's not an option built into the software. The software is paperless, which has its advantages. Notices, payments, schedules, etc are emailed automatically to clients.
Mike Z.
Loan Originator / CIO in USA
Immobilien, 2-10 Mitarbeiter
Verwendete die Software für: Mehr als 1 Jahr
BRYT's software and team have been valuable to our company to help us scale efficiently!
Kommentare: We have used BRYT for almost 2 years now. BRYT has been extremely valuable for our company. It has been an essential piece that has helped us be more efficient and scale our operation, while also delivering great value to our customers. The team at BRYT has been excellent to work with. They are helpful, easy to work with, and very responsive. They are happy to talk with us if we encounter any obstacles, have questions, and have worked with us continuously to customize their product so it fits what best serves our customers. BRYT continues to make great changes and we know there are even greater things ahead - we highly recommend the BRYT platform and the team behind it!
Vorteile:
Loan servicing and reporting Creating disbursements to investors ACH/Nacha works wonderfully! Payment reminders and statements are great The staff is awesome and very helpful!
Nachteile:
Would love to see: - e-signature integrated - More security features / upgraded - More loan application/origination features (Some of these items I know they are currently working on!)