Was ist Alli AI for SEO?
Alli lets you optimize any website in minutes. Thousands of agencies, consultants and in-house SEOs across the world use Alli to automate SEO at Scale.
Alli works with any CMS, and can make from thousands to millions of code and content changes in minutes.
Manage all your SEO from one dashboard. Install, automate, scale. Take control of SEO fulfillment by optimizing websites automatically with Alli.
Check us out at https://www.alliai.com/
Wer verwendet Alli AI for SEO?
SEO agencies, consultants, and in-house teams optimizing at scale
Wo kann Alli AI for SEO bereitgestellt werden?
Cloud, SaaS, webbasiert
Über den Anbieter
von Alli AI
2017 gegründet
Telefon-Support
24/7 Live-Support
Chat
Erhältlich in diesen Ländern
Vereinigte Staaten
Über den Anbieter
von Alli AI
2017 gegründet
Telefon-Support
24/7 Live-Support
Chat
Erhältlich in diesen Ländern
Vereinigte Staaten
Alli AI for SEO – Videos und Bilder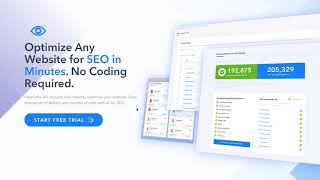 Kosten ähnlicher Produkte wie Alli AI for SEO vergleichen
Startpreis
99,00 $/Monat
N/A
119,95 $/Monat
Nicht verfügbar
Funktionen von Alli AI for SEO
AB-Tests
API
Aktivitäts-Dashboard
Alarmfunktion / Benachrichtigungen
Analytik / ROI-Verfolgung
Anpassbare Berichte
Anpassbare Vorlagen
Backlink-Monitoring
Benutzer-Management
Berichterstattung und Statistik
Content-Management
Dashboard
Datenvisualisierung
Drittanbieter-Integration
E-Mail Marketing
Echtzeit-Aktualisierungen
Echtzeit-Benachrichtigungen
Echtzeit-Daten
Geplante / automatisierte Berichte
Google Analytics Integration
Kampagnenanalysen
Kampagnenmanagement
Keyword Monitoring
Keyword-Recherche Tools
Klick-Tracking
Konversionsraten-Optimierung
Kundenspezifisches Branding
Leistungskennzahlen
Leistungsmanagement
Link-Management
Lokalisierung-Automatisierung
Mehrere Kampagnen
Mehrere Standorte
Mehrsprachig
Mobile Keywords
SEO-Management
Social-Media-Integration
Stichwort-Nachverfolgung
Trend-Analysen
Visuelle Analytik
WYSIWYG-Editor
Web-Traffic-Berichterstattung
Website-Analytik
Website-Management
Werbemanagement
Wettbewerbsanalyse
Wirtschaftsprüfung-Management
Workflow-Management
Zielseiten / Web-Formulare
Überwachung
Lily S.
secretary in Indonesien
Verifizierter Nutzer auf LinkedIn
Buchhaltung, 1.001-5.000 Mitarbeiter
Verwendete die Software für: 1-5 Monate
It's Like Having An SEO Expert By Your Side
Kommentare: It cuts down the work needed to work on SEO, especially for the individual site owner who doesn't have access to pro SEO experts.
Vorteile:
Alli will analyze your site and then give you step by step guide on what to do to increase your site ranking. It doesn't get easier than that.
Nachteile:
It doesn't give you the recommendation on which images missing the ALT tag. This feature is standard on other similar tools.
Mubin S.
Seo Executive in Indien
Marketing & Werbung, 11-50 Mitarbeiter
Verwendete die Software für: Mehr als 1 Jahr
An AI powered SEO tool which can reduce your hassle
Kommentare: Good AI tool but still needs many improvement and upgards
Vorteile:
Easy to use, keyword focus suggestions, easy to track your focused keywords and get classified suggestion on type of outreach resource
Nachteile:
You can not export the data into excel of the resources it finds, you need to go one by one on each resource
Arlène V.
Wellness Consultant in Schweiz
Gesundheit, Wellness & Fitness, 2-10 Mitarbeiter
Verwendete die Software für: Mehr als 1 Jahr
Practical, step-by-step, tips I can follow to optimize
Vorteile:
There are plenty of SEO platforms on the market but I think there are a couple of things that make Alli AI unique and that I'm a fan of. The first one is the fact that Alli AI does a full analysis of your website and looks at your keywords. It's one thing to think that you have optimized your platform but it's another thing to see an actual "screenshot" of how you have done with your optimization efforts. Then there is my favourite feature: tasks. Imagine having your own SEO expert giving you relevant advice like 'Create an About Page', 'Add the keyword in the alt tag of your images', 'Create more content that revolves around your keyword on your website', and so forth. It goes without saying that some of Alli AI's recommendations are going to be more relevant and important than others, but it's nice to get practical advice that you can follow in a step-by-step manner.
Nachteile:
One thing I'd change about Alli AI has to do with the optimization suggestions the platform gives you when it analyses your website. If you have many suggestions, it may be tempting to simply approve them all automatically. Some of them will optimize your website but could have a negative impact on things like your website user experience, for example. I think that ranking suggestions by importance would help solve this because a user would know what to focus on right now and what could be changed at a later date because it isn't that important.
Josh bernthold, S.
Agency Owner in USA
Verifizierter Nutzer auf LinkedIn
Marketing & Werbung, 2-10 Mitarbeiter
Verwendete die Software für: 6-12 Monate
Helpful tool for SEO
Vorteile:
I like the fact you can see what other citations the competition has and how AlliAI shows the likelihood of you being able to acquire the same. Very helpful tool in a number of additional ways
Nachteile:
I feel the UI could be a little better and diving straight in you can be somewhat confused but after using it and getting a feel it is something you can get used to.
Verbraucherdienste, Selbstständig
Verwendete die Software für: 1-5 Monate
Awesome Company
Kommentare: SEO rankings went up consistently.
Vorteile:
Super easy to use, awesome support for any questions.
Nachteile:
Not really any cons to it. Only cons would be limitations of the amount of keywords for the costs possibly.