Was ist Nifty?
Nifty ist ein All-in-one-Arbeitsbereich, um Beschäftigte, Projekte und Funktionen in deinem Unternehmen in Einklang zu bringen. Mit Chat, Aufgaben, Zielen, Dokumenten und Dateien an einem Ort kann sich dein Team dank Nifty auf die tatsächliche Arbeit konzentrieren, anstatt mit Tools zu jonglieren.
Nifty verkürzt die Projektentwicklungszyklen und verbessert die Teamproduktivität, indem alle wichtigen Funktionen des Projektmanagements in einer Software kombiniert werden. Das Endergebnis ist eine Meilenstein-gesteuerte Fortschrittsautomatisierung, die alle deine Teammitglieder in Einklang bringt.
Wer verwendet Nifty?
Nifty richtet sich sowohl an Produktteams als auch an digitale Agenturen mit Kunden.
Wo kann Nifty bereitgestellt werden?
Cloud, SaaS, webbasiert, Mac (Desktop), Windows (Desktop), Android (mobil), iPhone (mobil), iPad (mobil)
Über den Anbieter
Nifty Technologies
2017 gegründet
Telefon-Support
24/7 Live-Support
Chat
Über den Anbieter
Nifty Technologies
2017 gegründet
Telefon-Support
24/7 Live-Support
Chat
Nifty – Videos und Bilder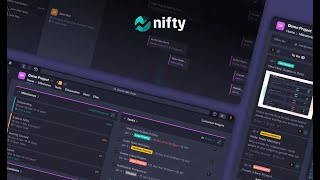 Kosten ähnlicher Produkte wie Nifty vergleichen
Nifty Funktionen
Agile Methodiken
Aktivitäts-/Newsfeeds
Aktivitäts-Dashboard
Aktivitäts-Verfolgung
Anforderungsmanagement
Anpassbare Vorlagen
Aufgaben importieren
Aufgaben-Fortschrittsverfolgung
Aufgaben-Tagging
Aufgabenbearbeitung / -aktualisierung
Aufgabenmanagement
Aufgabenplanung
Automatisierung von Geschäftsprozessen
Balkendiagramm
Bearbeiten in Echtzeit
Berichterstattung / Analyse
Berichterstattung / Projektverfolgung
Berichterstattung und Statistik
Bildschirm teilen
Brainstorming
Budgetierung/Prognosen
Budgetmanagement
Compliance-Verfolgung
Content-Management
Dashboard
Daten-Import / -Export
Diskussionen / Foren
Dokumentenmanagement
Dokumentenspeicher
Drag-and-Drop
Drittanbieter-Integration
E-Mails in Aufgaben umwandeln
Echtzeit-Benachrichtigungen
Echtzeit-Chat
Erstellen von Unteraufgaben
Etikettierung
Farbkodierung/Symbole
Filesharing
Formular-Automatisierung
Formularverwaltung
Fortschrittsverfolgung
Fortschrittsverfolgung in Prozent
Gantt-/Zeitstrahlansicht
Grafischer Workflow Bearbeiter
Ideenmanagement
Kalenderverwaltung
Kanban-Tafel
Kommentare / Notizen
Kommunikationsmanagement
Konfigurierbarer Workflow
Kontaktmanagement
Kontrolle des Genehmigungsprozesses
Kundenportal
Live-Chat
Meeting-Management
Meilensteinverfolgung
Mobiler Zugriff
No-Code
Priorisierung
Projekt-Nachverfolgung
Projektmanagement
Projektplanung
Projektplanung/Terminierung
Prozessmodellierung & Design
Regelbasierter Workflow
Remote-Support
Remote-Zugriff/-Kontrolle
Ressourcenmanagement
Ressourcenzuordnung und -planung
Rollen-basierte Genehmigung
Rückstand-Management
Sprachanrufe
Statusverfolgung
Suchen / filtern
Team-Management
Umfragen & Feedback
Verfolgung der Kosten bis zur Fertigstellung
Veränderungsmanagement
Video-Chat
Videokonferenzen
Visualisierung
Vorlagen
Vorlagen-Management
Werkzeuge zur Zusammenarbeit
Wiederkehrende Aufgaben
Workflow-Konfiguration
Workflow-Management
Zeit & Kosten Verfolgung
Zeitverfolgung
Zugriffskontrollen / Berechtigungen
Alberto O.
Founder in USA
Verifizierter Nutzer auf LinkedIn
E-Learning, 11-50 Mitarbeiter
Verwendete die Software für: 6-12 Monate
In Betracht gezogene Alternativen:
After Trying a Few PM Tools; This One Stuck
Kommentare: Nifty has been an awesome PM tool for the price point. When compared to other cloud based PM tools such as basecamp, asana, and others this one is the way to go and the many things they have been improving on.
Vorteile:
Nifty makes Project Management so simple for our team. It provides multiple views either Kanban, List, or others to properly manage a team. Also, the learning curve is very small compared to other robust PM software. The collaborative ability within projects and tasks with Google integration (doc, sheets, etc) is a game-changer. I really like the ease of seeing everything going on and the easy manner in which moving tasks are. The UX and ease of use for this software is top of the line. Especially in dark mode.
Nachteile:
The cloud-based software can be slow sometimes but definitely nothing to go crazy fussing about. Either way, I believe the Nifty team is working hard to improve it. Also, it would be great to have a CSV upload of tasks/projects.
Viktor N.
CEO in Kanada
Verifizierter Nutzer auf LinkedIn
Marketing & Werbung, 2-10 Mitarbeiter
Verwendete die Software für: 1-5 Monate
In Betracht gezogene Alternativen:
Intuitive, feature-packed project management app!
Kommentare: Nifty is already helping improve productivity since switching from the previous, slower app. As we're working on pivoting our business, it's nice being able to track everything and know what we need to work on now. Plus, support is helpful when I need them without long delays.
Vorteile:
Nifty has a very intuitive UI/UX, so it was easy to jump in and start using it right away. Only a few things required me to look it up in documentation or contact support. And support is fast and helpful. It also has almost everything one needs to manage projects, with more stuff on the roadmap for this year. Compared to the previous project management app, Nifty is fast. So it's a lot easier to manage everything without waiting seconds for the data to load. I hated waiting on task info to load previously, and now with a click, it opens the panel and data is already there. I also like how the task panel is organized, with an easy way to add custom fields as needed. I can easily add files (including Google Docs) to tasks, add comments, and change all other info on the fly. One, somewhat hidden, feature I like is markdown parsing in task descriptions and comments.
Nachteile:
My biggest con is that Nifty isn't accessible as of this writing. You can't tab navigate and the color contrast in the light and dark themes is low, doesn't meet WCAG AA standard. So people with certain disabilities won't be able to use Nifty. I've already told support about this, so hopefully, they'll improve/fix this. Other cons are temporary since they are on the roadmap - API, annual recurring tasks, integration with GitLab, CSV import. Should be all implemented by end of 2020.
Verifizierter Rezensent
Marketing Consultant in UK
Verifizierter Nutzer auf LinkedIn
Marketing & Werbung, Selbstständig
Verwendete die Software für: Mehr als 1 Jahr
In Betracht gezogene Alternativen:
Feature packed and template stacked
Kommentare: Apart from initial setup struggles, Nifty projects are easy to use with enough options to meet my current workflow needs and any future requirement for task assignment to freelancers.
Vorteile:
Nifty made the biggest impact for my needs by having a ready made template for my blog content workflow with automations which help my project run like clockwork. Project dashboards are also laid out well with important sections easy to access.
Nachteile:
Initially I found the software layout not very intuitive with more of a learning curve than I expected.
Alex S.
Sales & Project Management in Japan
Übersetzung und Lokalisierung, 2-10 Mitarbeiter
Verwendete die Software für: 1-5 Monate
Looked greener, but totally failing
Kommentare: Basically, terrible. The customer support was helpful at first, and now they just kind of leave our issues hanging and close the ticket. I've asked for a refund, as we would really like to leave the platform, but we cannot get one. We're stuck, and that's about it.
Vorteile:
The top-down task view was great at first, and exactly what we were looking for.
Nachteile:
After signing up, we found that with a lot of tasks, Nifty bogs down and has to take a lot of time to load things. Moving things around is sluggish and painful. The top-down task view doesn't add new projects as you add them - you have to go back and readd them to the filter. There are a lot of terrible quirks, like the ios app, like the sidebar disappearing and such. On PC, the sidebar constantly reloads, and kicks you off the page. There are no notifications for DMs on the platform, so you can't go back through your daily messages unless you sign up for email notifications, and even then if you accidentally checked it there's no way to reset it. Adding people to teams is easy enough for the administrator, but people won't see notifications in the chat until they initially click on it. The task does not automatically notify the next person on the list even if there's a dependency. The only way to get it to notify someone is through the kanan. DM windows are too small and unnoticeable. The UI for the my calendar is terrible, since filters from my tasks or even all tasks can affect it. We have to constantly check if filters have been set up right. The tasks list by tag number by default instead of the way you arrange them in the list, making it easy to miss deadlines. You have to sort the list by deadline every time you enter a particular project, and when you have 50+ projects, it's just inane. Nifty does not offer refunds.
Francis S.
Assistant Professor in Hongkong
Bau, Selbstständig
Verwendete die Software für: Mehr als 2 Jahre
One of the best scheduling tools for project management: Nifty
Kommentare: I turned on MFA for accessing Nifty account. I used Google Authenticator as the MFA app. When I changed the iPhone from iPhone 12 to iPhone 13 ProMax, the data was transferred from iPhone 12 to iPhone 13 ProMax successfully. Unfortunately, the data in the Google Authenticator, which includes the NiftyPM credential, cannot be recovered. Therefore, I ask Nifty for help. Your Nifty staff immediately caught my problems and report to engineers to see if the MFA can be reset. Well, although the waiting time is long, the problem finally got solved happily.
Vorteile:
Nifty is one of the most sophisticated platforms which can be used for group collaboration. Online essential activities of projects can be effectively delivered, monitored, and control in Nifty. Nifty's progress bar is fantastic. The project members would be able to communicate instantly. The UX and UI designs of the platform are incredibly amazing. When any users faced any difficulties, the Nifty team always offered the communication channel for us so as to reach Nifty staff for any quick help.
Nachteile:
Nifty has done an excellent job in developing the software tools. Not much thing to complaint here. What I dislike is that there is not online tutorials or documentations (even no user manual). With the manual, it helped the efficiency of the delivering the projects. I have to spend time and effort to learn how the Nifty works. I have a group of undergraduates and postgraduates who would like to try Nifty. Any training materials, or video samples (not the youtube), can be sold or gave to the Nifty Fan like myself. Anyway, offering the tools or add-on for reporting functions will be great.