Was ist Userback?
Userback ist eine visuelle Feedbacklösung, die es Softwareteams erleichtert, Fehlerberichte und Nutzerfeedback aus ihren Apps mit kommentierten Screenshots und Videoaufzeichnungen zu erfassen.
Userback wurde für Entwickler, Designer und Produktmanager entwickelt und spart dir Zeit, da du Feedback für all deine Webprojekte an einem Ort verwalten kannst.
Wer verwendet Userback?
Userback ist ideal für Webagenturen, Designer, Entwickler und Softwareunternehmen, die ein kostengünstiges Tool benötigen, um Feedback zu ihren Websites und Webanwendungen zu erfassen.
Wo kann Userback bereitgestellt werden?
Cloud, SaaS, webbasiert
Über den Anbieter
Userback
Ansässig in Rochedale, Australien
2016 gegründet
Chat
Userback Kosten
Startpreis:
19,00 $/Monat
Ja, kostenloser Test verfügbar
Keine Gratisversion
Userback bietet keine Gratisversion, aber eine kostenlose Testversion. Die kostenpflichtige Version von Userback ist ab 19,00 $/Monat verfügbar.
Preismodelle
Kostenlose Testversion
Über den Anbieter
Userback
Ansässig in Rochedale, Australien
2016 gegründet
Chat
Userback – Videos und Bilder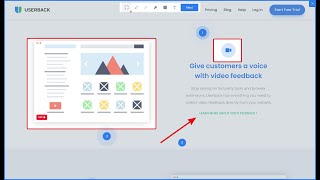 Userback Funktionen
Aktivitäts-Dashboard
Alarmfunktion / Benachrichtigungen
Anpassbare Formulare
Audit Trail
Aufgaben-Tagging
Aufgabenbearbeitung / -aktualisierung
Aufgabenmanagement
Befragungs-/Umfragemanagement
Berichterstattung / Analyse
Berichterstattung und Statistik
Bug-/Problemerfassung
Dashboard
Echtzeit-Benachrichtigungen
Feedback-Management
Ideenmanagement
Kundensegmentierung
Kundenspezifisches Branding
Negatives Feedback Management
Priorisierung
Problemmanagement
Produkt-Roadmaps
Roadmapping
Rückstand-Management
Statusverfolgung
Ticket-Management
Umfragen & Feedback
Visuelle Analytik
Werkzeuge zur Zusammenarbeit
Workflow-Management
Alternativen für Userback
Bewertungen über Userback
Fredy P.
3D Visualization Artist in USA
Verifizierter Nutzer auf LinkedIn
Architektur & Planung, 2-10 Mitarbeiter
Verwendete die Software für: Mehr als 1 Jahr
Great app for quick feedback requests on images and PDFs
Kommentare: We needed a way to request design feedback to clients and userback provided the easiest way to do it with the "designs" feature, so now is a relatively simple process to create a project and upload a design(jpg or PDF) that we can share with our clients, receive feedback and address it directly. Once the design has been updated we can upload a new version and request feedback again, until we get approval.
Vorteile:
Our primary use case is to receive feedback directly over images and PDFs and works great for that. And what I like is that I can upload a JPG, to a specific "project" and send a link to a client where they can annotate and comment directly their ideas and upload files if required to complement their notes, that has saved us some back and forth through email.
Nachteile:
The annotation tools are a bit limited for our use case, need a "freehand" style tool to increase the accuracy of the feedback we receive. Would be great to have the ability to set our custom domain. At the moment they offer the option to send email notifications from our own email but they do not have a way to implement DMARC so if using "quarentine" or "reject" you cannot use your email for notification, and need to use the generic userback email.
Antwort von Userback
vor 3 Wochen
Thanks so much for the feedback Fredy. Really great to hear that Userback is saving you time when managing the feedback process with your clients.
Viktor N.
CEO in Kanada
Verifizierter Nutzer auf LinkedIn
Marketing & Werbung, 2-10 Mitarbeiter
Verwendete die Software für: Mehr als 2 Jahre
Easy to use, feedback and collaboration tool
Kommentare: 90% of our usage is to collaborate with clients during web development. Getting feedback on designs, and more importantly, using feedback widget on the staging website to get clients feedback and make necessary changes. It makes the process extremely smooth and clients have no trouble using Userback to communicate with us. Saves a lot of time and back and forth emails, when conversations are linked to actual screenshots with clients' notes.
Vorteile:
We've used Userback since 2019. First started with placing it on the website and client portal, and then using it during website development to get feedback and collaborate on making changes with clients. It works really well and annotation tools are accurate and easy to use. Non-technical clients have no issue using it to submit feedback on designs and website changes. Makes life easy getting feedback, tracking implementation progress, and communicating with clients back and forth in the comments section.
Nachteile:
Honestly, it works very well. Haven't had any bugs, it offers the features we need, and support was responsive a few times I messaged them. They are always adding new features and improving existing features.
In Betracht gezogene Alternativen: ProjectHuddle
Gründe für den Wechsel zu Userback: The right price, friendly UI, and the right features we needed.
Benjamin S.
Senior Developer in USA
Design, 2-10 Mitarbeiter
Verwendete die Software für: 6-12 Monate
Great for desktop, poor on mobile
Kommentare: We've drastically improved our review/client feedback process, as well as internal bug tracking and feature logging.
Vorteile:
The screen annotation and screen recording features.
Nachteile:
Github integration works one way. We need it to go back and forth.
Adrian C.
QA Manager in Schweiz
Informationstechnologie & -dienste, 11-50 Mitarbeiter
Verwendete die Software für: 1-5 Monate
Easy and practical to use tool for both bug traking and customer feedback
Kommentare: Internal and external users are filling in issues easier than before. Having integration to Azure DevOps helos as well.
Vorteile:
Easy to fill in a bug , a feedback or a new feature. Good integration with Azure Dev Ops. Also, we consider it correct price / quality.
Nachteile:
Having posibility to have more lines (Enter) for Desscription field, when adding a bug, would be a nice improvement Interface imprivement could be made, for managing issues
Stewart R.
Web Designer in Australien
Design, 2-10 Mitarbeiter
Verwendete die Software für: Mehr als 2 Jahre
Keeps getting better.
Kommentare: I love how easy it is to get things up and running once I'm ready for clients to provide feedback. No stuffing around, and it only takes me a minute.
I don't even send videos to clients show them how to use the tool anymore, they are able to jump right in and start providing feedback without any direction other than 'Press the feedback button'. Collaboration on feedback items is a breeze, and notifications come through without issue. Really happy with this tool!
Vorteile:
- Ease of setup. I've never had any troubles, just simply create the project, add the code to the website and you're good to go. - Customisable. Great options to customise the feedback tool to suit the brand and the type of feedback you need for a project. - Versatile. Being able to provide feedback on websites AND pdf's is great. I also like the look of the video feedback tool, haven't had a use for it yet but I can see how that would work well for certain types of clients.
Nachteile:
The only issue I have (and it's a small one) is the client account creation and use. I've found clients struggle or have no interest in setting up accounts and using them to manage their feedback. Providing a more pared back and clean sign-up process and backend for clients to use would be a winner. However I don't think any feedback tool has got this 100% yet. No issues with actually providing feedback though, that has been a positive experience for clients.
In Betracht gezogene Alternativen: ProjectHuddle
Gründe für den Wechsel zu Userback: Good introductory price, solid features, clean UI, Aussie company.