Was ist Carestream Dental?
Zahnmedizinische Bildbearbeitungsprogramme, die medizinischem Fachpersonal helfen, korrekte Diagnosen zu liefern und die richtige Behandlung zu identifizieren.
Wer verwendet Carestream Dental?
3D-Imaging-Lösung, die zahnärztlichem Fachpersonal hilft, digitale Modelle zu erstellen, um die Diagnose, Behandlung und Patientenkommunikation durch Bildfreigabe, Anpassung, visuelle Bewertung und mehr zu verbessern.
Carestream Dental – Details
Carestream Dental
Carestream Dental – Details
Carestream Dental
Carestream Dental – Videos und Bilder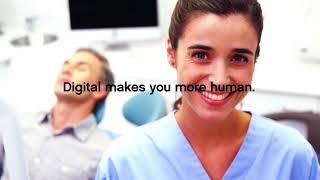 Kosten ähnlicher Produkte wie Carestream Dental vergleichen
Startpreis
N/A
N/A
350,00 $/Monat
Nicht verfügbar
Carestream Dental – Bereitstellung und Support
Kundenbetreuung
E-Mail/Helpdesk
FAQ/Forum
Wissensdatenbank
Telefon-Support
Chat
Einsatz
Cloud, SaaS, webbasiert
Windows (Desktop)
Windows (On-Premise)
Training
Persönlich
Live Online
Webinare
Dokumentation
Funktionen von Carestream Dental
2D-Zeichnung
3D-Imaging
Abrechnung & Rechnungsstellung
Aktivitäts-Verfolgung
Anfragezuordnung
Anpassbare Berichte
Anpassbare Vorlagen
Aufgabenliste
Aufgabenplanung
Aufgabenplanung
Automatische Sicherung
Behandlungsplanung
Benutzer-Management
Berichterstattung und Statistik
Bildanalyse
Daten-Import / -Export
Diagramm-Erstellung
Dokumentenmanagement
Dokumentenmanagement
Dokumentenspeicher
Dokumentvorlagen
Drag-and-Drop
Elektronische Unterschrift
Elektronische Zahlungen
Erinnerungen
Finanzanalyse
Fortschrittsverfolgung
HIPAA konform
Individuelle Anpassung
Inkasso-Management
Kalenderverwaltung
Kalibriermanagement
Kundenportal
Mehrere Standorte
Mitarbeitermanagement
Produktivitätsanalyse
Prognosen
Reklamationsabwicklung
Risiko-Warnungen
Rollen-basierte Genehmigung
Standortverfolgung
Stempeluhr
Terminplanung
Terminverwaltung
Umfragen & Feedback
Video-Unterstützung
Web-Formulare
Website-Analytik
Zugriffskontrollen / Berechtigungen
Zugriffsquellen-Verfolgung
API
Abrechnung & Rechnungsstellung
Aktivitäts-Dashboard
Aktivitäts-Verfolgung
Alarmfunktion / Benachrichtigungen
Anpassbare Berichte
Anpassbare Vorlagen
Aufgabenplanung
Automatisierte Terminplanung
Behandlungsplanung
Berichterstattung und Statistik
Bestätigung / Erinnerungen
Bildgebung und Röntgenstrahlung
Datensynchronisation
Diagramm-Erstellung
Dokumentenmanagement
Dokumentenmanagement
Dokumentenspeicher
Dokumentvorlagen
Drag-and-Drop
Drittanbieter-Integration
E-Mail Erinnerungen
Elektronische Rezepte
Elektronische Zahlungen
Erinnerungen
HIPAA konform
Inventarverwaltung
Kalenderverwaltung
Kommunikationsmanagement
Kundendatenbank
Kundenhistorie
Kundenmanagement
Kundenportal
Live-Chat
Medizinische Abrechnung
Mehrere Standorte
Registrierungs-Management
Reklamationsabwicklung
Reservierungs-Management
SMS-Nachrichtenversand
SSL-Sicherheit
Self-Service Portal
Terminplanung
Terminverwaltung
Verfügbarkeit-Management
Verwaltung von Patientenakten
Warnungen / Eskalation
Web-Formulare
Zugriffskontrollen / Berechtigungen
Zugriffsquellen-Verfolgung
Kevin C.
Paraprofessional in USA
Verifizierter Nutzer auf LinkedIn
Bildungsmanagement, 501-1.000 Mitarbeiter
Verwendete die Software für: Mehr als 2 Jahre
Easy to use
Kommentare: Very good- I learn something new with the software weekly.
Vorteile:
My side job is a dental assistant and we use soft dent. Softdent is very easy to use and it is quite straightforward. I find it easy to navigate, schedule appointments, dental chart, take X-rays, and send referrals to other offices.
Nachteile:
Sometimes I feel as though it can be difficult to treatment plan a patient's dental work. For example, it can be confusing when the pending treatment gets mixed with past procedures that were already done. I wish there was an easy way to "clean up" old treatment plans and add "watches" to the charts.
Briana T.
Office Manager in USA
Medizinische Praxis, 11-50 Mitarbeiter
Verwendete die Software für: Mehr als 2 Jahre
CS SoftDent Dental Software
Kommentare: Overall my experience with CS SoftDent has been unsatisfactory. Between the time it takes to get someone from customer support to assist you to the charging for features that are free from other dental software companies, we have decided to change our software to a cloud based one.
Vorteile:
I appreciate how easy SoftDent is to use. Yes there is a learning curve when you first being utilizing it but overall it is simple.
Nachteile:
The lack of included features makes CS SoftDent inferior to other dental software that I have experience with. In order to do simple customizations such as changing/customizing the medical history form, you have to pay additional fees and even then there are significant limitations. Recently our state required all medical prescribing offices to use electronic prescribing methods, in turn CS SoftDent decided to charge an exorbitant amount of money on top of our monthly fee for a service that is now required.
Medizinische Praxis, 11-50 Mitarbeiter
Verwendete die Software für: Mehr als 2 Jahre
Quelle: SoftwareAdvice
Blast from the past Dental imaging software
Kommentare: Carestream does have good support; Supporting bad software is almost as good as having no support. So a lot of customers must perceive that Carestream is lacking in support when in fact the software is really a Frankenstein Software with mish-mash of programing designed for Windows 1998 and XP. Its 2017 and Windows 10 is very different level of programming.
Vorteile:
The software carried us through for the past 10 years. Well programmed for its time. Uses Eclipse instead of SQL. Isn't Eclipse freeware?
Nachteile:
Buying new Server Hardware has its limits and can't compensate for Old programming. Some of the the .ddl are specific to windows XP? Poor Database - lag of 12 seconds? Google is freakin' faster and Carestream database is internal network. Complained about software issues since 2011 with no hope of Carestream forming a team to redevelop the Dental Imaging system When you start using the system, you learn too much about poor software via your tech complaining at least once a week. I fix teeth for a living and I know too much about why Carestream software has problems. So.... you really think you want to go to CbCt and digital impressions with Carestream? 12 second lag with 2D images..... Would you want to pay staff to wait 15-30min for an image?
Alicia L.
Dental Hygienist in USA
Verwendete die Software für: Mehr als 2 Jahre
Poor customer service
Vorteile:
The definition of radiograghs is surperb. That is all I like about it. I think for definition it is better than dentrix. I have been a hygienist for 16+ years and I think for the quality of films it is definitely the best I have seen. It is nice that you can use the radiographic system apart from their software system as far as maintaining records. We use strictly the program only for images. We use digital software. We capture Intra oral films, radiography with a sensor, panos, as well as 3D images. It is great for all of this. All of the images are very well defined.
Nachteile:
Kicks you out of program, customer service terrible and takes lots of time. Whenever you have a problem you have to call them and wait on the line as they try and figure out what the problem is.
Spencer J.
Orthodontist in USA
Gesundheit, Wellness & Fitness, 2-10 Mitarbeiter
Verwendete die Software für: 6-12 Monate
Quelle: SoftwareAdvice
In Betracht gezogene Alternativen:
The worst software and company
Kommentare: I wholeheartedly agree with with every negative comment made about this company. I was getting by just fine using a practice management software that was a fraction of the cost of Orthotrac but I allowed myself to foolishly be sold on Orthotrac thinking because it was made by a large corporation that the product and customer service would be better, I was wrong on both accounts .Orthotrac cloud is nothing like what is advertised. You cannot simply just log on from any device anywhere as promised you actually have download program on every device you wish to long on with and even then you can only log on a certain number of dedicated devices and if you try to use a new device you risk functionality loss. Their goal in not living up to their claim of any device anywhere is to upsell its customers on buying additional usernames which depending on who you talk with varies from $45 to $90 for each username on top of the monthly exorbitant monthly fee and other additional addons for eservices.
Lastly,The customer service is the worst I have ever dealt with in any industry. NO ONE RETURNS YOUR CALLS so if you have any issue you are S.O.L.
Vorteile:
There is really nothing I like about the software. It isn't that easy to use and the support is terrible
Nachteile:
The imaging and practice management software aren't that functional and is integrated poorly.