Was ist Luminello?
Leistungsstarkes, elegantes Charting- und Praxismanagement, das von und für Anbieter psychischer Gesundheit entwickelt wurde. Saubere, nutzerfreundliche Bildschirme, E-Prescribing von kontrollierten Substanzen in allen 50 Bundesstaaten, reaktionsschnelle Kundenbetreuung und einen Grundplan, der kostenlos ist sowie erschwingliche Premium-Pläne und Add-ons.
Wer verwendet Luminello?
Fachkräfte im Bereich Psychiatrie, Therapie und Beratung in kleinen Praxen für psychische Gesundheit.
Wo kann Luminello bereitgestellt werden?
Cloud, SaaS, webbasiert, Mac (Desktop), Windows (Desktop)
Über den Anbieter
Luminello
2013 gegründet
Telefon-Support
Chat
Erhältlich in diesen Ländern
Vereinigte Staaten
Luminello Kosten
Startpreis:
39,00 $/Jahr
Ja, kostenloser Test verfügbar
Ja, Gratisversion verfügbar
Luminello bietet eine Gratisversion und eine kostenlose Testversion. Die kostenpflichtige Version von Luminello ist ab 39,00 $/Jahr verfügbar.
Über den Anbieter
Luminello
2013 gegründet
Telefon-Support
Chat
Erhältlich in diesen Ländern
Vereinigte Staaten
Luminello – Videos und Bilder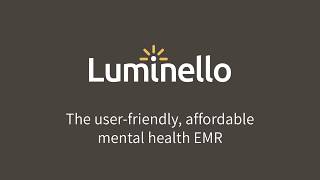 Kosten ähnlicher Produkte wie Luminello vergleichen
Luminello Funktionen
Behandlungsplanung
Bestätigung / Erinnerungen
Compliance-Verfolgung
EMR / EHR
Elektronische Rezepte
Für Praxen für mentale Gesundheit
Medizinische Abrechnung
Self-Service Portal
Terminplanung
Alternativen für Luminello
Bewertungen über Luminello
Verifizierter Rezensent
Multiple in USA
Verifizierter Nutzer auf LinkedIn
Psychische Gesundheitsfürsorge, Selbstständig
Verwendete die Software für: 1-5 Monate
In Betracht gezogene Alternativen:
Luminello for a 20 hour per week private practice
Kommentare: I'm very happy with this software. This EMR has a portal, templates, questionnaires, scales, and integration with scheduling and billing, which together makes documentation more efficient, secure, HIPAA compliant and up to date with current regulations like the no surprises act. Keeping up with ongoing regulatory changes was challenging to do in a part-time practice and this was a major driver of my decision to use Luminello.
Vorteile:
The feature I like most about this software is the ease with which I can post questionnaires for patients and then directly transfer that information into a note. Customizing a Luminello template or creating my own is straightforward, if a little time consuming, but these templates allow for an amazing degree of automation without the need for programming. They make documentation quick, painless and useful.
Nachteile:
I appreciate that there are many paths to the same functions but they could be a little more intuitive.
Antwort von Luminello
vor 4 Monaten
We're so glad to hear that! We are working hard to improve. Thank you so much for your feedback.
Elizabeth C.
Owner/Practitioner in USA
Psychische Gesundheitsfürsorge, Selbstständig
Verwendete die Software für: 1-5 Monate
Perfect solution for my needs
Kommentare: See above
Vorteile:
I am a solo practice provider and unlike the other EMRs which I have tried, all of which claimed to be specific to psychiatry, this product actually is. It is not cluttered with functions I do not need and allows a surprising degree of customization within some constraints. I can easily manage scheduling, notes (fully customizeable), integration with prescribing and labs, and the billing is a breeze compared to previous systems I have tried. The price is extremely competitive. The main selling point, above all, is that their customer service has been spectacular. I am a single customer, and yet have had their service people respond helpfully to every single request in a timely way; they listen to suggestions and are incredibly supportive when there are issues. I am very happy with them and relieved to have finally found a good solution. I am now able to manage a medium sized psychiatry practice without any staff which is a huge accomplishment. My patients seem to really like the portal, which frees me up from providing superbills for insurance as my patients can generate their own; also keeps my communications with them easily accessible instead of hunting through messages, emails etc for reminders about things they have asked me about.
Nachteile:
There are some things about the user interface that could be better from a design perspective, and there are certain functions that I think they are working on upgrading--they seem to be in development still and to be improving their software over time. For instance, the software to build your own forms and notes doesn't work that well on my computer--it is time consuming and doesn't always save which can be frustrating. On the other hand if you want them to build forms out for you they will do that at a very reasonable rate. It would also be nice to have a little more structure built into the charts, eg separate areas for medical history, other providers and so forth. But with a little thought you can find workarounds. They are working on integration with faxing; the only thing I have to have separately set up is a HIPPA compliant fax and I got that from SR fax for a low cost. There could be more functionality in terms of running reports and doing accounting kinds of things easily, moving appointments on the calendar using a click and drag. Again I think most of these things are in development. Overall these are small issues for me, more than made up for by the customer service and the specific fit for my needs of the product.
Medizinische Praxis, 2-10 Mitarbeiter
Verwendete die Software für: Mehr als 2 Jahre
Thank you, Luminello!
Vorteile:
Documentation and eRx are wonderfully user-friendly.
Nachteile:
Lag in saving/eRx etc can be an issue but this has improved over time.
Antwort von Luminello
vor 3 Wochen
Hi Lauren. We are so grateful for your review. Thanks for sharing your rating with us and the community.
Sandra S.
Member/Clinician in USA
Psychische Gesundheitsfürsorge, 2-10 Mitarbeiter
Verwendete die Software für: Mehr als 1 Jahr
Private Practice Mental Health Counseling
Kommentare: It was an okay system when I was a small, solo private practice. It has not grown with me and that's disappointing. I asked early on if they were considering offering a group format and was told it was something they were looking at doing, but in the last 2 years there have been no moves that direction. There are other issues such as my particular license (LPC) was not an option. I had to have them manually add it on their end to get it to populate on my signature. There are nearly always "workarounds" offered when I contact them about issues, but I don't want workarounds. If you don't mind that, it shouldn't be a problem.
Vorteile:
I like the price of Luminello give the features included such as online scheduling, client portal, appointment reminders, billing and payment tracking.
Nachteile:
1. Only one professional can use the CL's email address: If another professional inside or outside your practice uses Luminello and you "share" a CL (ie referral from a psychiatrist for counseling and that psychiatrist uses Luminello in their practice) you have to ask the CL for a different email address because Luminello will not allow you to use any email already in use. The CL then cannot use their preferred email and must give a secondary email which is off-putting to CLs. This is true within the practice as well. If one provider saw the client first and then later referred the client to a different provider, the new provider cannot use the same email to set up the client's account in Luminello. Again, off-putting. 2. Number one happens most in the case of siblings. We see children in our practice. If I'm seeing one child and another Th is seeing the other child, only one of us can invite the parents to the portal and the parents can then only see information about one child. 3. Number 2 relates to seeing kids of divorce: the system only allows one email per client, so when seeing children of divorce only one parent can be invited to the portal. 4. The system itself is slow and clunky. It's slow to refresh and there seem to be unnecessary steps involved in some tasks. 5. It is ONLY for a solo practice, so if you ever plan to grow into a group practice, do not begin with Luminello unless finding a new system and moving all your data is something you enjoy.
Antwort von Luminello
vor 2 Jahren
Thank you so much for that feedback, this is so useful to hear. Regarding working with families, we completely agree with you. Good news is that functionality has been built and is in the final stages of testing. Regarding groups, we hear you! That is actively in development. Regarding some processes being slow - we'd love to hear more specifics on that - we'll reach out to you directly as all of our improvements are based on user feedback like yours. Luminello is developed by providers for providers, so we're always looking to speed things up and optimize workflows. We look forward to hearing your suggestions! September 2020 update: Our team has put your feedback to good use and made it possible to invite parents, caretakers, or others to the patient/client portal, on multiple charts. This is particularly helpful when working with siblings and when seeing children of divorce. We've also made a number of improvements to our site's loading speeds.
Sarah R.
Psychotherapist in USA
Psychische Gesundheitsfürsorge, 2-10 Mitarbeiter
Verwendete die Software für: 6-12 Monate
Clinical Provider Review
Kommentare: Overall, I've had a positive experience with Luminello due to consistent customer service and troubleshooting within a reasonable timeframe. When I began using the software, I would reach out to customer support multiple times per week and their responses were invaluable in the beginning stages of opening my clinic. I've used other software for clinical documentation and realized through using Luminello the importance of a user-friendly patient portal, online booking, document signing, and direct communication between clinics and the insurance clearing house - Apex EDI.
Vorteile:
Patients and practitioners have easy access to documentation, financial details, document signing, and messaging.
Nachteile:
Features that are missing include template for treatment plans which allow patient signature. Uploading photos of insurance cards and photo ID - required for telehealth - is not user friendly. It would be helpful if patients could upload their own photos of their insurance cards and ID to reduce steps and increase ease of use.
Antwort von Luminello
vor 3 Monaten
Thank you for your review! We're glad to hear our customer service team has been there for you. We'll add +1s for your feature requests. Please don't hesitate to reach out to us whenever you need help or have a suggestion.