Was ist Babele?
Babele ist eine virtuelle Beschleunigungsplattform, um Intrapreneurship und große Innovationsprogramme zu verwalten. Es ist ein leistungsstarkes, kollaboratives Werkzeug für Ideengenerierung, Geschäftsplanung, Unternehmens-Mentoring und Peer-Learning. Unternehmen, Inkubatoren und Universitäten auf 4 Kontinenten nutzen Babele, um ihre erweiterten Netzwerke mit internen und externen Stakeholdern im Innovationsprozess zu nutzen: Nutzung ihrer kollektiven Weisheit, um intelligentere, praktikablere und nachhaltigere Lösungen für größere Wirkung zu entwickeln.
Wer verwendet Babele?
Unternehmen, die ihr Intrapreneurship-Programm starten oder ein kollaboratives Tool für ihr Innovationsprogramm suchen, um gemeinsam mit ihren Stakeholdern Projekte zu entwickeln.
Babele – Details
Babele
2013 gegründet
Babele – Details
Babele
2013 gegründet
Babele – Videos und Bilder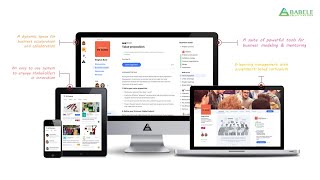 Kosten ähnlicher Produkte wie Babele vergleichen
Startpreis
6.000,00 $/Jahr
59,00 $/Monat
Nicht verfügbar
2,00 $/Monat
Babele – Bereitstellung und Support
Kundenbetreuung
E-Mail/Helpdesk
Telefon-Support
Chat
Training
Persönlich
Live Online
Webinare
Dokumentation
Videos
Funktionen von Babele
API
Aktivitäts-Dashboard
Aktivitäts-Verfolgung
Alarmfunktion / Benachrichtigungen
Anpassbare Kategorien
Archivierung & Aufbewahrung
Aufgabenmanagement
Befragungs-/Umfragemanagement
Berichterstattung und Statistik
Bewertungen
Brainstorming
Chat / Messaging
Daten-Import / -Export
Datenvisualisierung
Diskussionen / Foren
Drag-and-Drop
Drittanbieter-Integration
Echtzeit-Analytik
Echtzeit-Benachrichtigungen
Echtzeitüberwachung
Einmalige Anmeldung
Engagement-Tracking
Evaluationmanagement
Feedback-Management
Fortschrittsbericht
Fortschrittsverfolgung
Forum / Diskussionsforum
Gamification
Ideen-Rangliste
Ideenfindung
Kommentare / Notizen
Kommunikationsmanagement
Konfigurierbarer Workflow
Kundenspezifisches Branding
Mobiler Zugriff
Portfoliomanagement
Priorisierung
Prognosen
Projekt-Nachverfolgung
Projekt-Workflow
Projektplanung
Rollen-basierte Genehmigung
SSL-Sicherheit
Social-Media-Integration
Strategische Planung
Trend-Analysen
Umfragen/Abstimmungen
Visuelle Analytik
Werkzeuge zur Zusammenarbeit
Workflow-Management
Richard j C.
Executive Director in Türkei
Verifizierter Nutzer auf LinkedIn
internationale Angelegenheiten
Verwendete die Software für: Mehr als 2 Jahre
Since the early days I have used the product for projects, to build and contribute to a community.
Vorteile:
It is visual and engaging. It is a well-designed piece of software which guides you well and provides a good foundation for engaging others. From another perspective, e.g. as an online mentor, it is an accessible way to access some of the data you need to be able to support people, the tool having helped them prioritise.
Nachteile:
Difficult to say what you like least when the team is so open to adapting the product to your needs for a realistic development budget.
Verifizierter Rezensent
Innovation Consultant in Österreich
Verifizierter Nutzer auf LinkedIn
Unternehmensberatung
Verwendete die Software für: 6-12 Monate
Perfect platform to manage the teams and projects created in our MOOC
Vorteile:
As one of Babele's first customers, we worked closely to create all the features needed to support us in managing the international projects created by our students in the social entrepreneurship online course. Because it is designed specifically for social businesses and highly adaptable, it was very easy to handle. The community interaction features are a great help to the students and the visual step-by-step business model creation simplified the complex process.
Nachteile:
Additional features would have been helpful in different situations, but were mostly developed over time.
Saumil S.
Managing Director in Thailand
Verifizierter Nutzer auf LinkedIn
Biotechnologie, 11-50 Mitarbeiter
Verwendete die Software für: Nicht angeboten
Great team doing great work to help social enterprises
Vorteile:
As a social enterprise and one of the first users, I did not have to pay anything. The platform was still in early stages and has developed much more functionality since I used it. It is great to see the new features and how the creators are trying to find better ways to help crowd-source acceleration of social enterprises.
Nachteile:
At the time I used the platform there were still some bugs with back-and-forth communication with mentors being hard to note or being lost. Also, there was no accountability for mentors to deliver on any commitments they made to the social enterprises. I am not sure if this later point has changed yet.
Verifizierter Rezensent
Environmental Consultant in Costa Rica
Verifizierter Nutzer auf LinkedIn
11-50 Mitarbeiter
Verwendete die Software für: 6-12 Monate
A powerful way to leverage collective intelligence
Vorteile:
By using Babele, I was able to expose the mechanics of my company, as well as our mission, our assumptions, our business plan, and our objectives. I was then able to get extremely valuable feedback from a variety of mentors, many times relating to issues that "I didn't know that I didn't know about." This has shaped the growth of my company significantly. The platform is very intuitive to use.
Nachteile:
Sometimes it was difficult to interact with the Babele team due to the time zone difference of them being in Europe and me in Central America.
Verifizierter Rezensent
business consultant in Italien
Verifizierter Nutzer auf LinkedIn
Verwendete die Software für: Mehr als 2 Jahre
I open babele not less than once a week. I find people and projects, I offer my experience, I find
Vorteile:
Possibility of expanding, customization and flexibility. This software permits to create open or closed communities, and offers them knowledge of projects and people. Moreover it is possible to create groups for coaching, mentoring and supporting users and young people
Nachteile:
sometimes it is not so easy to order messages, and up to date exchanges between members of communities