Was ist LendingPad?
LendingPad ist ein innovatives, sicheres und leistungsstarkes cloudbasiertes Hypothekenkreditvergabesystem (LOS), das von Hypothekenbankfachleuten zur Optimierung des komplexen Kreditvergabeprozesses von heute entwickelt wurde. LendingPad wird von NAMB, einem Premier Member of MBA und Gewinner des HWs Tech100-Preises 2019, unterstützt. Es wurde sowohl für Banker als auch für Makler entwickelt und ist vollständig mit den Anbietern integriert. Es bietet die Möglichkeit zur Anpassung, eine intuitive Nutzeroberfläche, eine einfache Einrichtung, die Bearbeitung derselben Datei durch mehrere Nutzer und Echtzeit-Aktualisierungen für die Kreditvergabe.
Wer verwendet LendingPad?
Makler, Bankiers, Kreditgeber, Banken und Kreditgenossenschaften.
LendingPad – Details
LendingPad Corp
2015 gegründet
LendingPad – Details
LendingPad Corp
2015 gegründet
LendingPad – Videos und Bilder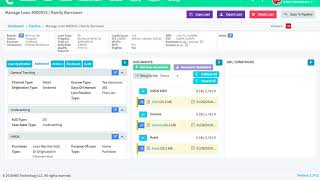 Kosten ähnlicher Produkte wie LendingPad vergleichen
Startpreis
Nicht verfügbar
Nicht verfügbar
N/A
Nicht verfügbar
LendingPad – Bereitstellung und Support
Kundenbetreuung
E-Mail/Helpdesk
Wissensdatenbank
Telefon-Support
Chat
Einsatz
Cloud, SaaS, webbasiert
Mac (Desktop)
Windows (Desktop)
Android (mobil)
iPhone (mobil)
iPad (mobil)
Training
Persönlich
Live Online
Webinare
Dokumentation
Videos
Funktionen von LendingPad
API
Aktivitäts-Dashboard
Anpassbare Berichte
Aufgabenmanagement
Berichterstattung und Statistik
Buchhaltung
Compliance Management
Darlehen-Entstehung
Direktes Mailmanagement
Dokumentenmanagement
Dokumentenspeicher
Drittanbieter-Integration
Drittpartei-Darlehensvergabe
Drucken von Flyern
E-Mail Marketing
Elektronische Applikationen
Für Kreditnehmer
Gewerbliche Hypotheken
HUD Abrechnungserklärung
Immobiliensteuer-Management
Inkasso-Management
Integrierte Anbieterdienste
Kontakt-Datenbank
Kontaktmanagement
Kredit-Berichterstattung
Kredit-Management
Kredit-Serviceabwicklung
Kreditgeber suchen
Kundenaussagen
Kundendatenbank
Kundendatenbank
Leadmanagement
Marketing-Automatisierung
Mehrere Branchen
Mischkonzern
Outsource-Verarbeitung
Pipeline-Management
Preismanagement
Schließen von Dokumenten
Solawechsel
Staatliche Kredite
Suchen / filtern
Tilgungsplan
Treuhandverwaltung
Umfinanzierungs-Management
Visuelle Präsentation
Vorab-Qualifizierung
Wohn-Hypotheken
Workflow-Management
Zahlung-Nachverfolgung
ACH Zahlungsabwicklung
API
Aktivitäts-Dashboard
Aktivitäts-Verfolgung
Alarmfunktion / Benachrichtigungen
Anpassbare Berichte
Anpassbare Vorlagen
Asset Lifecycle Management
Audit Trail
Autokredite
Automatische Fonds-Verteilung
Baudarlehen
Bearbeitung von Krediten
Berichterstattung / Analyse
Berichterstattung und Statistik
Buchhaltung
Compliance Management
Daten-Import / -Export
Digitale Unterschrift
Dokumentenmanagement
Dokumentenspeicher
Drittanbieter-Integration
Elektronische Zahlungen
Elektronischer Zahlungsverkehr
Geschäftskredite
Historische Berichte
Hypotheken
Inkasso-Management
Investor-Management
Kontaktmanagement
Kontrolle des Genehmigungsprozesses
Kreditnehmer-Management
Kundendatenbank
Kundenkonten
Leadmanagement
Mehrere Währungen
Mischkonzern
Multi-Channel-Kommunikation
Pipeline-Management
Regelbasierter Workflow
Rollen-basierte Genehmigung
Sicherheiten-Tracking
Statusverfolgung
Studiendarlehen
Tilgungsplan
Transaktionshistorie
Treuhandverwaltung
Visuelle Analytik
Workflow-Management
Zahlungsoptionen
API
Aktivitäts-Dashboard
Aktivitäts-Verfolgung
Alarmfunktion / Benachrichtigungen
Anpassbare Berichte
Anpassbare Vorlagen
Audit Trail
Aufgabenmanagement
Aufgabenplanung
Automat. Entscheidungsfindung / Underwriting
Bearbeitung von Krediten
Berichterstattung und Statistik
Buchhaltung
Compliance Management
Daten-Import / -Export
Digitale Unterschrift
Dokumentenmanagement
Dokumentenspeicher
Dokumentvorlagen
Drittanbieter-Integration
Echtzeit-Berichterstattung
Elektronische Unterschrift
Elektronische Zahlungen
Erinnerungen
Finanzanalyse
Finanzmanagement
Inkasso-Management
Kommunikationsmanagement
Konfigurierbarer Workflow
Kontaktmanagement
Kontrolle des Genehmigungsprozesses
Kredit-Management
Kredit-Portfolio-Management
Kundendatenbank
Kundenmanagement
Kundenmanagement
Kundenportal
Kundenspezifisches Branding
Leadmanagement
Mischkonzern
Online-Applikationen
Pipeline-Management
Preismanagement
Regelbasierter Workflow
Self-Service Portal
Sichere Datenspeicherung
Statusverfolgung
Transaktionshistorie
Vorlagen-Management
Workflow-Management
Chris S.
Broker/Owner in USA
Finanzdienstleistungen, 2-10 Mitarbeiter
Verwendete die Software für: Kostenlose Testversion
In Betracht gezogene Alternativen:
Loving so far and still in Trial period!
Kommentare: Overall has been very good and anticipating a great working system for all aspects of the loan process. So far, love it and just anxious to finish learning and setting all up.
Vorteile:
Easy to read and change themes for visual, integrates with different programs currently and adding more for ease. Love that Contacts are able to imported, DU/LP a since now, MCR reporting to be such a easy process now instead of creating spreadsheets, etc.. The list goes on...
Nachteile:
1. Subject line when sending from system but, know it is being worked on. 2. Loan/File numbers automatically created but, cannot change format at the moment to my system (YY,MM,DD,...). This would allow a more streamed process of importing files, etc. Just trying to adjust to a new system and set up templates, etc. Once all is set up and also integrates w/ Jungo and Optimal Blue .. it will be awesome and save so much time!
Finanzdienstleistungen, 2-10 Mitarbeiter
Verwendete die Software für: Mehr als 2 Jahre
In Betracht gezogene Alternativen:
My experience with Lending Pad
Kommentare: I am very pleased I made the move a couple years ago!
Vorteile:
Lending Pad is very easy to use and manage compared to my prior LOS by Ellie Mae used for too many years. Integration to Lending Pad was not a difficult process. I create custom forms to be efficient and was able to also do this when I transferred to Lending Pad. Also. being able for more than one person to work on a loan file in the office or remotely was a big plus for me!
Nachteile:
An LOS is an evolving program. I do not have complaints and make suggestions as needed.
Stuart C.
Loan Officer in USA
Finanzdienstleistungen, 2-10 Mitarbeiter
Verwendete die Software für: 1-5 Monate
Good if and when they step up their support game
Kommentare: Needs to be more user-friendly, not very intuitive and you will need a good bit of training/setup to get going to full functionality. Simple things like bulk uploads of files need to be implemented because uploading your old files one at a time then the need to go into each file and set the LO as the correct person in charge of each loan is very time consuming then the lack of support when I needed them caused me to switch to one of their competitors (Arive). Zero response from billing department so be cautious of paying this for the full year because they will ghost you and do not offer any money back guarantee or even partial refund.
Vorteile:
Some good features overall if you can get the support in a timely fashion to utilize them. Their ideas are good in general and tools can be helpful if you can either figure it out yourself or have the patience to wait for days for answers to simple requests.
Nachteile:
I wanted to love LendingPad because it has some good functionality and the ideas they have implemented seem good on the surface, then there is the issue of submitting support tickets and them being prematurely closed when the solution to your problem is not provided. They took my money and ran and when it came down to having a simple conversation about my issues nobody was there to pick up the phone when you call, ever. Why have a phone number when you are not willing to speak to your customers. Multiple support tickets were closed without us having a resolution so it appears they really need to hire a lot more employees to manage their support tickets in a timely fashion
Antwort von LendingPad Corp
vor 7 Monaten
Mr. Carson, Our "phone" support is performed via pre-scheduled screen share in order for us to service all clients efficiently. You had also shared your credentials with a non-paying user which is not permitted according to our licensing terms. We are sorry that you did not have a good experience with support and will use this feedback to continue to improve our service.
David H.
Operations Director in USA
Finanzdienstleistungen, 2-10 Mitarbeiter
Verwendete die Software für: Mehr als 1 Jahr
In Betracht gezogene Alternativen:
I did not think it was possible.
Kommentare: Brilliant
Vorteile:
The number one plus about LP is the cloud technology and ability to work anywhere with decent internet. I was skeptical about coming from deep-pocket lenders to choosing a solution for my own shop. I priced out Encompass the "gold standard" of LOS systems with its own set of quirks and problems. Over $100,000 for the scale needed to do the numbers that we want and that is in the first 18 months. Deployment is nonexistent with cloud-based SAAS platforms. No server, No laborious setup process and under $400 to get my whole team up and going. COST is the elephant in the room in most cases and while not cheap it is in line with the technology needed to do what LOS systems do. In the beginning, Calyx/Encompass was state of the art. However, In today's environment, you can fill a 1003 on a Facebook form. Lending pad makes everything esthetically pleasing and lightning-fast from anywhere on the planet. Kudos and a big Thank you from NorCapital.
Nachteile:
There are only a couple and the team is working daily on new tech. We would like to see an app. The ability to have the client upload from a phone directly to the loan file. Additionally PRICING we need everyone to play ball and have a universal pricing formula so the guys and galls at LP don't need 6 months for each engine. As a broker I would like to have the ability to see pricing from all of our lenders in one dashboard for a specific client. These are not cons they are just wants!
Finanzdienstleistungen, 51-200 Mitarbeiter
Verwendete die Software für: 1-5 Monate
My overall
Kommentare: The overall experience has been great. I love the software it is easy to use once you get used to finding what you are looking for. There is room for improvements as with any other software.
Vorteile:
I like that the software is web-based, this has our company security a little easier to handle.
Nachteile:
There is no way to fully customize or add any features to the system. Adding in contacts for lenders has to be done by the software company versus doing it yourself. The customer chat box is great BUT it should be moveable to where you can access it as you try to follow the tech support instructions. There are add-ons with outside software vs LendingPad upgrades (CRM, Pricing, etc) It is sometimes a little longer to get support when you need a quick answer and there is no support phone number. Printing forms should be easier and accessible to all users. The customer link needs improvement and allows them to upload documents.