Was ist CemeteryFind?
Friedhofaktenverwaltung und -kartierung – einfach und erschwinglich für Friedhöfe jeder Größe. Die Karten werden sofort aktualisiert, sobald eine neue Bestattung hinzugefügt wird. Auch die Öffentlichkeit kann nach Gräbern suchen und den Weg vom Friedhofseingang bis zur Grabstätte finden. Ideal für Friedhöfe mit alten Papierarchiven, Grabkarten, Büchern, Karten und/oder Computerdateien. Die Verwaltung, alle Büromitarbeiter und das Personal vor Ort können von mehreren Standorten aus gleichzeitig auf die Datensätze zugreifen. Erstellt von Bosscan. "Aufzeichnungen leicht gemacht" – seit 1992.
Wer verwendet CemeteryFind?
Friedhöfe, die umfassende Aufzeichnungen und Karten benötigen.
Wo kann CemeteryFind bereitgestellt werden?
Cloud, SaaS, webbasiert, Mac (Desktop), Windows (Desktop), Chromebook (Desktop)
Über den Anbieter
CemeteryFind
Ansässig in Wakefield, USA
1992 gegründet
Telefon-Support
Chat
Erhältlich in diesen Ländern
Kanada, Vereinigte Staaten
Über den Anbieter
CemeteryFind
Ansässig in Wakefield, USA
1992 gegründet
Telefon-Support
Chat
Erhältlich in diesen Ländern
Kanada, Vereinigte Staaten
CemeteryFind – Videos und Bilder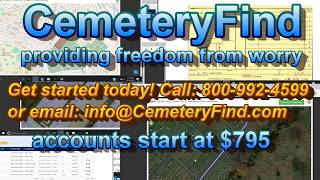 Kosten ähnlicher Produkte wie CemeteryFind vergleichen
CemeteryFind Funktionen
Bildverwaltung
Dokumentenmanagement
Grabsuche
Postenzuordnung
Alternativen für CemeteryFind
Bewertungen über CemeteryFind
Cory J.
Cemetery Sexton in USA
Non-Profit-Organisation Management, 2-10 Mitarbeiter
Verwendete die Software für: Mehr als 2 Jahre
They digitizing our paper records and updating our old computer records simple and easy.
Kommentare: Ease of Use, anywhere access
Vorteile:
The biggest advantage is the cloud based platform. All f our records are now stored on site but also in a secure location where natural disaster, fire, flood or whatever might happen to our office, can't cause a loss of such vital documentation. The added benefit to the cloud based platform is being able to have anywhere access from my smartphone, which makes gathering information in the field a snap and saves time consuming and costly return trips to the office to gather information. Everything is at our fingertips anytime and anywhere now
Nachteile:
The things that I haven't liked about the software i have voiced concerns about already and Cemetery Find actually altered the software to meet my particular concerns each time. Not being able to search by dates is the only unresolved issue, you can organize the list starting at the earliest or latest year but no search. They say that the several different date formats that we have in our records make it impossible to do, and that makes sense. It is still better than cards, which we could never search by anything but lot owner name.
Mike H.
cemetery trustee in USA
Staatsverwaltung, 2-10 Mitarbeiter
Verwendete die Software für: Mehr als 2 Jahre
I'm a cemetery trustee and our town has been using CemeteryFind for almost 5 years.
Kommentare: It took our management of our municipal cemeteries to the next step, from index cards and paper maps. It made our job as cemetery trustees so much easier because we can access the data from home, from work, etc. and not have to schedule a trip to Town Hall. It also gives us the opportunity to build on features the software supports as our budget can afford.
Vorteile:
The subscription is online and I can access it anywhere with my iPhone or laptop if I have interment or cellular coverage. We have pdf maps of our cemeteries loaded which facilitates emailing information to families and funeral homes. When we started with CemeteryFind uploaded our data, doing the best they could to have it fit into the CF fields.
Nachteile:
The ability to print of information appears to be limited, though I frequently make screen shot copies and paste them into a Word document when doing research. I could be I still do not know how to use all the attributes of the program.
Antwort von CemeteryFind
vor 4 Jahren
Additional print features are added to new accounts and we are going back to existing accounts to add them. Valuable input. Thank you!
Lori M.
Account Clerk/Cemetery in USA
Verwendete die Software für: Mehr als 2 Jahre
I have been using this for a few years now and love it
Vorteile:
This software is user friendly for not only as an administrator but for the general public. The Funeral Directors also like this program for when they are with families wanting to know if there is room for another burial or just for a section and lot. I also like that I can keep sections like place of death and cause of death private from the general public. The support staff is always quick in responding and helping or fixing what I needed. They can also customize some of the fields to my specific needs. I would highly recommend this software.
Nachteile:
Once in a while it runs slow when it is backing up. But other than that I haven't had any problems with the software or the support staff
Mary anne H.
Executive Administrator in USA
Verwendete die Software für: Mehr als 2 Jahre
Very positive experience, from scanning the records to implementing the on-line mapping.
Vorteile:
Easy to use, and Boston Computer Scanning staff is able to customize (when necessary) to fit Cedar Hill's needs. Our original paper records are now backed up on our file server, with a weekly copy kept off-site.
Nachteile:
I don't like that our on-line records were copied and published on Find-A-Grave. Neither Cedar Hill nor Boston Computer Scanning/CemeteryFind had given permission for anyone to use our records in this fashion.
Antwort von CemeteryFind
vor 4 Jahren
In 2016 we changed our public search to allow the public to search one burial name at a time so the entire list can no longer be copied. We thank Cedar Hill Cemetery for bringing this to our attention.
Patricia A.
Director of Cemeteries in USA
Staatsverwaltung, 51-200 Mitarbeiter
Verwendete die Software für: Mehr als 1 Jahr
We are ready to go live and confident our records hold true.
Kommentare: Easier lookup of burial information. I forgot to mention it would be VERY helpful to be able to look up a lot or grave by owner as well as burial name. Sometimes they are different.
Vorteile:
Easily accessible to partners and community. Mapping is clear. Appreciate the quick turnaround time when extending data base. Looking forward to including MHC grave marker records and digital photos for historic markers pre 1915. Hope the software can showcase these historic markers well enough to diminish calls from researchers.
Nachteile:
Lack of nimbleness in retrieving records that might be one or two characters off. Having a split screen that would allow record research while mapping is showing.
Antwort von CemeteryFind
vor 4 Jahren
There is a "Use wildcard pattern" button to search misspelled names for burial, owner and lot. Lot can be searched within Burial Search. Lot Owner and Lot can be searched in Lot Management tab. We will call contact you to explain these and to see how to address further needs. Thank you fort this important input.