Was ist Spotlightr?
Interaktive Video-Hosting- und Marketing-Plattform, die für eine bessere und schnellere Wiedergabe optimiert ist.
Wer verwendet Spotlightr?
Im Videomarketinggeschäft zu sein, ermöglicht es dem Unternehmen, sich nicht auf bestimmte Märkte zu beschränken. Es ist ein so nützliches Tool, dass es sich langsam eines weltweiten Bedarfs erfreut.
Wo kann Spotlightr bereitgestellt werden?
Cloud, SaaS, webbasiert
Über den Anbieter
von Spotlightr
2011 gegründet
Chat
Erhältlich in diesen Ländern
Vereinigte Staaten
Über den Anbieter
von Spotlightr
2011 gegründet
Chat
Erhältlich in diesen Ländern
Vereinigte Staaten
Spotlightr – Videos und Bilder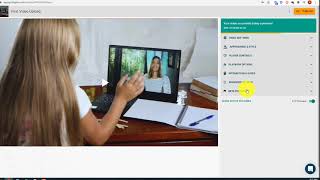 Kosten ähnlicher Produkte wie Spotlightr vergleichen
Startpreis
29,00 $/Monat
99,00 $/Monat
Nicht verfügbar
399,00 $/Monat
Funktionen von Spotlightr
API
Aktivitäts-Dashboard
Alarmfunktion / Benachrichtigungen
Angebot in sozialen Medien
Anpassbare Vorlagen
Berichterstattung / Analyse
Berichterstattung und Statistik
Bildbibliothek
Bildschirmaufnahme
Content-Management
Datei-Verwaltung
Drag-and-Drop
Drittanbieter-Integration
Echtzeit-Analytik
Einmalige Anmeldung
Engagement-Tracking
Etikettierung
Etikettierung
Filtern
Inhalt-Bibliothek
Kommentare / Notizen
Kommunikationsmanagement
Kundenspezifisches Branding
Live-Streaming
Markenüberlagerung
Massen-Upload
Mehrfache Format-Unterstützung
Metadata-Management
Mobile Bildschirmunterstützung
Multi-Channel-Vertrieb
Multichannel-Marketing
Multimedia-Unterstützung
Privatsphäre-Einstellungen
Präsentations-Streaming
SSL-Sicherheit
Schnelle Kreation
Social-Media-Integration
Suche innerhalb des Videos
Suchen / filtern
Teilen in sozialen Medien
Untertitel
Versionskontrolle
Video-Looping
Video-Management
Video-Streaming
Video-Tagging
Video-Unterstützung
Videoarchivierung
Videobearbeitung
Videoerstellung
Visuelle Analytik
Vorlagen-Management
Website-Analytik
Werkzeuge zur Zusammenarbeit
Workflow-Management
Zugriffskontrollen / Berechtigungen
Aktivitäts-Dashboard
Anpassbare CTAs
Audio- / Video-Dateiupload
Benutzer-Management
Berichterstattung / Analyse
Bildschirmaufnahme
Daten-Import / -Export
Drag-and-Drop
Drittanbieter-Integration
Engagement-Tracking
Filesharing
Inhalt-Bibliothek
Kundenspezifisches Branding
Live-Streaming
Mehrfache Format-Unterstützung
Metadata-Management
Multi-Channel-Vertrieb
Multichannel-Marketing
Privatsphäre-Einstellungen
Rollen-basierte Genehmigung
SEO-Management
Suchen / filtern
Teilen in sozialen Medien
Video-Monetisierungstools
Video-Streaming
Video-Tagging
Videobearbeitung
Videoerstellung
Werkzeuge zur Zusammenarbeit
Zugriffskontrollen / Berechtigungen
Shade O.
Business Owner in USA
Verifizierter Nutzer auf LinkedIn
Informationstechnologie & -dienste, Selbstständig
Verwendete die Software für: Mehr als 1 Jahr
A top-player in this space!
Kommentare: I've had a great experience using vooPlayer with my clients. Everyone loves the player!
Vorteile:
Love that you can create really beautiful, customizable players! The feature-set is also amazing as the vooplayer teams actively seeks feeback and feature suggestions which they readily implement if it makes sense! They have weekly webinars where you can come with any questions you have about implementing anything and the webinar host shows you right then and there how to implement it.
Nachteile:
The only thing I find a bit disconcerting is the buffering of some embedded videos while you play it. That's kind of annoying. I've heard it has something to do with the CDN (or lack thereof). Fingers crossed that this is fixed soon.
Fotografie, 2-10 Mitarbeiter
Verwendete die Software für: Mehr als 2 Jahre
Amazing Video Hosting Platform
Kommentare: i learned about vooplayer about 4 years ago and after getting it, it was game-changing for what i do with video production and real estate phography. it allows for me to host videos without paying an outrageous amount per month. my website gets more traffic, i feel, because of it. i use vooplayer where i can on my site and not just for my content, but sharing videos from other sites like youtube and vimeo. it keeps the coding consistent on my site.
Vorteile:
I love that I'm able to leverage my amazon aws account and host videos there and use vooplayer to provide the skin for my videos. I don't have to rely on a third-party platform to host my videos and pay a crazy subscription fee. vooplayer can even take youtube videos, linkedin videos, and facebook videos and wrap them with their skin and allow me to host that video wherever.
Nachteile:
there's still a lot of user experience improvements that could be done with vooplayer, but overall, after knowing where to go and its limitations on what you can and cannot do, it's not that bad. there are some things like knowing which code to use on your site that will not mess with your site's code, but all of that is trial and error. once you figure it out, just create some step-by-step instructions for yourself to reference and you'll be golden.
Daniel M.
Digital Marketing Strategist in USA
Verifizierter Nutzer auf LinkedIn
Marketing & Werbung, 2-10 Mitarbeiter
Verwendete die Software für: 6-12 Monate
Quelle: GetApp
very slow to load
Vorteile:
lots of features. great idea in theory. excellent lifetime pricing deal offered occasionally
Nachteile:
After clicking Play, the videos take 4-6 seconds to start playing! This happens whether I upload the video directly to Vooplayer, or use it as a skin for a YouTube player. This is a confusing and terrible user experience and makes the software unusable for me as it stands. Very much hoping they fix this, as it seems pretty great otherwise. Also, small gripes - it's not clear which setting changes create a change in the embed code and require updating. - after editing a video, they don't just give you the embed code. you have to go back to the My Videos page, select the video and then copy the embed code from there. Would be much better to give me a one click to copy embed code button after making edits to the settings.
Verifizierter Rezensent
CEO in Kanada
Verifizierter Nutzer auf LinkedIn
Marketing & Werbung, 2-10 Mitarbeiter
Verwendete die Software für: 6-12 Monate
In Betracht gezogene Alternativen:
Can't find a comparable alternative
Kommentare: vooPlayer was one of the smartest investments for my business. Video marketing is essential in today's digital landscape, and with its low-cost, premium-featureset, vooPlayer is positioned to be the ideal choice for any small business trying to compete for audience attention. Do yourself a favor and give it a free trial to see if it's right for you. Can always use an alternative service if not.
Vorteile:
vooPlayer offers the best security if you want to protect your videos. They use HLS encryption (which unlike other video providers) prevents unwanted downloading and external sharing. Even pricier video hosting providers can't compete with this. I also love the feature-set offered for the "Startup" plan. You get what I believe are Enterprise-grade options for a lower price than Vimeo Pro.
Nachteile:
Because there's so many options, I sometimes get confused with the UI. Also, I'd love to setup a default template for ALL settings, and tweak on a video-per-video basis. This is possible with some settings, but not all. Additionally, sometimes a video will glitch during playback, but have only encountered this a few times in many playbacks.
Verifizierter Rezensent
Semi retired in UK
Verifizierter Nutzer auf LinkedIn
Vorstandsbüro, 2-10 Mitarbeiter
Verwendete die Software für: 6-12 Monate
A great service for anyone who uses video
Kommentare: It is proving to be a very valuable tool for my business and I would highly recommend it to anyone with a website who makes good use of video. This will help you to take that professionalism to the next level.
Vorteile:
From top to bottom this a fabulously versatile tool. It doesn't matter whether you are using your own videos hosted with Vooplayer or simply using Vooplayer as a pass-through tool for video reporting and the ability to skin the likes of Youtube videos to your liking. For example, it is easy enough for anyone to embed a Youtube video on their site without much expertise, but the problem is it looks and behaves like a Youtube video. Vooplayer on the other and can take the Youtube url for the video, all you to tweak lots of display settings, and then display it beautifully on your site so it looks just like you are hosting the video and not Youtube. In addition to all the video player related stuff, Vooplayer also provides some great reports that will really help you to see what is being watched and what isn't. And we are not just talking the number of times a video has been watched, but things like which bits of the video were skipped. Very cool.
Nachteile:
There are some quirks to the userinterface such as the way folders work, but other than that this is a very mature and robust service backed by a great support team.