Was ist Testsigma?
Testsigma ist ein cloudbasiertes Testautomatisierungstool mit allen für Agile- und Continuous-Delivery-Teams erforderlichen Elementen. Eine einheitliche Plattform für Web-, iOS- und Android-Anwendungen und API-automatisierte Tests. Keine Anfangszeit, Kosten und Anlaufzeit erforderlich. Ermöglicht es jedem, automatisierte Tests fünfmal schneller mit einfachem Englisch zu schreiben und Tests parallel auf Tausenden von Geräten in der Cloud durchzuführen. KI-gesteuerte Wartung, Integrationen und vieles mehr für die Flexibilität, die für komplexe Testautomatisierungsanforderungen erforderlich ist.
Wer verwendet Testsigma?
Testsigma zielt darauf ab, mobilen und webabhängigen Unternehmen und jedem, der Tests automatisieren möchte, zu helfen, kontinuierliches Testen zum Aufbau stabiler und zuverlässigerer Tests schneller zu erreichen.
Wo kann Testsigma bereitgestellt werden?
Cloud, SaaS, webbasiert, Linux (On-Premise)
Über den Anbieter
Testsigma
Ansässig in Newark New Castle County, USA
2016 gegründet
Telefon-Support
24/7 Live-Support
Chat
Erhältlich in diesen Ländern
Australien, Vereinigte Staaten, Vereinigtes Königreich
Über den Anbieter
Testsigma
Ansässig in Newark New Castle County, USA
2016 gegründet
Telefon-Support
24/7 Live-Support
Chat
Erhältlich in diesen Ländern
Australien, Vereinigte Staaten, Vereinigtes Königreich
Testsigma – Videos und Bilder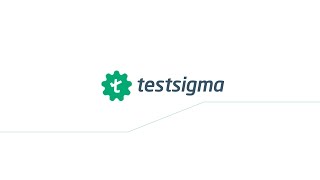 Kosten ähnlicher Produkte wie Testsigma vergleichen
Testsigma Funktionen
Anforderungsbasiertes Testen
Anforderungsmanagement
Parametrisierte Tests
Testskript-Bewertungen
Unterstützt parallele Ausführung
Verschieben und kopieren
hierarchische Ansicht
Alternativen für Testsigma
Bewertungen über Testsigma
Osdwall L.
CEO DomHardware in Dominikanische Republik
Verifizierter Nutzer auf LinkedIn
Informationstechnologie & -dienste, 11-50 Mitarbeiter
Verwendete die Software für: 1-5 Monate
Best Experience with test automation
Kommentare: I came to this company after 4 months of fighting with other software's trying to handle all testing I need for QA and QC compliance and the experience here its being just AMAIZING, guys are always there to support you and guide you thru any situation you may encounter. They give you timelines for any enhancement you need. Its being a really nice experience working with this amazing tool.
Vorteile:
If I can give a 7 stars here, will be glad to do it. About usage is very friendly after you read the documentations. Implementing the test here are so easy it is like talking to another person. Super full supporting with the click option to capture the fields and menus.
Nachteile:
This is a overall tool that maybe not apply 100% to you platform. But the support to get it to 100% is super good.
Antwort von Testsigma
vor 3 Jahren
Thanks, Osdwall :) We will do our very best to continue to meet your needs.
Sondra R.
SQA Specialist in USA
Computer-Software, 51-200 Mitarbeiter
Verwendete die Software für: Mehr als 2 Jahre
In Betracht gezogene Alternativen:
Ease of use, configurability, and flexibility
Kommentare: Overall, I really like the service. I particularly love that is does not require an engineer to get something done!!
Vorteile:
* Low barrier to entry! I'm not an engineer and didn't want to waste time learning a programming language to get our Part 11 Validation testing framework up and running. I have been able to make hundreds of tests which are specific to user acceptance criteria yet flexible enough to handle being general build-acceptance testing. * Instead of buying different devices or workstations with dozens of permutations, I can choose from nearly all of the currently and previously available browser/OS combinations. * The screenshot capability as well as the video generated by each test has made writing up reports easier.
Nachteile:
* The reporting is not at all flexible. I had to use Grafana to create a custom dashboard of the results so that my team could see at-a-glance how all the test suites which ran overnight did. In addition, I have to do a heck of a lot of massaging to get reports which an be used for the Part 11 report. I've repeatedly asked for the ability to customize the dashboard, but it's not a priority for their product team. * Do not expect automated UI testing to be fast. * Inability to link test suites so that when one ends, the next is kicked off. There is a workaround for this, but it requires multiple parallel user accounts. * Plan ahead when naming your tests. The organization capacity is a little lacking, so I had to use the naming conventions to ensure I have included all the tests in the correct set in the correct order.
Enasoae E.
QA Specialist in Rumänien
Versicherung, 11-50 Mitarbeiter
Verwendete die Software für: Mehr als 1 Jahr
Good potential
Kommentare: - good for automating repetitive tests (smoke&sanity tests)
- good for automating processes that does not require too much configuration or dynamism
Vorteile:
- great NLP features - good project management - responsive customer suport
Nachteile:
- hard to write code & not recommended for automation oriented testers
Amit M.
Sr Manager, Quality Engineering in USA
Verifizierter Nutzer auf LinkedIn
Finanzdienstleistungen, 1.001-5.000 Mitarbeiter
Verwendete die Software für: 6-12 Monate
A complete and easy to use web based Test Automation Platform for teams of all size
Kommentare: I have been using TestSigma for my teams at various organizations in Silicon Valley to implement agile testing successfully where everyone on my product team can develop automated test irrespective of their skill set which allows me to deliver software products faster with quality. This tool is so easy to learn and full of features that allow me the practice of precision testing where testing has to be better, cheaper and faster.
Vorteile:
1. Completely web-based with very intuitive interface 2. Work out of the box 3. End to End Test Management with powerful reporting and assignment 4. Programming language agnostic for the most part, very helpful for a team with expertise in the different programming language or no programming language 5. Allows to use the knowledge of Selenium WebDriver 6. Integration with Slack/Email Notification/Jenkins/Browser Stack/Sauce Lab/Jira 7. Rapid automated test development for web applications, rest services and even mobile apps for agile testing 8. Script-less automation using Chrome plugin 9. Powerful element locators with built-in intelligence to write more stable tests 10. Support for organizing and running tests against various prod and non-prod environments alike 11. Awesome customer service 12. Flexibility to build custom functions in Java for very complex scenarios 13. Built-In scheduling of Test Runs 14. Very cheap given the productivity gain 15. Great support for building cross-browser tests quickly 16. Allows to use of existing Selenium Grid, Browser Stack and even run on a local machine 17. Automated detection of impacted tests for a failed step and skip them in a test run to save execution time
Nachteile:
1. Lack of support for DB testing but possible with custom function 2. Reports could be clearer 3. Lack of full-page screenshot in some browsers but possible with custom function 4. Lack of feature to compare 2 screenshots/images for better cross browser testing
John O.
QA Manager in UK
Verifizierter Nutzer auf LinkedIn
Computer-Software, 10.000+ Mitarbeiter
Verwendete die Software für: 6-12 Monate
Test Sigma
Kommentare: We had no tool to automate our Salesforce Lightning backend and Test Sigma fit the bill well as it was able to cope with changing element ID's. Their Support is outstanding and their delivery model rapid insofar as we are quite envious of them as a SaaS provider(we are too but not as efficient as them). They were able to diagnose and deliver fixes within a few hours of them being reported as well as providing the team with great support on complex issues, resolving those rapidly or coming up with workaround whilst they figured out a better solution. They listened and acted on our feedback delivering minor but requested features within a week or so of our request for them.
Vorteile:
Relatively easy to pick up by non-technical QA with a few hours spent on workshops with Test Sigma to educate on the basic usage. Record and playback lets you get a base setup quickly. Custom methods support extension of test cases by allowing us to write our own code for complex scenarios. Fast, fresh GUI that was pretty intuitive. Support scheduled jobs and Jenkins integration. Support team are outstanding. We even got interviewed to give feedback on Pro's and Con's and felt we had influence over the Roadmap so as to get our needs met.
Nachteile:
Test Case hierarchy and ability to group the numerous Test Cases and Test Steps began to be a challenge as this was not the best executed part of the product. Sometimes it was hard to get consistency in our Test Cases, some due to the product not being able to accurately identify an element and some due to our own complex DOM. These issues were often resolved very promptly.