Was ist IPQualityScore Fraud Prevention & Proxy Detection?
IPQualityScore is a free & premium fraud prevention service with on-demand lookups via API. Completely protect your business from ATO, chargebacks, bots, fake accounts, scraping, and much more. Accurately verify users and payments with phone validation, email reputation scoring, and the internet's best source for IP reputation data. Global coverage supports accurate detection rates for abuse in any region or industry.
Wer verwendet IPQualityScore Fraud Prevention & Proxy Detection?
Companies looking to benefit from reduced fraud and abuse. IPQS supports banking & fintech, payment processors, merchants & retailers, affiliate & lead generation, and much more.
IPQualityScore Fraud Prevention & Proxy Detection – Details
IPQualityScore
2011 gegründet
IPQualityScore Fraud Prevention & Proxy Detection – Details
IPQualityScore
2011 gegründet
IPQualityScore Fraud Prevention & Proxy Detection – Videos und Bilder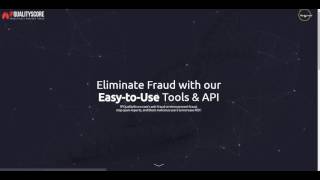 Kosten ähnlicher Produkte wie IPQualityScore Fraud Prevention & Proxy Detection vergleichen
Startpreis
49,00 $/Monat
Nicht verfügbar
N/A
Nicht verfügbar
IPQualityScore Fraud Prevention & Proxy Detection – Bereitstellung und Support
Einsatz
Cloud, SaaS, webbasiert
Android (mobil)
iPhone (mobil)
iPad (mobil)
Training
Live Online
Webinare
Dokumentation
Funktionen von IPQualityScore Fraud Prevention & Proxy Detection
API
Aktivitäts-Dashboard
Aktivitäts-Verfolgung
Aktivitätsüberwachung
Alarmfunktion / Benachrichtigungen
Anomalieerkennung
Anpassbare Betrugsregeln
Audit Trail
Authentifizierung
Berichterstattung und Statistik
Betrugserkennung
Compliance Management
Data Mapping
Daten-Identifizierung
Daten-Import / -Export
Datenerfassung und Übertragung
Datensynchronisation
Datenvisualisierung
Datenüberprüfung
Drittanbieter-Integration
Echtzeit-Aktualisierungen
Echtzeit-Analytik
Echtzeit-Daten
Echtzeit-Warnungen
Echtzeitüberwachung
Elektronische Zahlungen
Fall-Management
Finanzanalyse
Für E-Commerce
Für Versicherungsbranche
Für das Bankwesen
Genehmigung finanzieller Transaktionen
Interne Betrugsüberwachung
KI/Maschinelles Lernen
Kundenkonten
PSD2-konform
Prädiktive Analytik
Prävention von Zahlungsbetrug
Risiko-Warnungen
Risikoanalyse
Risikobewertung
Scheckbetrugserkennung
Suchen / filtern
Transaktion-Überwachung
Transaktionshistorie
Verhaltens-Tracking
Warnungen / Eskalation
Workflow-Management
Zugangsmanagement
Überwachung
Verifizierter Rezensent
Influencer Relations in USA
Verifizierter Nutzer auf LinkedIn
Verwendete die Software für: 1-5 Monate
I have nothing but good things to say about IPQS. It's elegant, fast, efficient, and affordable
Kommentare: * Cut down on operating costs (From competitor)
* Saved us money due to preventing fraud/malicious actors
* Aided Email Hygiene
* Less headaches
* All my expectations have been met. Perhaps more detailed analytics in the future but I believe that is currently in their pipeline.
Vorteile:
I was very impressed with how easy it was to integrate IPQS into my existing projects. I thought it would have required more work to get it incorporated into the business logic but it was relatively quick and took less than an hour. As for saving us money, it has exceeded our expectations in that regard. I was using another service but it was about 3-4x expensive and was about 10-25% less effective.
Tiago S.
CEO in Brasilien
Unterhaltung, Selbstständig
Verwendete die Software für: Mehr als 1 Jahr
Best Ad fraud monitoring solution
Kommentare: We tested many solutions, and this is by far the one that could block all the vpns/proxies (even residential proxies) that we tested. It has a low false positive ratio while compared to other services. It can be a little pricey if you are looking to bulk check cheap traffic, for example, pop ups, but totally worth it if you are running arbitrage sites like us, buying social and display traffic. It protects our accounts from invalid traffic, that can lead to account closures, especially if you work with Google Adsense and Google Ad exchange. Offers great flexibility, options to whitelist/blacklist, tweak settings. I totally recommend this service.
Vorteile:
The implementation is a breeze. IPQS offers different types of implementation for your site/app or anything really. We use it on our Wordpress websites and we implemented the service via a PHP file, that we include on the header. The fraud detection is A+, they detect bots and vpn/proxies connections that can be really harmful, especially if you are a ad publisher like us. The checking is done blazing fast, we implemented it before loading our site content, and when a user is detected as high risk, we redirect them to a page explaining that their access has been blocked and the likely causes, while the legitimate traffic loads our content without even noticing anything.
Nachteile:
It's a little bit pricey, but if you pick a higher plan with more credits it gets cheaper. The dashboard needs a new and more modern interface, but nothing too concerning, does the job.
Renzo M.
Investigator in Frankreich
Staatsverwaltung, 10.000+ Mitarbeiter
Verwendete die Software für: Mehr als 1 Jahr
Perfect
Vorteile:
Very easy to use (live lookup or mass detection). A good rate of detection.
Nachteile:
?? No idea. :-) It's perfect for me. Good job !!
Sue S.
historian and author in USA
Hochschulbildung, Selbstständig
Verwendete die Software für: Mehr als 1 Jahr
IPQS Protection
Kommentare: Spectacular. This program has kept my web site clean, and blocked a specific fraudster and other bad actors at every turn.
Vorteile:
I find IPQS's device tracking application to be very efficient and useful. My goal is to block proxies and VPN users from my web site. This application is superior to the others available.
Nachteile:
The web site is a little complicated for a novice user, but their staff are very approachable and quick to assist.
Scott R.
Owner / Site Admin in USA
Musik, Selbstständig
Verwendete die Software für: Mehr als 1 Jahr
Fantastic product and team behind it.
Kommentare: I have used several online fraud detection sites and this one is by far the most comprehensive and accurate.
Vorteile:
I am using this product manually, for the most part. I most like that this it's reporting is quite accurate.
Nachteile:
Nothing to report here. I do not have any complaints whatsoever.