Was ist Ripple?
Ripple ist ein webbasiertes, rekrutierungsorientiertes Patienten- und Studienmanagement-Tool für klinische und translationale Studien. Ripple bietet klinischen Zentren eine zentralisierte Software zur Verwaltung aller Aspekte der Rekrutierung und Nachverfolgung von Patienten in klinischen Studien. Ripple hilft klinischen Studienzentren, mehr Patienten aufzunehmen, die Retention zu erhöhen, die Berichterstattung zu vereinfachen und Aufgaben zu automatisieren, um den Studienteilnehmern eine ausgezeichnete, patientenorientierte Erfahrung zu bieten.
Wer verwendet Ripple?
Das Unternehmen betreut klinische und translationale Forschungsteams an Universitäten, CROs, kleine Medizinprodukteunternehmen und Unternehmen, die Forschung im Bereich Usability-Tests betreiben.
Wo kann Ripple bereitgestellt werden?
Cloud, SaaS, webbasiert, Mac (Desktop), Windows (Desktop), Chromebook (Desktop)
Über den Anbieter
Ripple Science
Ansässig in Ann Arbor, USA
2016 gegründet
Telefon-Support
Chat
Über den Anbieter
Ripple Science
Ansässig in Ann Arbor, USA
2016 gegründet
Telefon-Support
Chat
Ripple – Videos und Bilder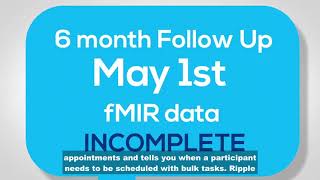 Kosten ähnlicher Produkte wie Ripple vergleichen
Ripple Funktionen
21 CFR Part 11-Compliance
Aktivitäts-Dashboard
Daten-Import / -Export
Dokumentenmanagement
EMR / EHR
Elektronische Datenerfassung
Erinnerungen
HIPAA konform
Kalenderverwaltung
Kampagnenmanagement
Kontaktmanagement
Leadmanagement
Management klinischer Studien
Marketing-Automatisierung
Mobiler Zugriff
Patientenkommunikation
Patientenmanagement
Patientenwerbung
Patientenüberwachung
Terminplanung
Terminverwaltung
Workflow-Management
Suzy
Associate Professor of Psychology and Neuroscience in USA
Verifizierter Nutzer auf LinkedIn
Hochschulbildung
Verwendete die Software für: 6-12 Monate
This software has facilitates my ability to keep track of and schedule research participants.
Kommentare: It has enhanced my lab productivity and enabled us to keep track of participant recruitment in a much more precise way.
Vorteile:
It is HIPAA compliant, which makes it relatively easy to work with the IRB to get approval to use. It allows for lots of customization for your study design. It is easy to add and remove study team members with different levels of access. You can send reminders for members of the team to do different tasks associated with participants and study events. You can set up study events based on expected dates or that are triggered based on the completion of other study events. There is a registry (database) that houses all the subjects that you have entered. It is easy to query this database and select potential participants into specific studies.
Nachteile:
I would like to see an easier way to input large numbers of potential participants into the registry from a csv file. I would also like to see a more integrated calendar and scheduling system and emailing system.
Brianna
Project Coordinator in USA
Forschung, 2-10 Mitarbeiter
Verwendete die Software für: 6-12 Monate
Remote Work Made Easy
Kommentare: My team is able to track recruitment and retention, which is very helpful when deciding which community organizations we should put more energy and resources toward. We then thank our community partners for the referrals and strengthen our bond by referring our participants to them. This community networking has played a role in when and how we communicate with participants, another aspect that is well tracked in Ripple. We can also assign Ripple tasks to team members and associate them with specific participants, thus accounting for everyone on our team and in our program.
Vorteile:
Our team transitioned almost everything to Ripple, before the coronavirus began to affect our research protocols and data collection. Our familiarity with the product prepared us to transition to remote work very smoothly. We have greatly appreciated Ripple's customer support and desire to enhance the system's features. Some of our favorite features include the creation of tasks and the ability to track recruitment and retention strategies. Without Ripple, our administrative team would have a hard time communicating participant information in such detail.
Nachteile:
There is always room for improvement, but it is evident that the Ripple team values customer feedback and is working around the clock to provide as many relevant features as possible. I imagine it is difficult to field the amount of feedback that they receive, but their communication about their goals and progress is fantastic!
Antwort von Ripple Science
vor 2 Jahren
Hi Brianna, Thank you for your review! We are happy to hear that Ripple supported your move to remote work during this disruptive pandemic. We look forward to enhancing the application more in the future, especially in regards to task management and ensuring you can focus on nurturing your participant relationship. Thank you!
Shailee
Graduate Student in USA
Forschung, 51-200 Mitarbeiter
Verwendete die Software für: 6-12 Monate
We use Ripple in my developmental psychology lab for recruiting and managing participants.
Vorteile:
Keeps the whole lab on top of recruiting and running participants through our study. It's a great way to see what tasks are completed, what still needs to be done, and who is doing what.
Nachteile:
It is not always the most intuitive to use. Specifically, the interface gets clunky as participants increase. The two-page system (when extra participants roll over onto the next page) is very confusing. I'd prefer to scroll down a single page than click through different pages of the status headings. Furthermore, the calendar would be much more useful if the event were clickable. Then, users would be taken to the page with the participant information when the event is clicked. Adding export functionality would also greatly improve the usefulness of the Ripple calendar.
Jacob
Research Coordinator in USA
Forschung, 1.001-5.000 Mitarbeiter
Verwendete die Software für: Mehr als 1 Jahr
Great Interface with Lots of Potential
Vorteile:
It is really easy to use and is optimal for recruitment workflow as well as tracking participant status in a study. It's also great as a quick reference to look at participant contact info.
Nachteile:
The dates logic can be kind of wonky. For example, it normally prompts the next study visit some amount of days after the last visit. This is great, but some visits occur a set amount of time after the baseline, not the last visit, so this can make the set dates really off for some participants. The dashboard could also be more useful in regard to showing a richer database set, such as how many participants completed a study phase for example.
Antwort von Ripple Science
vor 2 Jahren
Hi Jacob, Thank you for your review! We are glad to hear that you find the Ripple recruitment features so beneficial. In regards to your feedback on scheduling flexibility we recently released a major update to this functionality that will allow you to truly customize the date calculation process. Take a look at the Study Settings - Events page to take advantage of these new features. Thank you!
Stephanie
Research Coordinator in USA
Psychische Gesundheitsfürsorge, 10.000+ Mitarbeiter
Verwendete die Software für: Mehr als 2 Jahre
Best Research Management Software
Kommentare: Ripple is invaluable! It's efficient and prevents steps from falling through the cracks. I highly recommend research teams schedule a demonstration with Ripple wonderful team to learn how Ripple can work for your project.
Vorteile:
Ripple is incredibly easy to use and customizable to your specific project needs. Ripple is so efficient, Research Assistants on our project were able to take on more responsibility and tasks, eliminating the need for an entire position. Ripple makes it easy to track all the moving pieces of a research study and tasks each staff member needs to do. It's also effective for project managers to see aggregate data for reporting.
Nachteile:
The only features that could use improvement is the recruitment tab. Sources are unsearchable and it can take a while to locate a specific source.
Antwort von Ripple Science
vor 2 Jahren
Hi Stephanie, Thank you for your review! We are happy to hear Ripple's flexibility and efficiency have helped optimize your project team. We are making some improvements to searching and filtering in multiple areas of the app, and based on your feedback will be sure to research how the same enhancements could be applied to the recruitment tab. Thank you!