Was ist Valotalive?
Digital Signage Software for Modern Workplaces
Put your data to work: Share weekly goals, progress, and celebrate the wins. Use Valotalive digital signage to keep everyone organized and united around common goals.
Don't forget to have some fun while you're at it. Link dynamic social media feeds, uplift star employees, and encourage team building. Valotalive is completely customisable for any workplace.
Wer verwendet Valotalive?
Companies that would like to drive data transparency and automate communication processes. We serve customers from various industries such as manufacturing, IT, Consulting and much more.
Wo kann Valotalive bereitgestellt werden?
Cloud, SaaS, webbasiert, Mac (Desktop), Windows (Desktop)
Über den Anbieter
Valotalive
2012 gegründet
Chat
Erhältlich in diesen Ländern
Finnland
Sprachen
Nicht vom Anbieter bereitgestellt
Valotalive Kosten
Startpreis:
8,00 $/Monat
Ja, kostenloser Test verfügbar
Keine Gratisversion
Valotalive bietet keine Gratisversion, aber eine kostenlose Testversion. Die kostenpflichtige Version von Valotalive ist ab 8,00 $/Monat verfügbar.
Über den Anbieter
Valotalive
2012 gegründet
Chat
Erhältlich in diesen Ländern
Finnland
Sprachen
Nicht vom Anbieter bereitgestellt
Valotalive – Videos und Bilder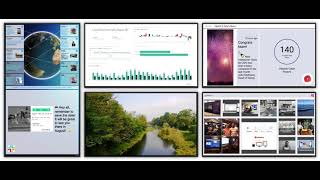 Kosten ähnlicher Produkte wie Valotalive vergleichen
Valotalive Funktionen
Automatisches Aktualisieren
Inhalte planen
Layout und Design
Medienbibliothek
Meeting-Management
Remote-Display-Management
Spiellisten-Management
Support mehrerer Bildschirme
Visueller Editor
XML / RSS
Alternativen für Valotalive
Bewertungen über Valotalive
Minna K.
Head of Personnel and Change Communications in Finnland
Verifizierter Nutzer auf LinkedIn
Öl & Energie
Verwendete die Software für: 1-5 Monate
Great data visualization & transparency
Vorteile:
It allows us to make our KPIs more visible to all employees and this way is an important leadership tool. It has additionally extended our internal communications reach to employee groups that cannot be properly reached with any other internal communications channel
Nachteile:
Getting the right balance with the different content parts has been a bit challenging but I assume this is something that we learn to fix over time
Antwort von Valotalive
vor 4 Jahren
Thank you Minna for your review and kind words. We are sure the content mix will evolve towards optimal over time. With kind regards, Valotalive Support
Victor M.
Marketing Specialist in Frankreich
Rundfunk, 201-500 Mitarbeiter
Verwendete die Software für: 6-12 Monate
In Betracht gezogene Alternativen:
A solution in perfect harmony with the needs of our company
Kommentare: Our experience with this service is very satisfactory, and the new interface is very pleasant to use.
Vorteile:
We were looking for a digital signage solution that would allow us to distribute information and news published on our new Sharepoint-based intranet to our employees. Among the solutions we were looking for, only Valota offered this option. Many companies use the complete MS Office ecosystem. For us, Valota was the solution that best suited our needs, providing us with flexibility and comfort, since we didn't even have to change our internal communication tools.
Nachteile:
We find that all the available options are useful, nothing is missing. In addition, Valo's teams are constantly working on new tools and options. The functionalities seem to be always up to date and in accordance with the evolution of our needs.
Antwort von Valotalive
vor 12 Monaten
Thank you Victor for the review and your kind words. We are happy to serve MVG and try to live up to the reputation by developing things even further. With regards - Valotalive Customer Success team
Stefán V.
IT Service manager in Island
Elektrische/elektronische Fertigung, 5.001-10.000 Mitarbeiter
Verwendete die Software für: Mehr als 1 Jahr
Valotalive fits our needs and purpose
Kommentare: Overall my experience is very good.
Vorteile:
What I liked most about Valotalive was the fact that it is built in the cloud and its main function is to pull information from other systems with simple apps so that we don't have to maintain multiple content systems. I also like the fact the quick development and constant improvements of the system as well as great and personal customer support.
Nachteile:
It can be a little bit complex to understand, especially for new users. I would also like to see more self-service permission functionality so the customer administrator can assign flows and displays to certain users without having to ask for assistance.
Tuomas K.
Account Manager in Finnland
Informationstechnologie & -dienste, 2-10 Mitarbeiter
Verwendete die Software für: Mehr als 1 Jahr
Implementation and automation made easy
Kommentare: The easiest Digital signage software I have ever used!
Vorteile:
Easy to implement and scale-up. What I love the most is the modern and simple admin console for the users and admins. Learning the settings didn't take much time and I had excellent support available as I needed it. I appreciate the support repose time even though there is a large data bank for the users, always had assist! Fast content updates is finally made easy! Our problem used to be that our employees didn't have the skills to make simple updates for internal or external signage-displays. But with Valotalive, if you have used any type of social media apps, updating your content is almost the same with Valotalive's My content publishing tool. You can do it also though our phone. Simple and understandable logic with content apps, flows and displays. Almost all our business data is now automated from our Google Slides, Sheets, Google intranets, Calendar and Analytics channels to our internal Digital signage displays with Valotalive tools. Our teams are up-to-date around the clock. High secure integrations between our platforms and valotalive is also one of the reasons why we choose them!
Nachteile:
Learning new platform take always time but as I mentioned earlier, I was positively surprised how fast the learning process was. If I would need to improve something, I would add direct links that lead to Valotalive support portal to every tab or page for fasted assistance.
Antwort von Valotalive
vor 2 Jahren
Hello! Thank you for the review and great feedback. We are always excited to hear from our customers. We are happy to learn that you find our apps useful and productive in sharing your business data. Your suggestion makes sense. We will definitely have a look into the way to share the links to our knowledge base in a convenient way straight in the app configuration.
Verifizierter Rezensent
E-Commerce and Communications Assistant in Finnland
Verifizierter Nutzer auf LinkedIn
Einzelhandel, 201-500 Mitarbeiter
Verwendete die Software für: 6-12 Monate
Using Valotalive for internal communication
Kommentare: Valotalive helps us to improve our internal communication in a modern and people-friendly way. Now internal messages and information reaches out to all of our stores. We have received very good feedback from our personnel. The platform and the service meets our demands. Help is provided whenever we need it and the answering time from the support is very short. The pricing is reasonable: we only pay for what we use.
Vorteile:
Valotalive makes it easy to communicate internally: The platform is effortless to use and its versatile apps makes it easy to create content with added value for the personnel. High scores for the scheduling of posts, "posting-on-the-go" directly from your mobile phone and the administration of screens/content.
Nachteile:
I would like to have the opportunity to add some hidden hashtags to the posts, so that when the content is in the archive, I could easily find the posts later using those hashtags in the archive search engine. Now I can use words from the post to find it in the archive, but I don't always remember the correct words so that the correct post would appear in my search. We have some posts that we like to show later again and then it would be nicer to have easier access to them in the archive, rather than going through them one by one. Those hashtags should not be visible on the screen but would be a help during the search process in the archive. Also, it would be nice to have dates shown in the archive instead of "posted 1 week ago", "posted 4 weeks ago" etc. That would also be a good search criteria: searching with the publishing date.
Antwort von Valotalive
vor 4 Jahren
Thank you very much for leaving a review! We appreciate the good feedback. Your thoughts regarding new features are truly noted. We are happy to receive great feedback and suggestions to any service improvements. With kind regards, Valotalive Support