Was ist TravelBank?
Mit TravelBank erhalten Unternehmen – wie im App Store unter "New Apps We Love", "Best Business Apps" und "Best of Business Travel" zu sehen ist – sofortige Kontrolle über ihr Reisekostenmanagement und Reiseprogramm, wodurch die Ausgaben des Unternehmens im Durchschnitt um 30 % gesenkt und gleichzeitig die Zufriedenheit der Mitarbeitenden durch ein nutzerfreundliches Design, schnelle Spesenrückerstattung und ein Reisebelohnungsprogramm verbessert werden. Unternehmen können mit Leichtigkeit nutzerdefinierte Richtlinien erstellen und bereitstellen und haben Zugriff auf das interne Kundenerfolgsteam für Expertensupport.
Wer verwendet TravelBank?
Jede Organisation oder Einzelperson ohne ein verwaltetes oder standardisiertes Tool für Geschäftsreisen oder Ausgaben oder alle, die nach einer Verbesserung ihrer aktuellen Lösung suchen.
Wo kann TravelBank bereitgestellt werden?
Cloud, SaaS, webbasiert, Android (mobil), iPhone (mobil), iPad (mobil)
Über den Anbieter
Travelator
Ansässig in San Francisco, USA
2015 gegründet
Telefon-Support
24/7 Live-Support
Chat
Erhältlich in diesen Ländern
Vereinigte Staaten
Über den Anbieter
Travelator
Ansässig in San Francisco, USA
2015 gegründet
Telefon-Support
24/7 Live-Support
Chat
Erhältlich in diesen Ländern
Vereinigte Staaten
TravelBank – Videos und Bilder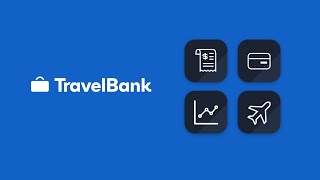 Kosten ähnlicher Produkte wie TravelBank vergleichen
TravelBank Funktionen
Angebote / Schätzungen
Belegmanagement
Berichterstattung / Analyse
Dashboard
Erstattungs-Management
Genehmigungs-Workflow
Integration in die Buchhaltung
Kontrolle des Genehmigungsprozesses
Kosten-Kontrolle
Kostenverfolgung
Lieferanten-Management
Online-Buchung
Projekt-Nachverfolgung
Reservierungs-Management
Richtlinien Managemen-
Upload mobiler Kaufbelege
Alternativen für TravelBank
Bewertungen über TravelBank
Niara P.
Operations Analyst in USA
Verifizierter Nutzer auf LinkedIn
Versicherung, 11-50 Mitarbeiter
Verwendete die Software für: 6-12 Monate
Quick but sometimes confusing
Vorteile:
Its an easy way to get reimbursed. I know that once I submit a charge, it will seamlessly be taken care of on the back end
Nachteile:
Sometimes the expense report vs individual charges gets confusing. I'll create a charge but cannot figure out how to put it in an expense report to submit it or how to submit it without using a whole report (I don't have many expenses so I am often only submitting one charge)
Antwort von Travelator
vor 4 Jahren
Thanks for the review Niara! You can submit expenses directly from the main "Expenses" screen by tapping "Submit" in the top-right on mobile, or clicking the 3-dot menu in the top-right on desktop; this will directly generate a report named "General Expenses" and submit it to your manager, and works great if you just have a few expenses each month. To assign expenses to a report, all you have to do is create a new report first from the "Reports" section of the menu. You can then create expenses directly from the new report you've just created. Also, each time you create a new expense from the main "Expenses" screen you can choose to assign it to any open Report. Hope that helps and let us know any time you have further questions or feedback!
Danny P.
Shop Manager in USA
Telekommunikation, 11-50 Mitarbeiter
Verwendete die Software für: 1-5 Monate
Expense Report Generator
Kommentare: I emailed a question and had a response within a few hours.
Vorteile:
First, The ability to quickly take a photo of the receipt and later fill in the details when I have time. Second the ability to sync my credit card to the software, and third, I don't travel often but I do like the ability to be able to do all purchase and planning via this software.
Nachteile:
I've been using the software for a week and only added a few entries, so far I've had a seamless experience, As of now I haven't found any cons
Antwort von Travelator
vor 2 Jahren
Hi Danny, we're glad you're having a great experience thus far, and enjoying our receipt capture, credit card sync, and customer support! If you run into any questions down the road, don't hesitate to reach out to us for help.
Steve P.
Customer Success Engineer in USA
Computer-Software, 51-200 Mitarbeiter
Verwendete die Software für: 1-5 Monate
Why TravelBank sucks
Vorteile:
The chat feature is okay. Representatives will respond fairly quickly.
Nachteile:
When booking my flight to Bahrain, the following happened: 1. They only booked 4 of the 6 legs I requested, leaving my final destination as Kuwait City rather than Bahrain 2. They didn't add my frequent flyer number to the reservation as I had requested 3. My preferred airlines disappeared from the list the day I went to make my reservation. After waiting several hours, one of the airlines returned literally minutes before I was heading out of the office on a vacation. 4. My selected itinerary was originally in budget, but after entering my details and clicking the confirm button, the price magically jumped $200 and required my manager to approve. 5. Seat selection was not available on all legs, and the ones I selected were ignored when the system made my reservation.
Antwort von Travelator
vor 3 Jahren
Steve, we¿re so sorry about this difficult experience, as it¿s certainly not up to our standards. Your Customer Success Manager will work with you directly on making this up to you, and also rest assured that everything we¿ve learned from this situation will go towards improving the future experience for you and all of our other users. Please don¿t hesitate to reach out any time for any further feedback or questions!
Kandi P.
Office, Perks and Events Manager in USA
Verifizierter Nutzer auf LinkedIn
Marketing & Werbung, 1.001-5.000 Mitarbeiter
Verwendete die Software für: 1-5 Monate
Travel Made Easier at Clearlink
Kommentare: As a large company, with locations in different states, and managers traveling to meet with clients, Clearlink was looking for a way to reduce travel spend, but overall have a seamless and streamlined user experience for booking travel. After demoing multiple platforms, Clearlink found TravelBank to be the ideal fit for our growing organization. Not only did TravelBank work heavily with us to refine our existing travel policy, their team is readily available for any questions that arise.
Vorteile:
The TravelBank platform is extremely user friendly and intuitive. Their goal is to have you book a flight from start to finish in under a few minutes, and the process is simple and streamlined to take the headache out of booking travel. Aesthetically, the software is clean, well organized and visually pleasing. Adding users is simple with mass uploads, and deactivating employees is just as easy.
Nachteile:
While not necessarily a con, TravelBank is continuing to develop new enhancements to their system, which means continued changes for our employees. That said, they're positive changes! There are many items on the roadmap for this year, like rental cars, and as a company that has a high annual travel spend, we can already see we will rely heavily on the upcoming features. As a newer travel platform in an industry that hasn't seen much change or innovation to travel, we're excited to see the enhancements that are being made by TravelBank. As we continue to grow in headcount, the reporting capabilities could be increased to support our needs and provide deeper visibility into employee travel. Being able to integrate with an HRIS to remove the manual process of adding/deactivating users would be a nice addition.
Verifizierter Rezensent
Founder & COO in USA
Verifizierter Nutzer auf LinkedIn
Internet
Verwendete die Software für: 6-12 Monate
Super helpful app for managing travel and expenses!
Vorteile:
Powerful mobile app makes it easy to take photos and record expenses, like that you can set up rewards for booking travel, can even hook up with your bank account
Nachteile:
There aren't that many detractors that I can think of for why to use this application, a lot of it comes down to your preference on the user interface. As an admin the reporting can be a little hard to find for the first time but is otherwise very user friendly