Was ist ProWritingAid?
Eine Software für die Grammatikprüfung, Stilverbesserung und das Terminologiemanagement, um sicherzustellen, dass Texte immer von höchster Qualität sind.
Wer verwendet ProWritingAid?
Unternehmen, die Wert auf die Qualität der Inhalte legen, die sie der Welt präsentieren, ganz gleich ob E-Mails, Berichte, Webinhalte oder Handbücher.
Wo kann ProWritingAid bereitgestellt werden?
Cloud, SaaS, webbasiert, Mac (Desktop), Windows (Desktop), Linux (Desktop), Windows (On-Premise), Linux (On-Premise), Chromebook (Desktop)
Über den Anbieter
Orpheus Technology
Ansässig in London, UK
2011 gegründet
Chat
ProWritingAid Kosten
Startpreis:
79,00 $/Jahr
Ja, kostenloser Test verfügbar
Ja, Gratisversion verfügbar
ProWritingAid bietet eine Gratisversion und eine kostenlose Testversion. Die kostenpflichtige Version von ProWritingAid ist ab 79,00 $/Jahr verfügbar.
Preismodelle
Kostenlose Testversion
Über den Anbieter
Orpheus Technology
Ansässig in London, UK
2011 gegründet
Chat
ProWritingAid – Videos und Bilder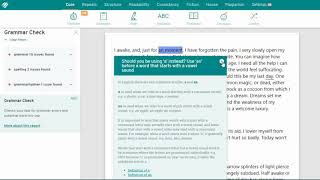 ProWritingAid Funktionen
Berichterstattung / Analyse
Drittanbieter-Integration
Grammatikprüfung
Plagiatserkennung
Rechtschreibprüfung
Rich-Text-Bearbeiter
Stilprüfung
Textbearbeitung
Textprüfung
Unterstützte Inhaltserstellung
Verarbeitung natürlicher Sprache
Werkzeuge zur Zusammenarbeit
Alternativen für ProWritingAid
Bewertungen über ProWritingAid
Esther M.
Product Designer in USA
Verifizierter Nutzer auf LinkedIn
Design, Selbstständig
Verwendete die Software für: Mehr als 1 Jahr
Writing tools for the pros
Vorteile:
Since my college days, I have used many writing tools and assistants. However, I would say that if you are a professional blogger or freelance writer, ProWritingAid is definitely for you. It gives you an in-depth review of your writing in all aspect. Definitely worth every buck.
Nachteile:
I would say that this software is not for everyone. If you are on your feet and need something out pretty quickly, this might not be for you. However, if you got some time to spend on editing, give this a go.
Verlagswesen, 2-10 Mitarbeiter
Verwendete die Software für: Mehr als 1 Jahr
The best software of its kind
Kommentare: I personally find the Grammar and Spelling filters on the ProWritingAid checker to be most relevant to my personal needs. I would love to see ProWritingAid keep expanding and refining those particular checks! Right now, I feel that the software focuses more on passive voice and optional stylistic refinements than necessary while failing to catch some fairly obvious typos, but I have confidence that the software will just keep improving over time.
Vorteile:
As a full-time editor, I get the editing software question almost weekly. I like to think of editing software as Microsoft Word's spelling and grammar check on steroids—it's a very similar process, but much more thorough. ProWritingAid is a fantastic last line of defense against rogue typos and subtle style errors.
Nachteile:
Many users don't understand that editing software can't be used as a substitute for human eyes on their manuscript. Accepting all of ProWritingAid's changes without reviewing them will result in a stilted, strange manuscript! Instead, for best results, review changes individually, evaluating whether you feel that each change is relevant and necessary for your manuscript. This is also a great way to identify areas for improvement in your writing and improve over time! I would love to see ProWritingAid one day check for errors while users type or underline errors within the body of a Word document (as they do on their online interface) but I understand that their MS Word integration is new and features along those lines may be coming in the future!
In Betracht gezogene Alternativen: Grammarly Business
Warum ProWritingAid gewählt wurde: I personally prefer the one-time fee to a subscription model and feel that ProWritingAid is much more thorough, with much more accurate suggestions, than Grammarly. ProWritingAid also has a stronger MS Word integration and is able to check longer documents without requiring them to be split into multiple parts.
Zuvor genutzte Software: Grammarly Business
Gründe für den Wechsel zu ProWritingAid: I compared the two and determined that ProWritingAid was a much better fit for my needs.
Skyler B.
Content Creator in USA
Schreiben & Editieren, Selbstständig
Verwendete die Software für: 6-12 Monate
ProWritingAid is an essential tool for serious fiction writers
Kommentare: ProWritingAid is an essential writing tool for fiction writers. It instantly makes your writing better and helps improve slow pacing, sentence variety, emotion, dialogue, as well as the usual grammar/spelling, it can find find cliches, and detect plagiarism. You can even create your own customized style guide. It is very affordable and worth the money. For blogging, I still use Grammarly and have an annual subscription, as I find it better for non-fiction. Hopefully one day I will switch all of my editing to ProWritingAid and be able to cancel my Grammarly subscription. If I could only recommend one, I'd say go with ProWritingAid for fiction, or Grammarly for non-fiction writing.
Vorteile:
I really like that they have a lifetime one-time payment option rather than only a monthly or yearly subscription such as Grammarly. It is great value for money. The software is very versatile and can be used for any type of writing, whether it is fiction, business writing, academic or even blogging and content writing. ProWritingAid also seamlessly integrates with other writing software such as Scrivener, Final Draft, and Google Docs.
Nachteile:
The interface isn't as nice as some other software, and the passive voice tool only identifies passive voice, instead of offer suggestions for what to change. Also, with so many reports and tools to select from, it can be a bit overwhelming at times.
Kenneth M.
Lecturer in Südafrika
Bildungsmanagement, 10.000+ Mitarbeiter
Verwendete die Software für: 1-5 Monate
ProWritingAid Experience (Limited Review)
Kommentare: I have only been using ProWritingAid for 1-day now, and hope my experience improves over time. A install file for Mac users would be highly appreciated as well.
Vorteile:
The LinkedIn feature is great, but still not as efficient as Grammarly. However, I appreciate the low CPU consumption by ProWritingAid complared to Grammarly.
Nachteile:
The LinkedIn feature is not always accurate and ProWritingAid does not seem to be fully optimised with Gmail. There are many instances where ProWritingAid does not pick up sentence errors and spelling mistakes in Gmail.
Stasha K.
Web Developer in Serbien
Verifizierter Nutzer auf LinkedIn
E-Learning, Selbstständig
Verwendete die Software für: 1-5 Monate
It's not an alternative. It's your first choice.
Kommentare: I feel like I am in the learning process, and I can see how much I can write things well. I am happy with that experience. Everything is easy to follow, and it's pretty clear with the point. I couldn't expect more.
Vorteile:
It's more than fixing mistakes. Not simple as tap here and tap there, and your writing will look like you are professional in that job. It gives you the knowledge and the possibility to learn during your essay. I like how the service represents a mistake, with arguments and tips. Also, in the app window, you can view all your success and effort you must invest to be good enough in writing. You have access to the complete education process. You can follow your engagement directly from the App window while typing. It has a live view of the writing process from the Goal tab. I like it.
Nachteile:
The app window on the Goal tab is bean little confusing for me. It's very useful, but the look is messy on the first view. It's a subjective experience and doesn't mean it's not right.