Was ist SumUp?
SumUp Air ermöglicht das Bezahlen per Kontaktlos-Technologie, Chip und Magnetstreifen. Das Kartenterminal ist mit allen gängigen iOS und Android Smartphones & Tablets kompatibel. SumUp Air ist mit Kontaktlos-Technologie, Bluetooth und Lithium-Ionen-Akku ausgestattet.
Wer verwendet SumUp?
Nicht vom Anbieter bereitgestellt
Wo kann SumUp bereitgestellt werden?
Android (mobil), iPhone (mobil), iPad (mobil)
Über den Anbieter
SumUp
2012 gegründet
Telefon-Support
Chat
Erhältlich in diesen Ländern
Vereinigte Staaten
Sprachen
Italienisch, Spanisch
Über den Anbieter
SumUp
2012 gegründet
Telefon-Support
Chat
Erhältlich in diesen Ländern
Vereinigte Staaten
Sprachen
Italienisch, Spanisch
SumUp – Videos und Bilder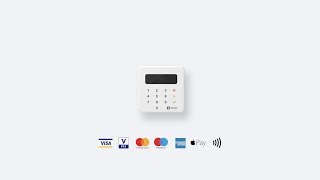 Kosten ähnlicher Produkte wie SumUp vergleichen
SumUp Funktionen
Berichterstattung / Analyse
Bonus-Verwaltung
Datensicherheit
Debit-/Kreditkartenverarbeitung
Mehrere Zahlungsmöglichkeiten
Mobile Zahlungen
Online-Abrechnung
Online-Zahlungen
Persönliche Zahlungen
Prävention von Zahlungsbetrug
Rechnungserstellung
Rechnungshistorie
Treueprogramm
Zahlungsabwicklung
Fedra
Photographer in Peru
Verifizierter Nutzer auf LinkedIn
Fotografie, 2-10 Mitarbeiter
Verwendete die Software für: Kostenlose Testversion
It is an excellent software!!
Kommentare: I've a small photographic company that is emerging and I'm looking for the right tools to accompany it in its growth. Having an administrator of invoices, forms and budgets, expenses that also allows me to have a register of clients and products is something that would do well to my company, so I am evaluating the purchase of this service. I think it offers many benefits and at a good price.
Vorteile:
The interface is intuitive and it's very friendly. It's easy to use, everything is very organized. Immediately after placing the country in which I reside, the exact amount of the tax charged in the country is placed. You can modify the templates of the emails that customers will receive with the invoice data. It allows to have a client registry, saves predetermined messages. It allows to take an expense management. . I can have a list of products The truth is that I like it a lot. I'm looking at the trial version and it's convincing me to have it in my business. The prices are quite accessible and from what I see you can easily climb if you have a small company like mine.
Nachteile:
So far everything I've seen and tried from the software I really like, including the price since it's very accessible.
Joan
Filmmaker in Spanien
Fotografie, 2-10 Mitarbeiter
Verwendete die Software für: 6-12 Monate
In Betracht gezogene Alternativen:
Facilidad y funcionalidad
Kommentare: En general nuestra experiencia con SumUp On ha sido muy gratificante ya que ha aportado a nuestra empresa un servicio extra necesario, facilitando la gestión de cobros y pagos.
Vorteile:
Lo que mas nos ha gustado del software es que tiene un montón de características en el mismo software, desde administrador de facturas, a tienda online e incluso dispone de una tarjeta física vinculable a tu cuenta. Además lo que nos gusta mucho son la variedad de dispositivos TPV que tienen, funcionan super bien, son elegantes y a muy buen precio, perfectos para los pagos en persona de nuestro negocio.
Nachteile:
Lo que menos nos ha gustado por decir algo es que las facturas, recibos y correos electrónicos están muy limitados ha personalizarlos, es decir únicamente puedes poner tu logotipo como mucho y la información de tu empresa, pero mantienen una estructura fija que no puede ser modificada.
Eventservice, 2-10 Mitarbeiter
Verwendete die Software für: Mehr als 2 Jahre
What a gem
Kommentare: Been great for business and came in very handy
Vorteile:
A great gadget to take payments anywhere on the go
Nachteile:
Must have a phone signal to be able to use it. If your phone dies or loses signal you can't accept payments
karina
gerente in Frankreich
Gastgewerbe, Selbstständig
Verwendete die Software für: Mehr als 1 Jahr
déçu
Kommentare: nul
Vorteile:
rien! À partir du moment qui j'ai eu un problème et je pas réussis à résoudre donc le logiciel ne sert pas pour ma société.
Nachteile:
Il faut jamais se tromper et avoir besoin de refaire une facture. Le programme est horrible. Le pire c'est les gens qui travaillent pour nous donner le support . Ils ne comprennent rien. Le logiciel a un bug très grave, c'est impossible de chaque année qu'on commence avec le numéro 1, 2, 3 il faut continuer la numération.
Antwort von SumUp
letztes Jahr
Bonjour, Nous sommes navres que vous soyez decue du logiciel. En effet il est impossible de reprendre des numeros qui ont deja ete utilises sur le logiciel, il ne doit pas y avoir de doublons dans la numerotation des factures. Ce n'est donc pas un bug, mais le fonctionnement normal du logiciel. N'hesitez pas a nous ecrire a l'adresse team@debitoor.fr pour que l'on puisse en discuter plus amplement. L'equipe de Debitoor France.
Manuel
Founder in Deutschland
Fotografie, Selbstständig
Verwendete die Software für: Mehr als 2 Jahre
In Betracht gezogene Alternativen:
One of the most important tools for every company
Kommentare: It's really fast, easy to use and since I am using it, I really like to write invoices. Before I did code my own system to create pdf invoices automatically, then I used word-files and an excel sheet to write down anything I need for the month, but I really hated doing it because it was so much work and it took me so much time. The most awesome feature I love about Debitoor is the option to import my business account so that I can go through it and use the incoming and outgoing payments as a todo list.
Vorteile:
At first I found it very hard to get started with invoices and all that stuff that comes with starting your own company. I tested a lot of different softwares and I decided to go with Debitoor because it was the most easiest tool to use and I love that everything works out so quickly with just a few clicks, because I really want to focus on my business and not on the invoicing.
Nachteile:
I would love to see more AI improvements that maybe automatically do or suggest stuff for me to reduce the amount of time I need to spend with Debitoor, but besides that I love using it.