Was ist Netpeak Spider?
Du kannst eingehende und ausgehende Links analysieren, defekte Links und Weiterleitungen finden, Indexierungsanweisungen berücksichtigen und doppelte Inhalte vermeiden: Titel, Meta-Beschreibungen, H1-Überschrift, vollständige Seiten usw. Ein Tool kann einen internen PageRank berechnen, um die Verknüpfungsstruktur der Website zu verbessern, und du kannst nutzerdefinierte Regeln festlegen, um entweder die gesamte Website oder einen bestimmten Teil zu durchsuchen.
Nutze die14-tägige kostenlose Testversion mit vollem Zugriff auf Netpeak Spider.
Wer verwendet Netpeak Spider?
SEO- und PPC-Profis, Link Builder, Webmaster, Marketingteams, Blogger und Vertriebsmanagement.
Netpeak Spider – Details
Netpeak Software
2016 gegründet
Netpeak Spider – Details
Netpeak Software
2016 gegründet
Netpeak Spider – Videos und Bilder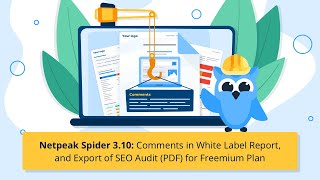 Kosten ähnlicher Produkte wie Netpeak Spider vergleichen
Startpreis
26,00 $/Monat
119,95 $/Monat
25,00 $
29,99 $/Monat
Netpeak Spider – Bereitstellung und Support
Einsatz
Windows (Desktop)
Windows (On-Premise)
Linux (On-Premise)
Training
Persönlich
Webinare
Dokumentation
Funktionen von Netpeak Spider
AB-Tests
API
Aktivitäts-Dashboard
Alarmfunktion / Benachrichtigungen
Analytik / ROI-Verfolgung
Anpassbare Berichte
Anpassbare Vorlagen
Backlink-Monitoring
Benutzer-Management
Berichterstattung und Statistik
Content-Management
Dashboard
Datenvisualisierung
Drittanbieter-Integration
E-Mail Marketing
Echtzeit-Aktualisierungen
Echtzeit-Benachrichtigungen
Echtzeit-Daten
Geplante / automatisierte Berichte
Google Analytics Integration
Kampagnenanalysen
Kampagnenmanagement
Keyword Monitoring
Keyword-Recherche Tools
Klick-Tracking
Konversionsraten-Optimierung
Kundenspezifisches Branding
Leistungskennzahlen
Leistungsmanagement
Link-Management
Lokalisierung-Automatisierung
Mehrere Kampagnen
Mehrere Standorte
Mehrsprachig
Mobile Keywords
SEO-Management
Social-Media-Integration
Stichwort-Nachverfolgung
Trend-Analysen
Visuelle Analytik
WYSIWYG-Editor
Web-Traffic-Berichterstattung
Website-Analytik
Website-Management
Werbemanagement
Wettbewerbsanalyse
Wirtschaftsprüfung-Management
Workflow-Management
Zielseiten / Web-Formulare
Überwachung
Olga H.
CEO & Co-founder in Ukraine
Verifizierter Nutzer auf LinkedIn
Kosmetik, 2-10 Mitarbeiter
Verwendete die Software für: Mehr als 1 Jahr
Easygoing SEO crawler
Kommentare: There are a large number of built-in gags, such as, for example, the choice of different user agents, scraping settings, and so on. So try Netpeak Spider, and you will like it.
Vorteile:
With Netpeak Spider, I often analyze my portals and competitors' portals. I like the fact that Netpeak Spider works with a large number of pages, and it already has a large number of already pre-installed filters, by which you can identify significant errors. Also, I can single out: the first is that I can start crawling on my computer, then save this project and transfer it to some working, more advanced, cooler computer. Multi-windowing is cool, I can crawl several sites at the same time. In addition, very cool dashboards are made, I have not seen this among any competitors. Power thing is that you can immediately see all the errors there, all the necessary parameters on one dashboard.
Nachteile:
After the last update, JavaScript rendering has become available, but we still need the function to save some rendered code that was rendered using JS.
Neil D.
CMO in Indien
Verifizierter Nutzer auf LinkedIn
Bildungsmanagement, 51-200 Mitarbeiter
Verwendete die Software für: Mehr als 2 Jahre
SEO Magic Wand
Kommentare: Simple to use, easy to configure, uncomplicated to segment what I need to see, and reports are awesome. Also, Customer Service is great!
Vorteile:
Good and fast helper, which signaling me about any SEO or usability errors. So I know where it has to be improved. Also, I like the opportunity to save projects, not just settings. Plus, it's great to be able to transfer it to another computer, or to export reports to my Google Drive. That's why I prefer Netpeak Spider to other tools.
Nachteile:
Doesn't offer a lifetime license. You can only purchase a subscription and pay each month or annually. It makes me feel like I'm paying a loan.
Jonny C.
SEO Executive in UK
Verifizierter Nutzer auf LinkedIn
Finanzdienstleistungen, 201-500 Mitarbeiter
Verwendete die Software für: 6-12 Monate
Well-rounded crawler for technical SEO
Kommentare: I thoroughly recommend this SEO bot for your arsenal of search engine tools. It's great for keeping a check on SEO data and potential crawl issues. The free trial means there's no risk either if it turns out to not be suitable.
Vorteile:
As far as bot-crawlers go, this software has pretty much all you could want from getting a full technical overview of your website. It breaks down every potential SEO area of interest in detail, as well as categorising these into warnings and errors, allowing you to prioritise fixes. The crawls itself are flexible in how they are performed, and allow you to set rules such as ignoring canonicals and meta robots rules, which is useful if you want to either simulate a search engine crawler or get site-wide information. The full access trial means you can try it out and see if it's for you, which is great as we ended up purchasing the software.
Nachteile:
There are very few cons. It perhaps lacks the illustrative displays of crawls that other software does, but otherwise I can't fault. Can also be quite RAM intensive, but this is common across crawling software.
Ostap Y.
Marketing Manager in Ukraine
Verifizierter Nutzer auf LinkedIn
Marketing & Werbung, 11-50 Mitarbeiter
Verwendete die Software für: 1-5 Monate
White Label And PDF Reporter Tool For SEOs White Label And PDF Reporter Tool For SEOs
Kommentare: Using the tool, I do:
1) PDF reports with checks for my clients (they can contain everything that my clients want, for example, finding broken links, redirecting, calculating PR, or even a report about what I did with the website). And the advantage is that I do it in a few minutes (I mean the report - the spider generates it in 5 minutes or less)
2) Then I mark this report in PDF format under the colors of my brand and place my contact details using the report option with a white label (this is very important! I save my time and earn more money only because I tell customers that I do my reports hands, but actually the spider does it instead of me.
This automation allows you to do in-depth SEO analysis (it's better than trying to prepare data in Google Shits, right?)
Vorteile:
I was always interested in the new areas of digital marketing, a couple of months ago I had a new hobby - SEO freelancing, and I was looking for a spider tool for SEO audit with perfect working options for the white label. I found Netpeak Soft that covers all my needs. I do SEO reports in PDF format for my clients with my contact information (this is similar to a brand report that I can do with the Spider tool). And I like this feature the most
Nachteile:
I just started my experience with the tool, so I can't note the worst thing in the tool. However, I would like to implement mirror checking for start URLs if they are not available
Mariya S.
Digital activation and analysis in Neuseeland
Verifizierter Nutzer auf LinkedIn
Marketing & Werbung, 201-500 Mitarbeiter
Verwendete die Software für: Kostenlose Testversion
Top-notch crawler for on-page and technical SEO
Kommentare: I've used a bunch of different SEO tools, and Netpeak Spider stands out among its competitors. It gives you all essential insights into your on-page SEO and presents data in a user-friendly way.
Vorteile:
What I like most about Netpeak Spider is that I can customise it for each task specifically. I've created several templates which include certain settings and parameters for different tasks so I don't need to change the configuration every time I have to crawl the site as a Googlebot, work with internal linking, or just check meta tags. Such crawlers have lots of settings and it's extremely easy to mess up, that's why I like this feature.
Nachteile:
Lacks integration with Google Analytics & anti-captcha needed.