Das könnte dich auch interessieren:
Was ist Azure DevOps Services?
DevOps-Paket, das die Entwicklung von Software durch Quellcode- und Paketsteuerung, Tests und Anwendungsbereitstellungsautomatisierung vereinfacht.
Azure DevOps Services – Details
Microsoft
1975 gegründet
Azure DevOps Services – Videos und Bilder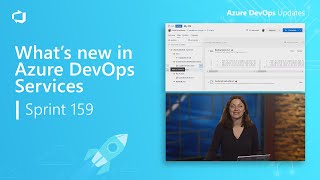 ▶︎
Azure DevOps Services – Details
Microsoft
1975 gegründet
Kosten ähnlicher Produkte wie Azure DevOps Services vergleichen
Startpreis
6,00 $/Monat
7,00 $/Monat
99,00 $/Monat
N/A
Azure DevOps Services – Bereitstellung und Support
Funktionen von Azure DevOps Services
API
Aktivitäts-Dashboard
Aktivitäts-Verfolgung
Anwendungsmanagement
Aufgabenmanagement
Authentifizierung
Benutzer-Management
Berichterstattung / Analyse
Berichterstattung und Statistik
Compliance Management
Dashboard
Daten-Import / -Export
Datenextraktion
Drittanbieter-Integration
Echtzeit-Analytik
Echtzeit-Benachrichtigungen
Echtzeit-Berichterstattung
Echtzeit-Daten
Echtzeitüberwachung
Einmalige Anmeldung
Ereignisprotokolle
Fehlerbehebungsberichte
Genehmigungs-Workflow
KPI-Überwachung
Kommentare / Notizen
Konfigurationsmanagement
Konfigurierbarer Workflow
Leistungskennzahlen
Leistungsmanagement
Portfoliomanagement
Priorisierung
Problem-Nachverfolgung
Problemmanagement
Prognosen
Projektmanagement
Regelbasierter Workflow
Release-Management
Richtlinien Managemen-
Rollen-basierte Genehmigung
SSL-Sicherheit
Server-Überwachung
Statusverfolgung
Störfallmanagement
Suchen / filtern
Versionskontrolle
Veränderungsmanagement
Wirtschaftsprüfung-Management
Workflow-Management
Zeitplanmanagement
Überwachung
Gurleen K.
Software Engineer in Indien
Verifizierter Nutzer auf LinkedIn
Informationsdienst, 10.000+ Mitarbeiter
Verwendete die Software für: Mehr als 2 Jahre
Visual Studio Team Service - A step towards DevOps.
Kommentare: Microsoft VSTS DevOps is the best move by the Microsoft, as DevOps is the advanced software development strategy. Continuous Testing with integration of xUnit, jUnit and Selenium make it more flexible. Automation build & Deploy with vNext is good as compared to XML build. Collection code coverage is also good. The Azure DevOps enables DevOps for all platform's software development.
Vorteile:
Microsoft Visual Studio Team Service DevOps is also known as VSTS DevOps. Development in DevOPS methodology is way fast then the agile. It accelerates the development process and developer. Build & Release is also enhance from the previous version and easy to manage the complex merges while release of the different product. Continuous delivery of the product also help the developer to work and focus on the single task which help in increasing the productivity. Automation Test and Monitoring of application possible with it.
Nachteile:
TFSVC work-space are complex and managing the permission for security is mess up if we select some inappropriate setting. Resolving and fixing it is a big challenge., Microsoft should come with the backup or restore point for the same so if it can be easy to fix can and restore on the earlier position.
Rogier K.
Integration Architect in Belgien
Verifizierter Nutzer auf LinkedIn
Automotive, 501-1.000 Mitarbeiter
Verwendete die Software für: Mehr als 2 Jahre
Top end quality
Kommentare: Very flat learning curve means that everybody can start working with it right from the start, learning more complex things along the way. As a developer you have better things to do than to learn yet another new product that should just be there to support the "real" work (developing). Devops is perfect from that perspective.
Vorteile:
Devops is not just devops... it's total devops. A whole suite of things from release management, build automation, time management, ticketing, scrum and task boarding to source repository. I don't think anything is left out. It's all very much connected, which means for instance that creating a new branche can become a new ticket that is automatically placed on a task board etc.
Nachteile:
I don't think anything is missing, but at some points it's not very intuitive. I still have to search every time to get to specific features of my build and release configuration. Security features are very good, but there too I find myself trying to understand how it works every time again.
Matthew B.
Technical Team Lead in Jamaika
Verifizierter Nutzer auf LinkedIn
Finanzdienstleistungen, 11-50 Mitarbeiter
Verwendete die Software für: 1-5 Monate
Slow at times
Kommentare: I am currently operating as a technical team lead with a very distributed team across the US and latin America. This really is a brilliant tool for centralizing the operations of a technology company.
Vorteile:
I do like how integrated all the Microsoft services are. Allows for a seamless experience between project management and actual development services.
Nachteile:
I dislike the slow responses and page loads - I am almost sure that a number of the screens could be preloaded to make it faster and more responsive
Diksha M.
Software Engineer in Indien
Computer-Software, 10.000+ Mitarbeiter
Verwendete die Software für: Mehr als 1 Jahr
A basic functional Review
Kommentare: Overall experience is neutral.
Looking forward if they improve the product.
Vorteile:
The software has many advantages - 1. Complete bundle/package to push a build on production. 2.Can keep all the builds/production code with versioning. 3.Bug, User story, accès rights are very well segregated. 4. From assigning a new user story to making a task and assigning bug the process is complete, you do not need any other software to manage the team. 5.Can be easily integrated with GitHub too(if you have paid version of both) 6.Security wise a good and trustable product.
Nachteile:
There are some cons too which I felt- 1. Firstly the azure dashboard takes too long to load/ refresh (without any wifi/internet issue). 2. Many times it just stuck on a single page. 3. As they are providing a complete package of multiple functionality , the smooth user interface is missing. Literally many times you just have to search for a single things and you will be puzzled in the complete dashboard. 4.If you have a lot of number of projects ongoing and you are part of a big project with multiple members, the user story is not very clear. 5. Options of "not replicable" and many options are missing in bug lifecycle. They should add more lifecycle to task and bugs for better clarity.
Verifizierter Rezensent
RPA Developer in USA
Verifizierter Nutzer auf LinkedIn
Computer-Software, 51-200 Mitarbeiter
Verwendete die Software für: 6-12 Monate
Devops is a great alternative to other Collaboration tool
Kommentare: It's great for project management. I think it's an effective way for both large projects and small Proof of concepts. I personally found myself using it to manage small sprints on medium sized long-term projects
Vorteile:
It integrates well with other Azure services. You can even have branches setup on the same project. Despite a few aesthetic changes, the UI reminds me very much of Jira and other management software. It's clean and intuitive.
Nachteile:
I want to use it more to get a better sense of the shortcomings but coming from another platform, I find it to have less plugins and add ons than the others. Maybe it's to keep the clean boards and tasks but I'd like more 3rd party options.