Was ist Sales Layer?
Sales Layer bringt Ordnung in das Chaos des Produktmanagements. Alle Informationen werden in einem einzigen Produkt zentralisiert, das das (Berufs-)Leben leichter macht. Die Produktinformationen werden nur an einer Stelle geändert und fließen dann automatisch in jeden Kanal und jede andere genutzte Plattform hinein.
Wer verwendet Sales Layer?
- Marketingprofis - eCommerce-Manager - Data-Governance-Förderer - Unternehmen, die eine reibungslose Mehrkanalstrategie fahren möchten
Wo kann Sales Layer bereitgestellt werden?
Cloud, SaaS, webbasiert
Über den Anbieter
Sales Layer
Ansässig in Valencia, Spanien
2013 gegründet
Telefon-Support
Chat
Erhältlich in diesen Ländern
Albanien, Amerikanisch-Samoa, Amerikanische Jungferninseln, Andorra, Anguilla und 141 weitere
Sales Layer Kosten
Startpreis:
1.000,00 €/Monat
Ja, kostenloser Test verfügbar
Keine Gratisversion
Sales Layer bietet keine Gratisversion, aber eine kostenlose Testversion. Die kostenpflichtige Version von Sales Layer ist ab 1.000,00 €/Monat verfügbar.
Preismodelle
Kostenlose Testversion
Über den Anbieter
Sales Layer
Ansässig in Valencia, Spanien
2013 gegründet
Telefon-Support
Chat
Erhältlich in diesen Ländern
Albanien, Amerikanisch-Samoa, Amerikanische Jungferninseln, Andorra, Anguilla und 141 weitere
Sales Layer – Videos und Bilder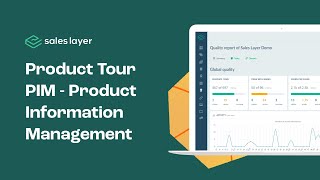 Sales Layer Funktionen
Content-Management
Database Publishing
Datenmodellierung
Datenqualitätskontrolle
Digital Asset Management
Dokumentation
Drittanbieter-Integration
Individuelle Anpassung
Inhalt-Bibliothek
Inhaltserstellung
Katalogerstellung
Katalogisierung / Kategorisierung
Kategorisierung / Gruppierung
Preismanagement
Suchen / filtern
Vorlagen
Werkzeuge zur Zusammenarbeit
Alternativen für Sales Layer
Bewertungen über Sales Layer
Craig
Digital Director in UK
Verifizierter Nutzer auf LinkedIn
Design, 11-50 Mitarbeiter
Verwendete die Software für: Mehr als 2 Jahre
A great tool and partner to ensure our clients have an efficient PIM
Kommentare: We specialise in building automated, personalised digital services, we chose Sales Layer as our Product Information Management partner as we share a common interest: catalog automation for businesses that sell products or services. Besides being a great solutions partner, Sales Layer is a very powerful PIM tool that we implement for our clients product work flow.
Vorteile:
An advantage is that users can choose between the plug and play connectors that save us time setting up the PIM data with third-party services. We use Sales Layer PIM with our own Unify connector to automatically create and update 100's of data-sheets and in turn produce bespoke product/service brochures. As an agency it's crucial that our clients are able to centralise and independently manage their products and services whilst maintaining data integrity. In the past our clients have struggled when managing data across multiple channels, implementing Sales Layer has allowed Libris to offer clients a simple, flexible solution to organise, control, analyse and connect product data.
Nachteile:
We don't have many complaints yet. We keep trusting Sales Layer PIM for our own team and our clients to ensure a cost-effective and results-driven solution for Product Information Management.
Antwort von sales layer
vor 3 Jahren
We're proud of our partnership and Libris' great services, thank you so much!
Patricia
Departamento de marketing in Spanien
Bau, 51-200 Mitarbeiter
Verwendete die Software für: Mehr als 1 Jahr
Lo recomiendo, ahora somos mucho más productivos que antes.
Kommentare: A nivel generar, estamos toda la empresa muy contentos. ahora tenemos mejor calidad ee información de los productos. Además, al tenerlo ligado a la web, permite que los cambios sean inmediartos porque la persona de ese departamento entra y lo cambia, no como antes que tenías que esperar varios días hasta que conseguías la información.
bueno y la atención de los trabajadores de Saleslayer es impecable, le envías un comentario en el chat y una persona (no robot) te contesta la instante. Si veo que es más complejo les escribo y en esa misma mañana me responden. Lo recomiendo al 100%.
Vorteile:
Lo que más me ha gustado es lo sencillo que es de ver todo. Es muy visual e intuitivo. Además, te permite adaptarlo a lo que necesitas, que en nuestro caso ha sido bastante, sin necesidad de ir a parar a un técnico. Si tengo dudas, le pregunto al chat o les envío un correo y enseguida me responden y me resuelven la duda. En nuestro caso, lo hemos conectado a la web, con lo que nos permite tener la web actualizada al momento. Además con los conectores que ofrece, hemos podido compartir esa información con nuestros clientes. Tenemos un panel general que nos detecta qué información falta. Además, en cada producto te pone el porcentaje de información completada para que sepas cómo tienes el producto.
Nachteile:
Lo que menos me ha gustado es que no puedes ordenar los productos arrastrando. en nuestro caso, tenemos más de 2000 y por gategorías y de la forma actual es un poco costoso.
In Betracht gezogene Alternativen: Akeneo PIM
Gründe für den Wechsel zu Sales Layer: Por la versatilidad que ofrece, es muy intuitivo, fácil de usar y con un precio mucho más razonable que la comentencia.
David
Systems Manager in UK
Krankenhausversorgung & Gesundheitswesen, 11-50 Mitarbeiter
Verwendete die Software für: Mehr als 1 Jahr
PIM that is easy to work with and very flexible.
Kommentare: Before using SL images were stored all over our artwork drive. Multiple copies could be found as well as different versions, using SL allows us to have one copy of each image, any changes done will automatically update all of the products it's linked to and we don't have to manage that. Starting to use SL was a steep learning curve, customer support has been really helpful and with time we wonder how we managed before we used SL.
Vorteile:
Integrating to mainstream systems can be done using the connectors available from the connectors list. Connecting to Shopify was easy enough that we were able with some SL support to set it up ourselves. Day to day management of our product data is so much easier we can filter our products which have no images or which are missing certain fields. We can easily edit groups of products using the grid mode.
Nachteile:
When adding new images into the library againsts a product you have to add then one at a time. Having a multi select option would cut down the time it takes especially when adding 5-6 images.
Einzelhandel, 11-50 Mitarbeiter
Verwendete die Software für: 1-5 Monate
One of the worst companies I've ever worked with.
Kommentare: We signed up for SalesLayer, paid $33,000 for the first year of service, but during the implementation process, we realized the lack of features, specifically no dynamic formulas, made it impossible for us to use. We requested a refund, even a partial refund, and although we never actually used the software, the company refused to refund even one penny. Truly terrible customer support, and an inhuman lack of consideration of the circumstances.
Vorteile:
At first, I thought the simplicity was great, but quickly realized it's incredibly limiting.
Nachteile:
There are industry standard functionalities, like dynamic formulas, that are totally lacking in SalesLayer. It made the product unusable for us.
Antwort von Sales Layer
vor 5 Monaten
Hi Michael, thank you for sharing your feedback. We are sorry that your experience didn't meet your expectations and that the suggested workarounds didn't work as you expected. This is the first time we received a refund request, as we do give a trial period to our customers before signing up so that they can test all the features available. We are always working on improving our platform and adding new features, and in fact, the one you mention about dynamic formulas is already under development.
Elektrische/elektronische Fertigung, 51-200 Mitarbeiter
Verwendete die Software für: Mehr als 2 Jahre
Manage and disseminate complex data across large product portfolios, easily and inexpensively
Kommentare: I've used Sales Layer for a variety of projects:
- updating product categorization and data on websites
- automating thousands of documents that can be updated simply by changing data in Sales Layer
- automating brochures/catalogs
- as the main source of product data
Vorteile:
There are two benefits Saleslayer offers that have made me a dedicated customer for 5+ years. The first and most important is the user interface. Its very easy to use, my team needed an incredibly small amount of training to be proficient. It also has multiple workflows, as a manager with a variety of personality types on my team that's been nice because employees who think differently have been able to find methods for inputting/sorting/filtering/updating data that works for them. Adding and changing data and files is very simple. Sales Layer has an option for a table view that reminds me a lot of excel where you can choose to make onesy-twosey changes, or change wide swaths of data, both options are very quick to execute. This is the second employer I've brought Sales layer to, and before recommending it to my current employer I executed an extensive search of PIM options. Compared to major competitors Sales Layer was a fraction of the price, another big bonus. The other companies had extensive implementation feeds, in part by their need to customize the backend. Saleslayer does not have this limitation, everything is self serve. The Sales Layer monthly fee was also about half of what the competitors quoted me.
Nachteile:
I am a huge fan so there isn't much I can complain about. The only hurdle that some companies may face is they may need to look into developers to link Sales Layer to custom templates. I have a resource for this so it wasn't a problem. Sales Layer has an API any developer can use to link, so it shouldn't be too big of a hurdle.
In Betracht gezogene Alternativen: Salsify und inriver PIM
Gründe für den Wechsel zu Sales Layer: Much simpler interface Little to no implementation costs Lower annual fee Better customer service