Was ist QuickBooks Payments?
Cloudbasierte mobile Zahlungsabwicklungslösung, mit der Unternehmen Aktivitäten optimieren können – von Kostenverfolgung bis zu Rechnungsstellung und mehr.
Wer verwendet QuickBooks Payments?
Mobile Kreditkartenverarbeitungslösung, mit der Unternehmen jeder Größe Steuerabzüge, Rechnungen, kontaktlose Zahlungen und mehr verwalten können.
Wo kann QuickBooks Payments bereitgestellt werden?
Cloud, SaaS, webbasiert, Android (mobil), iPhone (mobil), iPad (mobil)
Über den Anbieter
Intuit
Ansässig in Sacramento, USA
1983 gegründet
Erhältlich in diesen Ländern
Vereinigte Staaten, Vereinigtes Königreich
Über den Anbieter
Intuit
Ansässig in Sacramento, USA
1983 gegründet
Erhältlich in diesen Ländern
Vereinigte Staaten, Vereinigtes Königreich
QuickBooks Payments – Videos und Bilder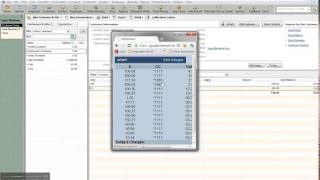 Kosten ähnlicher Produkte wie QuickBooks Payments vergleichen
QuickBooks Payments Funktionen
ACH Zahlungsabwicklung
Abrechnung & Rechnungsstellung
Berichterstattung / Analyse
Datensicherheit
Debit-/Kreditkartenverarbeitung
Elektronische Unterschrift
Mehrere Zahlungsmöglichkeiten
Mobile Zahlungen
Zahlungsabwicklung
Alternativen für QuickBooks Payments
Bewertungen über QuickBooks Payments
Nathan S.
Owner in USA
Verifizierter Nutzer auf LinkedIn
Verbraucherdienste, 2-10 Mitarbeiter
Verwendete die Software für: Mehr als 2 Jahre
Fast and easy credit card processing
Kommentare: I was using a set desktop solution before that had a long term commitment. This allowed us to take mobile payments anywhere we had a cell phone and get out of those long term contracts. Also it smoothly integrated into QuickBooks so it was a win-win for us.
Vorteile:
I has many options for taking a credit card payment. Plug in chip reader, take a picture of the card or a Bluetooth card reader is available. I like that it's month to month and if I don't use it I don't have to pay anything. It's simple and easy to integrate into quickbooks. It has a good back end that you can access from a computer to manage your payments and who is taking those payments.
Nachteile:
The cost is cheaper if you pay monthly and high volume but more expensive for the smaller low volume months. When you get logged out it can be a slow process at times to get logged back in while a customer is waiting to give you their payment.
Antwort von Intuit
vor 4 Jahren
Hi Nathan. I'm glad the integration options and flexible methods for processing have provided a simple payment management system for Complete Carpet. Thanks for reviewing, and for being a member of the QuickBooks family. If you're running into latency with logins, rest assured I've got you covered. I suggest uninstalling/reinstalling the GoPayment app, which is the easier way to ensure your software is updated. This simple troubleshooting step will get you back up to speed and cut-down on customer wait times. Before you go, I want to ensure you continue to get the most from the payment system. The support landing page for the program has insights into the connection to QuickBooks, as well: https://community.intuit.com/products/quickbooks-payments-help-en-us. As for the price, I'd be glad to discuss your options. There are alternatives for your average volume, and I've got the tools to dig into your account. We'll go from there. Jess, The QuickBooks Team
Garv S.
freelance creative in Indien
Rundfunkmedien, 2-10 Mitarbeiter
Verwendete die Software für: Mehr als 1 Jahr
Quickbooks is very good for smaller businesses
Kommentare: QuickBooks software helped me a lot.
Vorteile:
QuickBooks software is very affordable with lot of good. There are lot's of reports in which you can see that the app allows you to add on a verity of additional features.
Nachteile:
the built-in inventory management system is totally designed mainly for businesses tracking and the stock levels of the finished goods.
Jesse S.
Founder/Owner in USA
Einzelhandel, Selbstständig
Verwendete die Software für: Mehr als 2 Jahre
Quickbooks Payments makes their users vulnerable to FRAUD
Kommentare: This vulnerability is unforgivable. This service should not be used.
Vorteile:
I have used QB Payments as a secondary payment processor for nearly 9 years. I use e-invoices to collect payments from customers who want to order modifications that aren't available on our website. So it's not our primary processor (our website uses PayPal and Stripe), but until a recent MAJOR VULNERABILITY was discovered, my experience with QB Payments was fine.
Nachteile:
I learned the hard way that QB will "pre-fund" ACH transactions and merchants have no option to toggle this option off. Their back-end payment status (e.g. Pending, Funded....) doesn't differentiate from a "PRE-FUNDED" transaction and one that is actually fully funded. Furthermore, they allow banks to deny payments up to 120 days after posting to the seller's bank account. This leaves sellers extremely vulnerable. If you're not picking up on it, basically, Intuit/Quickbooks will show FUNDED status and actually post the payment to the seller's bank account, at which point the seller has no grounds to withhold goods. Then, if the payment doesn't actually process, they will withdraw the funds from the seller with no 2-way dispute process for the seller to prove they actually fulfilled an order, and that a customer didn't seek return/refund by legitimate means. My small company lost about $3,000 in this loophole. We were not able to reclaim our merchandise or fulfillment costs, and Intuit held us responsible for the sum, including additional service fees (for the generous service of retracting this money they had already posted to our bank account?). Customer service was unwilling to escalate and did not provide me with any opportunity to report fraud. In fact they treated me like the fraudster when they made my business vulnerable to a fraudster in the first place. It comes down to zero's. $3K is enough to make me want to fix this. Add a zero and it would have ruined us.
Nishawne P.
Esthetician/Salon Manager in USA
Kosmetik, Selbstständig
Verwendete die Software für: Mehr als 2 Jahre
Works well
Kommentare: It's a really easy to use way to charge my clients and it interfaces nicely with my Quickbooks
Vorteile:
I have found this software easy to use. Customers like the interface though it keeps changing. The changes The changes tell me they are constantly trying to improve their product
Nachteile:
As a service provider I don't like that I cannot set the tips where I would like them to be. They are preset and there's nothing I can do about it. Even clients have commented that I should change it but I can't.
Antwort von Intuit
vor 4 Jahren
I'm delighted to read the product is working so well for you, Nishawne. Though you can add tips to transactions (community.intuit.com/articles/1599562), we love hearing from you guys about how we can improve. As you mentioned, the engineers work tirelessly to ensure our products provide the best value on the market. Part of that means listening very carefully to what our customers have to say, as any changes you may have noticed are a direct effect of your feedback. You know better than anyone what would best fit Forma Beautique's needs, so I'll gladly forward your ideas to the Development Team directly. Implementing a preset gratuity is a brilliant idea, and I thank you for sharing it. Moving forward, you can stay up-to-date on all new and exciting changes at the QuickBooks Blog, here: https://intuit.me/2L2zqTv. I appreciate you for leaving this GoPayment review, by the way. Thanks for being the best part of QuickBooks, and have a great weekend. Jess, The QuickBooks Team
Sam J.
Licensed Professional Counselor in USA
Verifizierter Nutzer auf LinkedIn
Psychische Gesundheitsfürsorge, 2-10 Mitarbeiter
Verwendete die Software für: Mehr als 1 Jahr
Outstanding Rates
Kommentare: The rate is worth it alone. But I would appreciate a bit more user friendly interface.
Vorteile:
The rate Quickbooks offers is the best around. I pay the little extra to get the rate. Its fairly easy to use the product and convenient to use my phone.
Nachteile:
The bluetooth card reader disconnects after a few minutes and takes a bit more to get reconnected first. That's hard for intermittent sales.
Antwort von Intuit
vor 2 Jahren
Hey there, Sam. It's awesome to hear about your positive experience with the product. To address the problem you're having with the card reader, we encourage you to perform the troubleshooting steps in this article: https://quickbooks.intuit.com/learn-support/en-us/do-more-with-quickbooks/quickbooks-card-reader-connection-troubleshoot/00/139868/page/2. Doing so should target the issue directly. Wishing you the best of luck! -Hannah, The QuickBooks Team.