Was ist DiskStation?
Synology NAS-Add-on, mit dem du mehrere VMs auf deinem NAS ausführen kannst, eine VM mit Snapshot-Technologie wiederherstellen und IT-Ressourcen auf mehrere VMs verteilen kannst.
Wer verwendet DiskStation?
Nicht vom Anbieter bereitgestellt
Wo kann DiskStation bereitgestellt werden?
Cloud, SaaS, webbasiert, Mac (Desktop), Windows (Desktop), Android (mobil), iPhone (mobil), iPad (mobil)
Über den Anbieter
Synology
Ansässig in New Taipei City, USA
2000 gegründet
24/7 Live-Support
Chat
Erhältlich in diesen Ländern
Vereinigte Staaten
Über den Anbieter
Synology
Ansässig in New Taipei City, USA
2000 gegründet
24/7 Live-Support
Chat
Erhältlich in diesen Ländern
Vereinigte Staaten
DiskStation – Videos und Bilder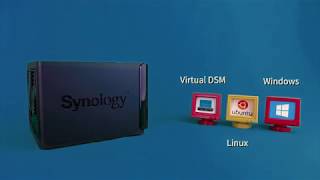 Kosten ähnlicher Produkte wie DiskStation vergleichen
DiskStation Funktionen
Audit Trail
Backups planen
Cloud-Backup
Dokumentenmanagement
Echtzeit-Synchronisierung
Inkrementelles Backup
Kompression
Suchen / filtern
Verschlüsselung
Werkzeuge zur Zusammenarbeit
Zugriffskontrollen / Berechtigungen
Alternativen für DiskStation
Bewertungen über DiskStation
Harshit
Software intern in Indien
Verifizierter Nutzer auf LinkedIn
Computer-Software, 10.000+ Mitarbeiter
Verwendete die Software für: 6-12 Monate
A worthy product for all developers
Kommentare: Best product and definitely worth giving a try
Vorteile:
The software is designed in such way that it provides a fastest cloud services and our own virtual machine at an insanely low price
Nachteile:
I am using this software for over 6 months have nothing like cons.
Informationstechnologie & -dienste, Selbstständig
Verwendete die Software für: Mehr als 1 Jahr
In Betracht gezogene Alternativen:
Excellent small business solution
Kommentare: Using ABfB to backup my customers' servers and PCs off-site, and to backup my own local data to B2. So easy to use I backup all my managed PCs for bare metal restore. I can do this because ABfB's dedupe is very good at reducing storage used. Tested restores come up ready to put back into production.
Vorteile:
The deduping is excellent at conserving space. Several different backup methods including multi-version, incremental and full-system bare metal restore. Can backup Linux servers agentless using SSH keys. Restores so far have been consistently solid. File and folder restores can be initiated from the NAS or the client computer. A report can be emailed daily or weekly showing the status of all backups. Backup as many computers as your bandwidth can handle -- there are no per-machine licensing costs.
Nachteile:
No bare metal restore for Linux. I have numerous servers, desktops and laptops running Debian, Devuan, and Ubuntu that would be nice to be able to recover without rebuilding.
Steve
Code Mercenary in USA
Computer-Software, 11-50 Mitarbeiter
Verwendete die Software für: Mehr als 2 Jahre
I have been a fan for years and I love it more the more I use it
Kommentare: I've been using a DiskStation at my office for backups since around 2014 or 2015. I have loved it the whole time. I always wanted to get one to use at home and I finally did in 2020 and it's been great. I was blown away that when they released the newest version of the OS they even supported it on my old model so I was able to upgrade it and the new OS works great on the old hardware. I really like that they give proactive information about the state of the drives. If a drive is starting to have issues the software tells you about it, by email so you don't have to login to see it. I have replaced multiple drives long before they failed because of those early warnings. Replacing a drive is also very easy because of how they've built the interface.
Vorteile:
The UI is amazing to me. I love how easy it is to use. It looks just like a modern operating system but it runs inside the browser so it's very intuitive. I also love all the apps you can install to handle many different needs. I use it for Plex for managing my media and doing all my TV recording and playback. I also use it for Docker to run containers to manage my wifi network as well as using NodeRed to do some custom data work.
Nachteile:
The stated max memory for the unit I use at home, the DS 920+, is 8GB. That's very limiting if you want to run multiple virtual machines and docker containers. It will technically support more, I added a 16GB stick so I have 20GB and it works without problems but if I have any trouble I will have to take out the extra memory to get support. While my DS920+ supports two M2 style SSD drives, you can only use them for read cache and write cache. You can't allocate any of the storage for any other purpose. It would be really nice if I could put in one or two large SSDs and then use parts of them for fast storage.
Brian
Tech Manager in USA
, 11-50 Mitarbeiter
Verwendete die Software für: Mehr als 2 Jahre
Solid & functional
Kommentare: My business has been using DiskStation for the last four years. Aside from the occasional hiccup, it has worked admirably. We use it for basic music playback in our music school. We have one at each of our locations, synced so that changes made to one location are reflected at the other. The response is slow at times, particularly when using a remote connection.
Davide
Manager in Italien
Zeitung, 11-50 Mitarbeiter
Verwendete die Software für: Mehr als 2 Jahre
Outstanding software, constantly getting better
Kommentare: I've been using it for fire than 10 years now, and can testify that it is constantly evolving and fixing bugs, releasing security patches in due time, and new major and minor version to further extend features at each release. Everything can be customised from a shallow and basic point to a very deep and complex one, so to each his own
Vorteile:
It's easy to setup and get started if you're a novice, but at the same time the graphical interface allows you to dig much in depth quickly and easily to tune up every configuration as you need it to be. It is constant being updated to fix bugs and implement new features, looks nice and clean and quite intuitive, with helpful tips about what you're about to do (not always, but mostly). Can be extended with a real lot of third party packages that you can download from the official installer or side load your self
Nachteile:
Nothing much can be said about negative points really, maybe it could be even more quick (but it depends on the NAS specs you're running) and with even more helpful tips for first time users to set up quickly in a basic way each function, but it would probably be too much out of scope and on the web you can find all kinds of official or unofficial guides