Was ist Adobe Analytics?
Mit Marketing-Attribution-Software können Unternehmen die Auswirkungen jeder Kundeninteraktion, an der sie teilnehmen, verfolgen.
Wer verwendet Adobe Analytics?
Cloudbasierte Lösung, mit der Unternehmen jeder Größe Marketingaktivitäten erfassen, messen und erkunden können, um die Auswirkungen auf die Kundschaft zu verstehen.
Wo kann Adobe Analytics bereitgestellt werden?
Cloud, SaaS, webbasiert
Erhältlich in diesen Ländern
Vereinigte Staaten
Erhältlich in diesen Ländern
Vereinigte Staaten
Adobe Analytics – Videos und Bilder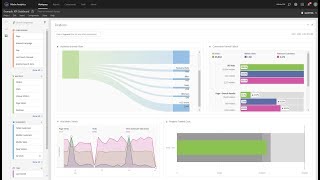 Kosten ähnlicher Produkte wie Adobe Analytics vergleichen
Adobe Analytics Funktionen
API
Aktivitäts-Dashboard
Anpassbares Dashboard
Berichterstattung / Analyse
Berichterstattung und Statistik
Cross Channel Attribution
Customer Journey Mapping
Dashboard
Daten-Identifizierung
Datenerfassung und Übertragung
Datenmanagement
Datenvisualisierung
Drag-and-Drop
Drittanbieter-Integration
Echtzeit-Analytik
Echtzeit-Daten
Geplante / automatisierte Berichte
KI/Maschinelles Lernen
Kampagnen-Tracking
Kampagnenanalysen
Konversion-Tracking
Leistungskennzahlen
Multi-Channel-Attribution
Multi-Touch-Attribution
Prädiktive Analytik
ROI-Tracking
Website-Analytik
Alternativen für Adobe Analytics
Bewertungen über Adobe Analytics
Matthew
Director Of Marketing in USA
Verifizierter Nutzer auf LinkedIn
Computer-Software, 10.000+ Mitarbeiter
Verwendete die Software für: 6-12 Monate
With Adobe Analytics we can know about our potential customers
Kommentare: We're addressing a wide range of concerns, from landing page metrics to customer journeys and churn monitoring to integration with Target for more in-depth campaign tracking. As a result, we've been able to better utilize our existing resources while also tailoring our websites to the needs of our customers.
Vorteile:
It's a fantastic tool for keeping tabs on all of your clients, prospects, and users' activity. All of my website traffic data has been tracked and used to make better marketing decisions by generating dashboards. Unlike with GA or Qlik, I was able to track numerous data points simultaneously using Adobe analytics.
Nachteile:
If you're not properly organizing/labeling items and/or inheriting someone else's settings, things can get a little confusing.
Shannon
Director of SEO in Spanien
Verifizierter Nutzer auf LinkedIn
Marketing & Werbung, 2-10 Mitarbeiter
Verwendete die Software für: Mehr als 2 Jahre
In Betracht gezogene Alternativen:
A Complicated But Accurate Analytics Option
Kommentare: This product makes me sigh in frustration a lot when new clients share they use Adobe versus Google Analytics. It's just a lot more complicated and takes about 20% longer to access and assess the same data in Google Analytics.
Vorteile:
Adobe Analytics allows website owners to customize more information and data collection than mainstream competitors.
Nachteile:
This software has a steep learning curve and it's far more complicated to use than competitors. It's also just more robust than most website owners require.
Ahsan
Marketing Assistant in UK
Gesundheit, Wellness & Fitness, 11-50 Mitarbeiter
Verwendete die Software für: Mehr als 2 Jahre
Very powerful analytics and reporting platform
Vorteile:
It is a great platform to understand your customer's journeys to your website, the platform is one of the best in finding out the revenue metrics as well as the other marketing metrics. The dashboarding and reporting is very straightforward.
Nachteile:
It is costly as compared to any other platform in the market. New tags or metrics to be implemented come with another price of implementation too. Not recommended for small or medium-sized businesses.
Craig
Small Business Owner in USA
Bekleidung & Mode, 2-10 Mitarbeiter
Verwendete die Software für: Kostenlose Testversion
Top Tool for Web Analytics
Kommentare: I am able to analyze traffic sources, trends of webpage views and customer journey using out-of-the-box Adobe Analytics reports. So, I can use those insights to optimize site content and layout. But in order to optimize products and categories, I need e-commerce reports enabled which needs additional development dollars which my budget doesn't allow. Same is true for more in-depth pathing, A/B testing or online-to-offline reports through Discovery, Target and Insight tools. So, Adobe Analytics' ROI is high for traffic and pathing but low for e-commerce analytics.
Vorteile:
Adobe Analytics basic reports allow measurement of traffic sources, landing page experience and customer engagement with site tools. If revenue tracking is implemented accurately, Adobe Analytics also enables measurement of e-commerce product conversions. Custom eVars allow sales data to be broken down by individual categories of a site's taxonomy. Custom Props allow similar break-down of traffic metrics. Due to these two custom variables, e-commerce category analysis becomes more efficient and actionable. More advanced web analytics tools such as Target, Discovery and Insights are closely integrated with Adobe Analytics. Similarly, Adobe Experience Manager uses its data for content management automation and personalization. So, Adobe Analytics powers both site analysis, testing and content recommendations based on historical data, when integrated with other Adobe tools.
Nachteile:
Adobe Analytics costs are difficult to afford for small businesses. To make its e-commerce and integration with other tools work, it involves additional tag implementation which makes the cost go higher. Plus, there is a cap on server calls. Once a business hits that cap, there is additional cost for those extra analytics calls. E-commerce data works fine directionally to see the business performance trend over a period of time but specific data doesn't match with actual sales data pulled from business intelligence tools like MicroStrategy or Data Warehouse. So, BI and IT teams always question its data accuracy.
Mohsin Ali
Managing Director in UK
Verifizierter Nutzer auf LinkedIn
Pharmazeutika, 51-200 Mitarbeiter
Verwendete die Software für: Mehr als 2 Jahre
One of the most powerful analytics platform
Kommentare: We were trying to identify the customer behaviour on our website and find out what products or services they buy and how do they react to them. Which made us strategize on creating new strategies
Vorteile:
It's one of the best platforms that I have ever used for getting the reports and insights of all our campaigns, the drag and drop feature has helped me build different segments as per their dimensions and metrics (Making every report to be customized as per the needs)
Nachteile:
Its very expensive for small or medium-sized businesses, as the requirements grow for additional tracking to be added (tags to be added) the prices increase too