Was ist Oribi?
Analytics ist für Analysten – Oribi ist für ALLE. Oribi hat es sich zur Aufgabe gemacht, jedem Unternehmen jeder Größe die Möglichkeit zu geben, vollständig datengesteuert zu werden und jedem zu helfen, seine Website-Ergebnisse zu verstehen und seine Geschäftsziele zu erreichen.
Wer verwendet Oribi?
JEDER, der datengesteuert sein möchte.
Wo kann Oribi bereitgestellt werden?
Cloud, SaaS, webbasiert, Mac (Desktop), Windows (Desktop), Linux (Desktop)
Über den Anbieter
Oribi
Ansässig in Delaware, USA
2015 gegründet
Telefon-Support
24/7 Live-Support
Chat
Über den Anbieter
Oribi
Ansässig in Delaware, USA
2015 gegründet
Telefon-Support
24/7 Live-Support
Chat
Oribi – Videos und Bilder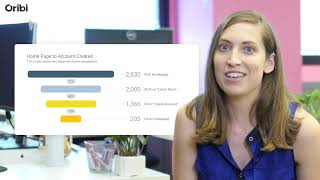 Kosten ähnlicher Produkte wie Oribi vergleichen
Oribi Funktionen
Alarmfunktion / Benachrichtigungen
Benutzerinteraktion-Nachverfolgung
Berichterstattung / Analyse
Berichterstattung und Statistik
Besucher-Nachverfolgung
Cross Channel Attribution
Customer Journey Mapping
Dashboard
Daten-Identifizierung
Daten-Import / -Export
Datenvisualisierung
Datenvorbereitung in Selbstbedienung
E-Mail Marketing
Ereignisgesteuerte Aktionen
Kampagnen-Tracking
Kampagnenanalysen
Kanalmanagement
Konversion-Tracking
Kundensegmentierung
Leistungskennzahlen
Mehrere Kampagnen
Multi-Channel-Attribution
Multi-Touch-Attribution
Nutzerforschungsanalyse
Priorisierung
Prädiktive Analytik
ROI-Tracking
Ressourcenmanagement
Self-Service-Analysen
Tests der Benutzerfreundlichkeit
User Journeys
Visuelle Analytik
Web-Traffic-Berichterstattung
Website-Analytik
Werkzeuge zur Zusammenarbeit
Zeit auf der Website nachverfolgen
Randy H.
Eigenaar in Niederlande
Verifizierter Nutzer auf LinkedIn
E-Learning, Selbstständig
Verwendete die Software für: 1-5 Monate
Do something with your data
Kommentare: They make me feel like a partner in my business that wants me to succeed
Vorteile:
Oribi makes it easy to connect all the different cloud services I'm using and get a full overview of the user experience/journey from discovery to superfan. DATA is the most valuable asset you have as a business and tracking doesn't help you move forward. Oribi allows me to take action and show me what channels convert and which don't.
Nachteile:
The start-up price is high and there is no free option to get started besides the 14-day trial. So, before you start, make sure you have the website, product and funnel ready so that you can directly implement, track and optimize.
Antwort von Oribi
vor 2 Jahren
Thank you Randy! We work hard to make sure our users' businesses will succeed and get results with Oribi, and we're happy to hear we hit the mark for you. We are also happy to offer demo calls where we show our users the ROI they will get with Oribi!
Tom A.
Websites Development Manager in UK
Baumaterial, 501-1.000 Mitarbeiter
Verwendete die Software für: 6-12 Monate
In Betracht gezogene Alternativen:
Outstanding value for money
Kommentare: At Eurocell we have quite a unique business structure with multiple routes to market. As such we have several different customer types who all use the website differently. Oribi helps us track how these's different customers use our websites and gives us valuable information to continue to tailor and improve the website.
Vorteile:
The value for money with this software is amazing. We'd been looking for behavioural analytics software for some time but always been priced out by the high costs. Oribi fit perfectly into our modest budget and was incredibly easy to set up and use.
Nachteile:
The only real downside is the limited reporting Oribi offers. You can only report in a pdf document from the reporting section, which can be limiting in terms of what data you can include and exclude. Ideally I'd like to be able to export to .csv or .xls formats across the various pages depending on what I'm looking at. I've also had some issues with the dashboard not being able to load certain reports or visitor journeys. However when I've raised these the support team have responded very quickly and we're incredibly helpful.
Antwort von Oribi
vor 2 Jahren
Thanks so much for your review, Tom. We thrive to improve in several mechanisms where reporting is one of them. In the past months we did include several additions and improvements to the reporting to have these more flexible to the user needs. We will continue invest in this area in the coming months as well
Verifizierter Rezensent
Digital Marketing Consultant in USA
Verifizierter Nutzer auf LinkedIn
Marketing & Werbung, 2-10 Mitarbeiter
Verwendete die Software für: 1-5 Monate
Not Really For B2B
Kommentare: Meh.. the company overprices for a mediocre tool that is heavy on its look and UI. Ut not so functional at the agency level.
Vorteile:
What I like is they have an easy to read funnel, correlation between behaviors and just a very easy to read analytics that is packed with graphics that can be pulled onto a deck
Nachteile:
This is not even close to other 3rd party analytics tools for the same price, its an upgraded Hotjar at best. While its useful for its look its pretty shallow for its ability to do much else. It can't handle things like call tracking or keywords. If u get this u will still need to pair it will google analytics especially if your in B2B where inbound keyword tracing and call tracking are important.
Antwort von Oribi
vor 2 Jahren
Thanks for your honest reply here. We believe we solve many marketing dilemmas to many organizations such as companies, eCommerce or Marketing agencies who look to understand their users' journey and how to constantly improve it to create more business/ revenue. We get a lot of product requests from the field where we try to tie it to what the majority of the audience request, doing our best not to tailor it to a specific segment or a market. In regards to the comparison with Google Analytics - we do not look to replace Google Analytics, but we are a "must have" solution for marketers who look to do more with their analytics. We provide with much more insights than total # of visitors or page views, in a quick and easy way, without needing developers involved.
Fae G.
Professional Faerie in USA
Unterhaltung, 11-50 Mitarbeiter
Verwendete die Software für: Mehr als 2 Jahre
In Betracht gezogene Alternativen:
I cut out all software but Oribi when I lost everything
Kommentare: When the pandemic hit, this was one of the pieces of software I didn't cut solely because of the customer service. Especially at a time when everything was falling apart, I knew I could always, always rely on them to be there when I needed them.
Vorteile:
When my site's traffic inevitably crashed due to COVID-19, Oribi gave me tips for what parts to maximize in really simple language that my exhausted brain could handle. Thank you!!!!!
Nachteile:
I don't use it enough. But that's on me. Recovering from this last year doesn't leave a lot of brain space for analytics. I look forward to coming back to it. Especially to see everything they've added since I've been MIA.
Gustavo P.
Head of Marketing in Costa Rica
Verifizierter Nutzer auf LinkedIn
Informationstechnologie & -dienste, 11-50 Mitarbeiter
Verwendete die Software für: Mehr als 1 Jahr
Learn more about your traffic
Kommentare: Overall our experience has been good. We can match Oribi's data with some data we get from users and understand better our audience + which campaigns are performing better.
Vorteile:
I like how Oribi allows you to learn more about your website traffic and how it's able to easily identify. I also love the funnel feature that allows you to understand better the conversion different processes have, especially when having people moving from different domains.
Nachteile:
I would like more data from the funnel process. Make easier to understand which campaign or sources are triggering those process.