Was ist Elementor?
Seitenersteller für WordPress. Verwende branchenspezifische vorgefertigte Designs oder erstelle deine eigene Seite mithilfe der Drag-und-Drop-Funktion.
Wer verwendet Elementor?
WordPress-Profis, Webdesigner, Websitebesitzer, Vermarkter, Entwickler
Wo kann Elementor bereitgestellt werden?
Cloud, SaaS, webbasiert
Über den Anbieter
Elementor
Ansässig in Ramat Gan, Israel
2016 gegründet
Chat
Elementor Kosten
Startpreis:
49,00 $/Jahr
Ja, kostenloser Test verfügbar
Ja, Gratisversion verfügbar
Elementor bietet eine Gratisversion und eine kostenlose Testversion. Die kostenpflichtige Version von Elementor ist ab 49,00 $/Jahr verfügbar.
Über den Anbieter
Elementor
Ansässig in Ramat Gan, Israel
2016 gegründet
Chat
Elementor – Videos und Bilder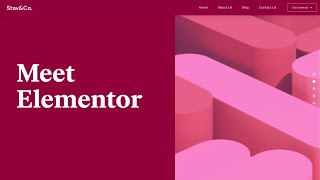 Elementor Funktionen
Anpassbare Vorlagen
Automatisches Aktualisieren
Bearbeiten in Echtzeit
Bildbibliothek
Content-Management
Daten-Import / -Export
Design-Management
Drag-and-Drop
Drittanbieter-Integration
Echtzeit-Aktualisierungen
Formular-Generator
Kundenspezifisches Branding
Medienbibliothek
Online-Shop-Designer
SEO-Management
Veröffentlichungsoptionen
Vorgefertigte Vorlagen
Vorlagen-Management
Vorschaufunktion
WYSIWYG-Editor
Website-Management
Zielseiten / Web-Formulare
Alternativen für Elementor
Bewertungen über Elementor
Hossamudin H.
Founder in Ägypten
Verifizierter Nutzer auf LinkedIn
E-Learning, 2-10 Mitarbeiter
Verwendete die Software für: 6-12 Monate
It is the best if you can afford it.
Kommentare: Great, but I couldn't continue due to the price.
Vorteile:
How easy it is to build an entire site with high quality templates. Also, it is really easy to customize the website in no time.
Nachteile:
The price! It is so expensive that I had to switch although I love it so much.
In Betracht gezogene Alternativen: GoDaddy Website Builder
Warum Elementor gewählt wurde: Well, wix was not that open like wordpress, so many features I need, I cannot get.
Zuvor genutzte Software: Wix
Gründe für den Wechsel zu Elementor: I'm not sure but I think it was because of the reputation of elementor, and few templates I loved so much when I saw on their website.
Janey C.
Web Developer in Südafrika
Informationstechnologie & -dienste, Selbstständig
Verwendete die Software für: Mehr als 1 Jahr
Never look back
Kommentare: Overall its the reason I love working in WordPress. I switched from another CMS specifically because of Elementor.
Vorteile:
Ease of use and time saving: Elementor was a game changer for me in terms of productivity. Being able to lay out and style pages with drag and drop in real time saves a huge amount of time. It is really easy to use and its wonderful to have complete control over every aspect of your layout.
Nachteile:
The one thing that I would like to see that would make it even more amazing to use would be the ability to adjust margins and padding on elements by drag and drop. Currently padding and margins need to be manually adjusted by entering a number in px or % and then saving. Its a small thing but would really help the workflow.
In Betracht gezogene Alternativen: Divi
Zuvor genutzte Software: Joomla
Gründe für den Wechsel zu Elementor: Elementor was a lot easier and more fun to use.
Drazen D.
Operations Manager in Kanada
Verbraucherdienste, 11-50 Mitarbeiter
Verwendete die Software für: Mehr als 2 Jahre
Elementor speed sucks
Kommentare: We spent a lot of time and built dozens of websites on Elementor however we were not able to get the speed up to par. Many sites took over 10 seconds to load after we have done all the possible speed optimizations. Without speed optimizations they were taking 16 to 20 seconds to load out of the box.
Vorteile:
Elementor is amazing in many ways however because it is one of the heaviest front-end page builders out there it simply does not do what it is supposed to. Speed is one of the most important factors of a website and it is simply impossible to get a website to load fast on Elementor unless you have a very basic site. This is why we would never recommend a mentor unless they fix the speed issue. We are at Webb development company and have spent a ton of time trying to do everything possible to speed optimize Elementor websites without any avail.
Nachteile:
We disliked the fact that Elementor is very heavy and it's impossible to get medium to large size websites to load fast.
Rosie H.
Owner/Web designer in USA
Design, 2-10 Mitarbeiter
Verwendete die Software für: Mehr als 2 Jahre
The best Page Builder for WordPress
Kommentare: Overall building sites with elementor goes so much faster for me with their kits feature, site settings and theme builder. To have a universal header and footer saves a ton of time and to also have the choice of whether you keep it on all pages or select pages is great if you want to vary the options depending on the page. My time spent building sites has been greatly reduced with some of their mroe recent features which are availbe in their pro version.
Vorteile:
Elementor makes site building so easy and the fact that it includes so many built in features means you can reduce the number of other plugins needed for an effective site build. I personally think it is far easier to use than some of the other page builders on the market, and I have tried a few. Now elementor is integrating with SEO plugins like Rank Math as well as course builders like Learn Dash which makes the types of sites I usually build work much better since these plugins "speak" to each other. Its extensive functionality eliminates the need for so many other plugins I used to use like form plugins. My favorite feature is being bale to download an entire site as a kit, plugins and all. The next is being able to edit site wide colors and fonts with site settings.
Nachteile:
For newbies there might be a little bit of a learning curve especially when it comes to tweaking things like margins and positioning of widgets. The other con is that when they do updates you may find some of the features getting a little glitchy, but if you let their support know they are very responsive. There are a ton of features that you may never use if you are new to design, and it can be very overwhelming. There are occasional updates that reset some of the styles, but they usually can be fixed quite easily.
In Betracht gezogene Alternativen: Beaver und Divi
Warum Elementor gewählt wurde: I made the switch because of the WYSIWYG editor worked better for me than the previous builders.
Zuvor genutzte Software: Beaver und Divi
Gründe für den Wechsel zu Elementor: Their price was better and their builder was just better for my style of website building.
Bekleidung & Mode, 2-10 Mitarbeiter
Verwendete die Software für: 6-12 Monate
Too expensive
Kommentare: I really like it but to expensive
Vorteile:
I like the way to make the pages more faster
Nachteile:
You need to work more to show the page in the preview