Was ist Zoho Projects?
Zoho Projects ist die Projektmanagement-Software von Zoho, eine Marke, die es 15 Millionen Benutzern ermöglicht, online zu arbeiten. Große und kleine Unternehmen aus allen Branchen nutzen die App, um großartige Arbeit rechtzeitig zu liefern. Plane deine Projekte, weise Aufgaben zu, kommuniziere effektiv, verpasse nie ein wichtiges Update und zeige detaillierte Berichte über die Fortschritte an. Du kannst ohne zusätzliche Kosten bei allen Plänen eine unbegrenzte Anzahl von Benutzern hinzufügen.
Wer verwendet Zoho Projects?
Es wird von großen und kleinen Teams in jeder Branche bei der Erledigung von Arbeit verwendet. Es hilft dir, Projekte zu planen, sie bis zur Fertigstellung zu verfolgen, zusammenarbeiten und informiert zu bleiben.
Wo kann Zoho Projects bereitgestellt werden?
Cloud, SaaS, webbasiert, Android (mobil), iPhone (mobil), iPad (mobil)
Über den Anbieter
Zoho
1996 gegründet
Telefon-Support
24/7 Live-Support
Chat
Zoho Projects Kosten
Startpreis:
18,00 €/Monat
Ja, kostenloser Test verfügbar
Ja, Gratisversion verfügbar
Zoho Projects bietet eine Gratisversion und eine kostenlose Testversion. Die kostenpflichtige Version von Zoho Projects ist ab 18,00 €/Monat verfügbar.
Preismodelle
Kostenlose Testversion
Über den Anbieter
Zoho
1996 gegründet
Telefon-Support
24/7 Live-Support
Chat
Zoho Projects – Videos und Bilder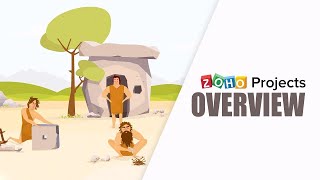 Zoho Projects Funktionen
Abrechenbare & nicht abrechenbare Stunden
Abrechnung & Rechnungsstellung
Aktivitäts-Dashboard
Alarmfunktion / Benachrichtigungen
Anpassbare Vorlagen
Aufgaben importieren
Aufgaben-Fortschrittsverfolgung
Aufgaben-Tagging
Aufgabenbearbeitung / -aktualisierung
Aufgabenmanagement
Aufgabenplanung
Balkendiagramm
Bearbeiten in Echtzeit
Berichterstattung / Analyse
Berichterstattung / Projektverfolgung
Berichterstattung und Statistik
Budgetmanagement
Content-Management
Dashboard
Dokumentenmanagement
Drag-and-Drop
E-Mail-Management
E-Mails in Aufgaben umwandeln
Erstellen von Unteraufgaben
Etikettierung
Farbkodierung/Symbole
Filesharing
Fortschrittsverfolgung in Prozent
Gantt-/Zeitstrahlansicht
Genehmigungs-Workflow
Ideenmanagement
Kalenderverwaltung
Kanban-Tafel
Kommentare / Notizen
Kommunikationsmanagement
Kostenverfolgung
Kundenportal
Meilensteinverfolgung
Mitarbeiter-Datenbank
Mitarbeitereinsatzplanung
Mobile App
Mobiler Zugriff
Notizen verwalten
Online-Zeiterfassung
Portfoliomanagement
Priorisierung
Projekt-Nachverfolgung
Projektplanung
Projektplanung/Terminierung
Ressourcenmanagement
Ressourcenzuordnung und -planung
Statusverfolgung
Timesheet Management
Urlaubsverwaltung
Verfolgung der Kosten bis zur Fertigstellung
Verfolgung von Abhängigkeiten
Vorlagen
Warnungen / Eskalation
Werkzeuge zur Zusammenarbeit
Wiederkehrende Aufgaben
Wissensbasis-Management
Workflow-Management
Zeit & Kosten Verfolgung
Zeitverfolgung
Überstunden-Berechnung
Alternativen für Zoho Projects
Bewertungen über Zoho Projects
Prathamesh M.
Tech Lead Manager in USA
Verifizierter Nutzer auf LinkedIn
Bekleidung & Mode, 1.001-5.000 Mitarbeiter
Verwendete die Software für: Mehr als 2 Jahre
Excellent tool for task management
Kommentare: My overall experience is great with Zoho projects, it works fine if given the right technology support. In past three years we have done multiple updates and customization on Zoho projects and they have worked well for us. I personally would recommend Zoho projects to others to built a very good project management tracking system.
Vorteile:
Zoho projects has been part of our organization from past 3 years. It is a very useful tool for project management. It has high importance in task management especially in tracking down deliverable in kanban projects. The user interface is very friendly and the dashboard is highly interactive. Milestones can be easily set and can be tracked throughout its completing period. Project lags, time delays, and bottlenecks can be identified easily in the system. This tool also helps to manage teams and individual tasks assigned to each person. Notifications can be enabled to track individual performances. Overall, this tool is multi-purpose tool that can perform wide range of tasks.
Nachteile:
Zoho projects are hard to customize. Its scalability is very limited to certain tasks. It is good in project management, but it fails to provide a communication channel between people. Chat windows lag a lot between communication and real time forums take lot of time to update. Zoho requires high internet bandwidth, slow internet creates problem with updates and Zoho starts lagging. Multi user portal has also lot of issues. Even multi user portal is a common feature. The feature creates issues with file sharing. It takes lot of time for file transfers.
Kelly m B.
System Engineer in USA
Verifizierter Nutzer auf LinkedIn
Informationstechnologie & -dienste, 10.000+ Mitarbeiter
Verwendete die Software für: Mehr als 2 Jahre
This easy-to-use app keeps track of chores and projects quickly
Kommentare: I really like the functions, the tools, and everything else that this software provides us with in order to manage a project. Those tools are really useful and important at the moment in order to manage a project and collaboration, and this software, it's absolutely useful if you want to manage like a professional.
Vorteile:
Zoho projects have a number of great features, but one of my favorites is the option to personalize the parameters for the project management. In addition to being incredibly simple to operate, the customization function meets the vast majority of the needs that my firm has in regard to project management.
Nachteile:
Zoho Projects is, without a doubt, one of the least user-friendly and most aggravating pieces of software I have ever worked with. It has some of the worst user experience and interface (UI) that I have ever seen, and it is missing some of the most fundamental capabilities that a project management software ought to have. It has been nothing but a hassle from the beginning to the end.
Amy W.
Operations Manager in USA
Unternehmensberatung, 11-50 Mitarbeiter
Verwendete die Software für: 1-5 Monate
Quelle: SoftwareAdvice
Do not get Zoho Projects!
Kommentare: Terrible.
Vorteile:
There is very little, if anything about this product that is likable. I guess, if pushed, I would say the calendar feature and the forum features are interesting but by no means makes up for the lack of features overall of Zoho Project. We are a small to medium business that recently, and regrettably, transitioned from Harvest to Zoho. There is quite a gap in pricing between the two platforms but you get what you pay for, mainly how many users you have. Zoho Project feels more like a bata test platform, then an actual product that should be live and used by any business. If you are doing very basic project management, like planning a wedding or a home renovation this tool would be good for you. But why would you pay for it when you can get any template on-line for free. The only other "pros" I could manage to list is their support. They have a help representative chat feature which is good and they are responsive. Unfortunately for them and mean most of it was used to inform me that "that feature is currently not available". Overall go with Harvest!
Nachteile:
Does not integrate with Quickbooks. Can not add basic client contact information. Can't view all invoices that are due or in draft form (they force you to use another one of their clunky platforms). The Zoho Dashboard is terribly unhelpful and uninformative. You can not run basic reports like; time reports for team members across projects, expenses, invoiced projects, etc. You can't even simply alphabetize Client Users, so as you add clients they are sorted by when you entered them, only. You can only export information in one format and the reports provide very little (helpful) information; for example if you want to export your Clients. The report that is generated only provides the internal Client ID#, Name, User Name, Email Address, Role, Invoice. It does not provide State/End Dates, what Projects are associated with Clients, any Budget information, and so on, and so on. Invoice, Expense, and Time information are shown and available only through each individual Project. You can not see all invoices due, total amounts out standing, or time sheets across Projects and Clients. You are forced to click into each individual project to access that information and once again, the reports you are able to generate are very limited. I could go on about all the "cons" associated with Zoho Project but I don't have time.
Daniel C.
Product Manager in Indien
Verifizierter Nutzer auf LinkedIn
Computer-Software, 1.001-5.000 Mitarbeiter
Verwendete die Software für: Mehr als 2 Jahre
All in one Project Management solution
Vorteile:
The capability to customize the project management settings is one of my favorite features in ZOHO projects. The customization feature is very easy to use as well, it caters to most of the project management requirements of my organization
Nachteile:
Nothing major, it would be great to see more standard templates for Agile project management practice as well. Best practices followed by peer organizations would be a great help for new users to adapt and make best use of ZOHO projects
In Betracht gezogene Alternativen: JIRA Service Management, Rally und Asana
Gründe für den Wechsel zu Zoho Projects: Ease of use and cost effectiveness is the two factor which made us take the decision
Jaideep T.
Head of Product in Indien
Verifizierter Nutzer auf LinkedIn
Finanzdienstleistungen, 2-10 Mitarbeiter
Verwendete die Software für: 6-12 Monate
Great online collaborative project management tools with feature you have always wanted
Kommentare: While I have not used the customer support for Zoho Projects extensively, all of the other Zoho tools that I use have an extensive Knowledge Base, very active public forum where people respond quickly, in-built live-chat to chat with a customer service representative, and plenty of videos on YouTube to learn different aspects of the software.
Vorteile:
Zoho Projects has the following features - no restrictions on number of projects you can create. Easy to switch between projects in the same online interface vs managing multiple files. Ability to create workflow automations that trigger on event based activities, which enables standardization of processes. Ability to share projects with outside vendors/project participants and improve the collaborative nature of Project management.
Nachteile:
More flexibility on making the user interface more compact (like Excel or MSP). Current interface is well spaced, but some users may like a more compact view. More simplified Gantt Charts that help us understand progress and dependencies. Ability to export projects to Excel for sharing with others we can't/don't want to bring on to Zoho projects
In Betracht gezogene Alternativen: Trello und Asana
Gründe für den Wechsel zu Zoho Projects: Zoho Projects is well suited for corporates who want to make project management a more collaborative tool rather than a PM managed tool. It's well suited for startups where founders/co-founders come from large corporate settings and prefer to use comprehensive project management tools over new age tools like Asana and Trello. Its well suited for those who appreciate the importance of dependencies between tasks and want to build and track comprehensive plans for their projects.