Was ist RingByName?
RingByName is way more than a business phone service. It combines first-class hosted phone service with powerful Unified Communications tools to help you win and keep more customers. It boasts powerful UCaaS features and built-in customer contact center and journey management tools, as well as cutting-edge features such as desktop and mobile collaboration tools - videos, chat, SMS and file sharing. Our goal is to help businesses build better relationships with their customers.
Wer verwendet RingByName?
Designed for businesses of all sizes and types including insurance, financial services, fundraising, healthcare, sales, and more. It helps with call screening, remote work, and sales enablement.
Wo kann RingByName bereitgestellt werden?
Cloud, SaaS, webbasiert, Mac (Desktop), Windows (Desktop), Chromebook (Desktop), Android (mobil), iPhone (mobil), iPad (mobil)
Über den Anbieter
InPhonex
Telefon-Support
24/7 Live-Support
Chat
Erhältlich in diesen Ländern
Argentinien, Australien, Brasilien, Britisches Territorium im Indischen Ozean, Chile und 21 weitere
Sprachen
Englisch, Portugiesisch, Spanisch
Über den Anbieter
InPhonex
Telefon-Support
24/7 Live-Support
Chat
Erhältlich in diesen Ländern
Argentinien, Australien, Brasilien, Britisches Territorium im Indischen Ozean, Chile und 21 weitere
Sprachen
Englisch, Portugiesisch, Spanisch
RingByName – Videos und Bilder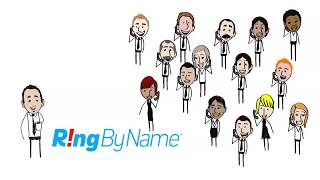 Kosten ähnlicher Produkte wie RingByName vergleichen
RingByName Funktionen
Aktivitäts-Dashboard
Alarmfunktion / Benachrichtigungen
Anpassbare Berichte
Anrufaufzeichnung
Anrufer-ID
Anrufverfolgung
Anrufverteilung
Anrufüberwachung
Automatische Anrufannahme
Automatische Anrufverteilung
Automatisches Telefonwahlgerät
Berichterstattung und Statistik
Berichterstattung über Anrufe
Call Screening
Call-Center-Management
Chat / Messaging
Computer Telephony Integration
Drittanbieter-Integration
Echtzeit-Analytik
Für kleine Unternehmen
IVR / Spracherkennung
Kommunikationsmanagement
Konferenzschaltung
Konferenzschaltungen
Kontaktmanagement
Management der Anruflisten
Meeting-Management
Mobiler Zugriff
Multi-Channel-Kommunikation
Online-Sprachübertragung
PBX
Rollen-basierte Genehmigung
Rückruf-Terminplanung
SIP-Trunking
SMS-Nachrichtenversand
Text in Sprache (verwandeln)
Umleitung der Anrufe
Verfolgung von Interaktionen
Videokonferenzen
VoIP-Verbindung
Voice-Mail
Voicemail-Transkription
Warteschlangenmanagement
Weiterleitung von Anrufen (Call Routing)
Alternativen für RingByName
Bewertungen über RingByName
Ismaray S.
Franchise owner in USA
Versicherung, Selbstständig
Verwendete die Software für: 6-12 Monate
Technical support
Kommentare: Great
Vorteile:
The technical support I receive from [SENSITIVE CONTENT] was superb, he went above and beyond to assist me setting up a new device even though it was purchased from another source to use under the service I have with ring by name , He was excellent as well as all the team ever time I called in for help I feel special bc they always do their best to solve any issues or educated me on how to use the system
Nachteile:
Everything works fine with me , I just hoped I would have known better about the phone I choose for the desktop bc is ok but I'm not happy with the features , too basic
Antwort von InPhonex
vor 3 Wochen
Ismaray. Thank you for your great review of our service! Regarding the phone that you brought over from your previous service provider, we have a trade in program that you may consider. We partner with Yealink and Poly, but our clients usually go with Yealink. Please contact our customer service if you decide to do so, Thank you KL
Stephan A.
Business Manager in USA
Religiöse Einrichtungen, 11-50 Mitarbeiter
Verwendete die Software für: 1-5 Monate
In Betracht gezogene Alternativen:
New Customer
Kommentare: Initially implementation and contracting were difficult. The contracted services details were not fully explained, although how my entire operation was set up was fully explained. To date, i still have outstanding items, although i am fully ported. The VoIP service seems fine. it is the functionality i losdt on each of my phones that will need to be reprogrammed. I am not certain if this is done by me on each phone or if the software can do it. I am investigating this as we speak. I need to reiterate that [SENSITIVE CONTENT] is Awesome and seems to be going above and beyond to ensure we are satisfied. He really needs to be recognized. I will be checking in to see if he was.
Vorteile:
RBN has been an excellent implementation partner with reasonable costs associated. The tech support/ implementation experts were awesome. [SENSITIVE CONTENT] was the primary contact. The guy is a SUPERSTAR@!!!! He was knowledgeable, patient, solutions based, great communicator, able to seek resources when challenges occurred and most importantly, set clear expectations and delivered on every expectation. He also, as part of that, kept in constant communication; allowing me to not have to call in or chase anyone for assistance or details.
Nachteile:
So far, I need to learn more about the app and the ancillary app for cell phone usage. I also need to reprogram the features on my phone, not to my knowledge able to be performed via the admin dashboard.
Antwort von InPhonex
vor 3 Monaten
Stephan, Thank you for your review! We endeavor to keep improving our overall services and focusing on the ease of use which we know to be very important for customer like you. Best, KL
Brian G.
Office Manager in USA
Versicherung, 2-10 Mitarbeiter
Verwendete die Software für: 6-12 Monate
Room for Improvement
Kommentare: Overall customer service has been great they have devoted a lot of time to a couple of major issues within the office since we went on line and have resolved most of the problem. We are currently having delay issues with call conversations and they have been trying to resolved. They have not been able to pin point the issue yet and moving phones to plug directly into our router to test is not a feasible option.
Vorteile:
It has several very good features but unfortunately have not had the opportunity to test out any of the additional features yet with our office or are feature our office just wont benefit from.
Nachteile:
the lack of easy capability with our previous Polycom phones. We had to purchase Yealink phones to work with the software and new platform. We would have preferred keeping our Polycom phones as they are easier to manage than the Yealinks. Plus several people have headsets that we purchased the addition adapters to help them work with the yealink phones but have been unsuccessful in getting them to work good.
Antwort von InPhonex
vor 11 Monaten
Brain, We are sorry to hear that you are experiencing delayed audio and issues with Yealink phones. We are going to review the cases and get back with you. As for ease of use and features we have added a few very useful features such as SMS, Chat and Meet into the RingByName OX web application.. Please give them a try and let us know if they help you communicate better with your team and customers. We like to make sure that you are happy with our service and so continue reach out to us so that we can improve. Thank you Kooi Lim CEO of RingByName
Frederick J.
principal in USA
Rundfunkmedien, 2-10 Mitarbeiter
Verwendete die Software für: Mehr als 2 Jahre
RingByName has helped COMMUNION
Kommentare: From the day Holy Spirit introduces COMMUNION to RingByName and our relationship was formed with [SENSITIVE CONTENT] it has been all about growth, function, and how RingByName can help COMMUNION to fulfill her purpose We have learned through every conversation with every person who works at RingByName Have there been challenges? Yes And RingByName and COMMUNION still have a relationship today. Thanks to GOD
Vorteile:
RingByName works. The Customer Service, Technical Support and Billing, at RingByName have all been helpful, and responsive. The people at RingByName have always answered our questions truthfully.
Nachteile:
COMMUNION had been hoping that RingByName would develop a way to make calls directly from the RingByName Application and directly from the RingByName website
Antwort von InPhonex
vor 4 Monaten
Dear Frederick, We truly appreciate your business and review. Regarding web-calling app, we do have one in the desktop RingByName OX portal and soon on mobile. A care member will be contacting you to show you the feature. Thank you!
Finanzdienstleistungen, 2-10 Mitarbeiter
Verwendete die Software für: Mehr als 2 Jahre
In Betracht gezogene Alternativen:
Easy to use, reliable , good customer service and good quality for money.
Kommentare: Excellent
Vorteile:
Like pricing, customer service, reliable and products
Nachteile:
Does not like the voice, hopefully will change soon
Antwort von InPhonex
vor 3 Monaten
Carlos, Thank you for your review. We totally appreciate it. Regarding the voice, I take it that you mean the system voice. This we are looking to improve. Please do not hesitate to let us know if there is any other improvements that you see we need. Best, Kooi Lim