Was ist Looker?
Datenexploration und Analyse-Lösung, kombiniert mit Modellierung, Umwandlungen und Ableitungen auf gleicher Ebene.
Wer verwendet Looker?
Looker bringt Daten und Business-Teams zusammen, indem es jedem einfach macht, die für das Geschäft wichtigen Daten zu erkunden und zu verstehen.
Wo kann Looker bereitgestellt werden?
Cloud, SaaS, webbasiert, Mac (Desktop), Windows (Desktop), Windows (On-Premise), Linux (On-Premise), Android (mobil), iPhone (mobil)
Über den Anbieter
Google
1998 gegründet
Chat
Erhältlich in diesen Ländern
Australien, Kanada, Vereinigte Staaten, Vereinigtes Königreich
Über den Anbieter
Google
1998 gegründet
Chat
Erhältlich in diesen Ländern
Australien, Kanada, Vereinigte Staaten, Vereinigtes Königreich
Looker – Videos und Bilder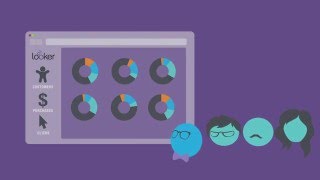 Kosten ähnlicher Produkte wie Looker vergleichen
Looker Funktionen
API
Ad-hoc-Anfrage
Ad-hoc-Berichterstattung
Aktivitäts-Dashboard
Aktivitäts-Verfolgung
Alarmfunktion / Benachrichtigungen
Anmerkungen
Anpassbares Dashboard
Benchmarking
Benutzerinteraktion-Nachverfolgung
Berichterstattung / Analyse
Berichterstattung und Statistik
Budgetierung/Prognosen
Cross Channel Attribution
Customer Journey Mapping
Dashboard
Dashboard-Erstellung
Daten-Connectors
Daten-Identifizierung
Daten-Import / -Export
Daten-Vermischung
Datenbereinigung
Datenvisualisierung
Datenvorbereitung in Selbstbedienung
Drag-and-Drop
Echtzeit-Analytik
Echtzeit-Daten
Einzelseitenansicht
Forschung mit gemischten Methoden
Funktionen / Berechnungen
Geplante / automatisierte Berichte
Integration in Anwendungen von Drittanbietern
Interaktive Berichterstattung
KPI-Überwachung
Konversion-Tracking
Leistungskennzahlen
Mehrfache Datenquellen
Mobile Berichterstattung
Mobiler Zugriff
Multi-Channel-Attribution
Multi-Touch-Attribution
Multivariate Statistik
Prognose
Prädiktive Analytik
ROI-Tracking
Regressionsanalyse
Self-Service-Analysen
Statistische Analyse
Strategische Planung
Suchen / filtern
Trend-Analysen
Verarbeitung von hohen Volumen
Verhaltensbezogene Analysen
Visual Workflow Management
Visuelle Analytik
Visuelle Entdeckung
Website-Analytik
Werkzeuge zur Zusammenarbeit
Wichtige Leistungsindikatoren (KPI)
Widgets
Zeit auf der Website nachverfolgen
Zeitreihenanalysen
Zielgruppen-Targeting
Zielsetzung / Nachverfolgung
Zugriffskontrollen / Berechtigungen
Nicholas P.
Director of Analytics in USA
Verifizierter Nutzer auf LinkedIn
Internet, 51-200 Mitarbeiter
Verwendete die Software für: Mehr als 1 Jahr
In Betracht gezogene Alternativen:
The perfect solution for our stage business
Kommentare: I could not be happier with Looker. My one hesitation in recommending it is that other tools seemed to be able to provide 80% of the value at 20% of the cost, but I've only demoed those tools and not actually used them so I'm not sure if they could actually deliver.
Vorteile:
Looker is incredibly easy to use for a casual user, which most of our users are. As soon as your email is activated, you have access to the product and new users need very little direction to start getting value out of it.
Nachteile:
Relative to other BI tools, the advanced charting functionality is somewhat limited, but frankly that's not the main reason we bought Looker. Data scientists can use another tool of their choice, we have Looker for people who aren't data scientists.
Tara A.
Product Manager in USA
Computer-Software, 51-200 Mitarbeiter
Verwendete die Software für: Mehr als 1 Jahr
Looker Review
Vorteile:
Easy to create dashboards without engineers needing to write code.
Nachteile:
Still not very good yet for a multi-tenant embedded environment. Needs a lot of work to set up and the API is slow.
Vincent W.
Sr Planning Analyst in USA
Verifizierter Nutzer auf LinkedIn
Verwendete die Software für: Mehr als 1 Jahr
Controlled Analytics Exploration
Kommentare: Like I said, it's a great tool for analysts that don't need a lot of flexibility or maybe just aren't used to working with a lot of data. To get the full value out of this software, you'll need a core group of experienced Data Analysts that can learn fast (to learn Lookers Table Calculation code which is similar to SQL) who can build a bunch of dashboards and views. You really don't want people who aren't savvy with data doing a lot of the creating because measures are always aggregated based on the dimensions you pull into each table...if a user forgets to add a specific dimension then measures could show the wrong value. This could be offset by having really good developers who architect the data in a way that doesn't allow this to happen.
Vorteile:
It's a great data exploration tool for users who normally would get anxious when given a large dataset in something like Excel. It's generally simple to use and there can be unlimited Viewers (users at the lowest permissions level) through the enterprise product. Data Visualization is essentially done for you and Exploers (users at the second level of permissions) can build new visualizations & turn them into interactive dashboards. On the Looker platform, Explorers can locate a view (called an Explore) and then are given a list of dimensions and measures they can pull into a table. Users can create new dimensions using calculated fields and then save their views so any users with Viewer permissions (and up) can see what was put together.
Nachteile:
With simplicity comes lack of flexibility. More skilled data analysts will want more flexibility than Looker can provide but at the same time you need to have highly skilled Data Analysts to be the Developers (high level of permissions) to set up the data so that less skilled analysts (the users who benefit from Looker most) who are Explorers don't build views that grossly misrepresent the data. My biggest pet peeve with this software as an Explorer is that you cannot make calculations on the base data...only the data that you pull into your table (called table calculations). That is a major feature that Tableau has that Looker does not have at the Explorer permission level. Of course developers can use LookML (Lookers data language) to create a new column...but a Developer license is more expensive and creating the fields take time and it's something you constantly will need.
Verifizierter Rezensent
Supervisor in Georgien
Verifizierter Nutzer auf LinkedIn
Verbraucherdienste, 51-200 Mitarbeiter
Verwendete die Software für: Mehr als 2 Jahre
Flexible and detailed
Kommentare: Overall pretty satisfied with looker, I use it everyday to find some patterns, problems and solutions to the problems as well, it has been a huge part of my work for a while and it does what I need pretty well!
Vorteile:
Customization is one of the best parts of looker. Having the ability to fit the data to the required details through filters is handy. You can add/remove or filter data as you wish. The platform also has multiple types of visualizing and also the option to downloading the data in various forms.
Nachteile:
The platform is great, but in sometimes, during high traffic, the process is prolonged. It takes forever to load a look or dashboard. Also, the learning curve is a bit tough at the start but gets better once you get the grip.
Teena B.
Implementation Specialist / Customer Success in USA
Verifizierter Nutzer auf LinkedIn
Verwendete die Software für: Mehr als 2 Jahre
Looker allows everyone in your company, even the less tech-savvy, to make data-driven decisions.
Kommentare: We get to force-multiply our impact by making it easy for users in all departments to make data-driven decisions and help allow that to drive their day-to-day.
Vorteile:
I love the customization of Looker, and that you can put large amounts of data into the hands of anyone -- in a way that makes sense [to them]! While their product is great, it speaks volumes to the team. It's an amazing group of people that continue to receive feedback from their customers and iterate time and time again on their product. They truly care about data and their customers, and they want to empower them the best they can.
Nachteile:
When modeling views, I wish you could define better filters for measures but it's limited. There are workarounds, meaning modeling out several additional dimensions to arrive at the measure you need to pull regularly, but it'd be much more efficient to allow for measures to be more nuanced. Large dashboards (with 25+ tiles) can take awhile to load, which is understandable. Once their "merge results" feature is fully rolled out and we're able to save them as new tiles or looks, it should help resolve the need for so many tiles. Neither of these two things are a big deal, and I wouldn't let this deter you from considering this software.