Was ist ZoomInfo?
ZoomInfo powered by DicoverOrg kombiniert eine umfassende Geschäftsdatenbank mit erstklassiger Technologie, um deine Markteinführungsstrategie von Anfang bis Ende zu steigern und eine genaue 360-Grad-Ansicht der Kundschaft, Verkaufsaussichten und Chancen zu bieten.
Wer verwendet ZoomInfo?
Cloudbasierte Lead-Generierungsplattform, die Unternehmen jeder Größe dabei unterstützt, Workflow-Prozesse zu rationalisieren und den Marketingbetrieb mit Datenbankverwaltung, Aufgabenzuweisung und mehr zu verbessern.
ZoomInfo – Details
ZoomInfo
2000 gegründet
ZoomInfo Kosten
Startpreis:
Nicht vom Anbieter bereitgestellt
Ja, kostenloser Test verfügbar
Ja, Gratisversion verfügbar
ZoomInfo bietet eine Gratisversion und eine kostenlose Testversion. Die kostenpflichtige Version von ZoomInfo ist ab N/A verfügbar.
ZoomInfo – Details
ZoomInfo
2000 gegründet
ZoomInfo – Videos und Bilder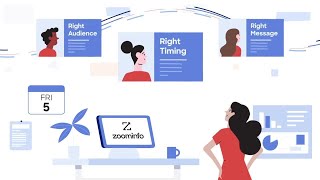 ZoomInfo – Bereitstellung und Support
Kundenbetreuung
E-Mail/Helpdesk
FAQ/Forum
Telefon-Support
Chat
Einsatz
Cloud, SaaS, webbasiert
Android (mobil)
iPhone (mobil)
iPad (mobil)
Training
Live Online
Webinare
Videos
Max S.
Contact Center Engineer in USA
Verifizierter Nutzer auf LinkedIn
Telekommunikation, 11-50 Mitarbeiter
Verwendete die Software für: 1-5 Monate
Zoominfo the Holy Grail For Sales
Kommentare: My experience with Zoominfo has been amazing, I was able to find out when people are looking for our services and reach out to them to close some bussiness.
Vorteile:
What is not a pro of this tool! it has everything!! I'm able to find all my contacts for a business and everything I need to know about them. Helping my closing right when talking to new clients.
Nachteile:
There are no cons with this platform, this tool is amazing for sales teams to get more new clients, and able to see what they are looking to buy.
Verifizierter Rezensent
Marketing Director in USA
Verifizierter Nutzer auf LinkedIn
Marketing & Werbung, 51-200 Mitarbeiter
Verwendete die Software für: Mehr als 2 Jahre
Great data, easy to use and train teams to use, valuable tool for sales/marketing
Kommentare: I have been a user for over 6 years and I love the tool. Their customer support is always responsive - although I have rarely ever needed them because the software is very intuitive and always is working just as expected. In my experience, the sales teams work with your budget on renewals - always are flexible and make adjustments to their packaging/pricing to fit your needs.
Vorteile:
The quality of data is top notch. I have used many different sources of marketing data - even worked for 2 of the big players - and the data at ZoomInfo is among the top in quality for B2B. Their software is extremely easy to use, even with the recent update a couple years ago. I have trained many BDRs and SDRs on how to use the tool for prospecting. I have implemented this solution at new companies I have joined and it is always received as a high-value software that continuously is renewed year over year.
Nachteile:
There's not many cons about this software. This is being really nit-picky but... I have used the tool as a marketer to build/target and export lists. Although ZoomInfo integrates with some CRM tools, I found I still needed to export the data into excel, add any custom fields (such as Lead Owner, Lead Status, etc), then upload it into the CRM. So it is a bit time consuming. If ZoomInfo can find a way to allow you to add custom fields to the data before instantly integrating into CRMs, that would save a lot of time.
In Betracht gezogene Alternativen: DNBi Professional, Growbots und DiscoverOrg
Gründe für den Wechsel zu ZoomInfo: The value is incredible. The data quality is top in the industry and continually improving and expanding.
Ken K.
Account Manager in USA
Computer-Hardware, 501-1.000 Mitarbeiter
Verwendete die Software für: 6-12 Monate
ZoomInfo has buyers' cell numbers, which has been a gamechanger for me.
Kommentare: Overall, I have seen value from ZoomInfo and it has helped me accelerate some deals.
Vorteile:
with ZoomInfo, I like that I can get notifications about the companies that I care about and what they are doing. That allows me to strategize what I want to do and who I need to reach out to to. And when I do my outreach, I know what I need to say with my messaging that will cut through the noise and get a response from my buyer.
Nachteile:
Because there is so much you can do with ZoomInfo, sometimes the software is a bit hard to use. It really does take time to set it up properly, otherwise it's just another too-powerful, often clunky solution in my tool kit.
Julian L.
Founder & CEO in USA
Eventservice, 2-10 Mitarbeiter
Verwendete die Software für: Mehr als 1 Jahr
Easily the worst company I've ever done business with
Kommentare: TL;DR — This company does not care one iota about customer service. They do not care about you or your business. They don't care about maintaining a good relationship in the pit of a pandemic. And even when times are fine, they don't care about giving you what they said they'd give you. Here's the experience
* I spent three months telling the sales rep exactly what I needed.
* Each time I explained it, she said something like, "Our plans just changed since last we spoke, but yes our current offer can meet your needs." Confusing as all get-out every time she explained it.
* Finally decided to try it, because since they've bought out their competitors they're the only one we could use.
* After two days we realized something was very wrong.
* They basically said, "Oh you need another plan for that." Note: we did exactly what we said we'd do.
* Kicked it up to sales person's manager: After 5 mins of listening, "Shoot, we've got you on the wrong plan." Did they change our plan and admit their mistake? Nope... 363 days with the wrong plan and nothing we could do about it but give them more money and hope it would be different.
* We improvised with what we had as best we could, lost a lot of time, didn't yield what we needed.
* Nine months later I get a surprising call from their collections agency telling me I have to pay a bill. These guys never called me, never sent an "in this together" email. In April, the pit of the pandemic, they just shot me over to collections. Wow.
Vorteile:
The data quality is good and has improved over the past few years. This has been accomplished through numerous acquisitions of competitors, and either they were always a terrible company or the disarray from M&A has cast them into such chaos that all they can do is sell whatever they can get people to agree to buying, and operate a platform. Whatever benefit they provide is so overwhelmingly overshadowed by their apathy and lethargy as a firm that I'm repeatedly reminded of interactions with corrupt functionary bureaucrats in failed states every time I deal with them. This may sound like hyperbole, but I assure you that it is not. I specialize in emerging markets and the only time I've ever seen behavior like I have at this company is in the most forgotten and ungoverned parts of the world — the places where if you don't like what they're serving, or if they didn't do what they promised, you can just go shove it or pay them more and hope that you finally get what you need... eventually.
Nachteile:
We were sold the wrong benefits despite roughly three months of discussing our needs with the sales rep, and the company did absolutely nothing to amend this despite the sales manager's first impression on reviewing the problem being, "Oh shoot, we've got you on the completely wrong plan." So I'm not sure because it only sometimes met our needs and the company never revised our plan and blithely ignored our requests for them to do so.
Antwort von ZoomInfo
letztes Jahr
Hi Julian, I am very sorry to hear about the negative experience you had with us. This is absolutely in no way how we conduct ourselves with our customers. As always, we appreciate your feedback and are continuously looking to improve. If you could please email me at colbie.blaisdell@zoominfo.com I would love to chat more with you in hopes I can help resolve any issues you are currently having and figure out a way with you to avoid any miscommunication in the future. Thank you, Colbie Blaisdell, ZoomInfo Customer Marketing
Verifizierter Rezensent
Director, Marketing in USA
Verifizierter Nutzer auf LinkedIn
Computer-Software, 11-50 Mitarbeiter
Verwendete die Software für: Mehr als 2 Jahre
ZoomInfo is the comfortable, reliable, familiar
Kommentare: Overall I like ZoomInfo. I selected them because of prior experience and its brand recognition. That being said, while they offer a lot of capabilities and products, specializing in one area is just not their M.O. - at least that's what it feels like. Because of that, competitors who focus on providing one service (i.e. buyer intent) oftentimes are of higher quality (and much cheaper). They are the essence of "comfortable," which may or may not be the most important factor when deciding on your overall tech stack.
Vorteile:
The continual acquisitions to improve their product and company. The accuracy of their contact data is pretty good. Their company data is really good. Integration with Salesforce is pretty straightforward. Lots of features and capabilities to choose from.
Nachteile:
Customer support takes a long time. Their contact data is not always up to date especially with linkedin. No "left company" update/alert that I know of. Not a very robust integration/sync with Linkedin. Enrichment feature has been failing recently.
In Betracht gezogene Alternativen: D&B Hoovers
Gründe für den Wechsel zu ZoomInfo: They included other products which we were also in the market for... and they were familiar to us making them the "comfortable" choice.