Was ist Smartwaiver?
Smartwaiver ist eine Online-Lösung für Verzichtserklärungen für dein Unternehmen. Haftungsverzichtserklärungen werden in interaktive digitale Dokumente umgewandelt, die online und vor Ort auf jedem Gerät signiert werden können. Nach der Unterzeichnung werden die Teilnehmerinformationen und das unterschriebene juristische Dokument in einer sicheren Online-Datenbank gespeichert, auf die jederzeit zugegriffen werden kann. Tausende von Kunden auf der ganzen Welt vertrauen auf das Unternehmen mit Sitz in Bend, Oregon.
Wer verwendet Smartwaiver?
Alle Unternehmen, die Haftungsverzichtserklärungen in ihrem Betrieb nutzen.
Wo kann Smartwaiver bereitgestellt werden?
Cloud, SaaS, webbasiert, Android (mobil), iPhone (mobil), iPad (mobil)
Über den Anbieter
SW Development
Ansässig in Bend, USA
2012 gegründet
Telefon-Support
Chat
Erhältlich in diesen Ländern
Vereinigte Staaten
Über den Anbieter
SW Development
Ansässig in Bend, USA
2012 gegründet
Telefon-Support
Chat
Erhältlich in diesen Ländern
Vereinigte Staaten
Smartwaiver – Videos und Bilder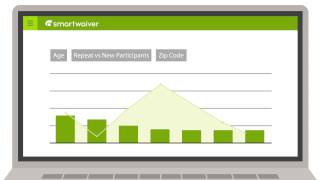 Kosten ähnlicher Produkte wie Smartwaiver vergleichen
Smartwaiver Funktionen
Anpassbare Vorlagen
Dokumentenmanagement
Versionskontrolle
Volltextsuche
Werkzeuge zur Zusammenarbeit
Zugriffskontrollen / Berechtigungen
Alternativen für Smartwaiver
Bewertungen über Smartwaiver
Kimberly J.
Guest Services Associate in USA
Verifizierter Nutzer auf LinkedIn
Unterhaltung, 1.001-5.000 Mitarbeiter
Verwendete die Software für: Mehr als 1 Jahr
Easy to Waive
Vorteile:
Easy, digital waivers for an escape room style business. We use smartwaiver for every guest, every day, and it usually takes about 5-7 minutes for the guest to fill our waivers for a full party of adults and minors.
Nachteile:
I dislike that this software is dependent on wifi. No internet means no waiver and that means guest flow is a no-go
Antwort von SW Development
vor 3 Jahren
Hi Kimberly Glad to hear that Smartwaiver is working out for your business online. With the latest free Smartwaiver Kiosk app, you can use the software OFFLINE too. Check out our Support Page here: https://support.smartwaiver.com/hc/en-us/articles/360001610007-Using-the-Smartwaiver-Kiosk-App-Offline-
Darien C.
Associate Pastor in Kanada
Verifizierter Nutzer auf LinkedIn
Religiöse Einrichtungen, 11-50 Mitarbeiter
Verwendete die Software für: Mehr als 1 Jahr
In Betracht gezogene Alternativen:
Smartwaiver is a cheap, useful e-sign application
Kommentare: Overall, Smartwaiver is an excellent product - especially when compared to other e-sign solutions that either offer a worse interface/lack of features, or offer similar features at a much higher price. This product has given us a simple solution to a problem we had with online signatures, and while it is complicated to use, it is incredibly useful.
Vorteile:
Smartwaiver has numerous useful features, most important being their comprehensive form setup that allow you to setup a simple online form to collect permission forms & signatures. I've used this for over a year to collect permission forms from parents, and never had an issue, even from parents who are not very tech-savvy. The front-end side of Smartwaiver is incredibly simple to use. This tool is especially useful since it creates a simple & straightforward form, and allows people to fill out one form for multiple people.
Nachteile:
Smartwaiver offers many features and a simple front-end design, but it's back-end/admin side leaves a lot to be desired; especially when it comes to creating an online form. Smartwaivers forms are very useful and look good once setup, but the setup process is quite the chore - with numerous options and few explanations that make it difficult to learn and setup. I spent many hours setting up a single form, which I have just duplicated over and over again to avoid going through the whole process once again. However each time I setup a new form (only once every couple months), I have to sort through all the options once again and try to relearn the whole system. The features offered are all useful, just complicated. Paired with all the other features from Smartwaiver that are not explained, and this platform has a lot to offer - if you're willing to put in the work to learn.
Erholungseinrichtungen & -dienstleistungen, 11-50 Mitarbeiter
Verwendete die Software für: Mehr als 1 Jahr
Not so Smartwaiver
Kommentare: It was a fantastic program we found it so easy until they changed it.
Vorteile:
I LIKED how easy it was to track and find customers when they were checking in. They have changed all of this and it is no longer easy.
Nachteile:
That they changed the customer search and alphabetical order of search
Jana M.
Operations in USA
Gesundheit, Wellness & Fitness, 2-10 Mitarbeiter
Verwendete die Software für: 6-12 Monate
In Betracht gezogene Alternativen:
Love SmartWaiver
Kommentare: Wonderful. Customer service is amazing. Everyone is friendly and fast. The platform is great for what we need. We actually stuck in on an ipad, clients love it.
Vorteile:
We have tried so many waiver platforms and none seem to take care of what we needed in the way we needed it done. I cannot recommend smart waiver enough. Clients absolutely hate having to fill out our waivers, add on the covid waiver and they're not happy. However, once we start using SmartWaiver, the resistance was minimal. The ease of use helps. From an admin standpoint, my job is so much easier to track what waivers go with each program. I love the tag feature. We had some hiccups in the beginning but the team has be phenomenal. Everyone I have worked with is fast and so on top of it. We recommend to EVERY business needing this solution.
Nachteile:
Sometimes clients have trouble connecting and/or submitting but could be a user error.
George C.
General Manager in USA
Unterhaltung, 2-10 Mitarbeiter
Verwendete die Software für: 1-5 Monate
In Betracht gezogene Alternativen:
A click and I'm done
Kommentare: A+ from this retired teacher!
Vorteile:
This is so much easier than the Customer initiated programs. I type in their cell and I'm done.
Nachteile:
I haven't found any cons other than my not being able to make changes because I'm not the initial person who set it up and I am the Manager of the company. There should be a way to override someone who is no longer here.