Was ist Reportz?
Reportz ist ein White-Label-Reporting-Marketing-Tool, das entwickelt wurde, um den Stress und den zeitaufwändigen Prozess der Kundenberichterstattung zu beseitigen.
Das Ziel ist es, die Erstellung von Kunden- und Managementberichten insgesamt drastisch zu beschleunigen und die allgemeine Qualität von allen Dingen zu verbessern, die eine wichtige Rolle spielen.
Entwickelt von Vermarktern für Vermarkter.
Wer verwendet Reportz?
Digitale Vermarkter, digitale Agenturen, Freiberufler, Webanalysten und alle anderen, die die Erstellung detaillierter und klarer KPI- und Zielberichte automatisieren oder Kennzahlen in Echtzeit verfolgen müssen.
Wo kann Reportz bereitgestellt werden?
Cloud, SaaS, webbasiert
Über den Anbieter
Four Dots
Ansässig in Belgrade, Serbien
2017 gegründet
Chat
Über den Anbieter
Four Dots
Ansässig in Belgrade, Serbien
2017 gegründet
Chat
Reportz – Videos und Bilder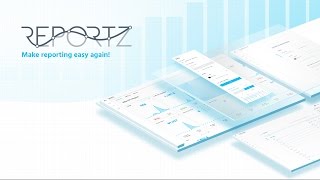 Kosten ähnlicher Produkte wie Reportz vergleichen
Reportz Funktionen
Ad-hoc-Berichterstattung
Aktivitäts-Dashboard
Anpassbares Dashboard
Dashboard
Daten-Connectors
Daten-Import / -Export
Datenvisualisierung
Drag-and-Drop
Einzelseitenansicht
Engagement-Tracking
Funktionen / Berechnungen
KPI-Überwachung
Kampagnen-Tracking
Konversion-Tracking
Leistungskennzahlen
Multi-Channel-Attribution
ROI-Tracking
Stichwort-Nachverfolgung
Suchen / filtern
Website-Analytik
Widgets
Zielsetzung / Nachverfolgung
Leonardo
Founder in Brasilien
Verifizierter Nutzer auf LinkedIn
Internet, 2-10 Mitarbeiter
Verwendete die Software für: Mehr als 1 Jahr
Simplify your Workflow with Reports
Vorteile:
If you do client work, you know clients want results, but, how to show those results with a simple language? Reports are your answer, but set reports and share the links in a meaningful way to clients is a time and resource demanding task, even if you use something like Google Data Studio. Reportz will simplify the workflow, because is a set and forget tool. You can whitelabel (which will make you a pro) and each customer have they own dashboard, that can be password protect. It's a really nice and neat tool
Nachteile:
I can't think about negatives, maybe, more tutorials on how to use the tool, but, support is always super responsive.
Antwort von Reportz
vor 2 Jahren
Hey Leonardo! Thank you so much for the kind words! Comments like these really make our day! I hope you will have a restful weekend. Regards, Reportz team
Glenn
Digital Marketing Executive in UK
Marketing & Werbung, Selbstständig
Verwendete die Software für: 6-12 Monate
In Betracht gezogene Alternativen:
Clean interface and fanatastic customer support
Kommentare: So far Reportz have delivered above my expectations. It's my first software tool I look at every morning.
Vorteile:
Clean modern Interface. Reliable automated customer reports. Easy to set up and presents the data effictively which is easy to understand.
Nachteile:
Absolutely nothing. I can't fault this software.
Antwort von Four Dots
letztes Jahr
Thank you so much for your awesome review. If you have any questions - be sure to reach out to us! :) Regards, Reportz team
Anders
Manager in Dänemark
Computer-Software, 2-10 Mitarbeiter
Verwendete die Software für: 1-5 Monate
Ripped me off. Took my money and closed my account. They take no responsibility for the tech issues.
Kommentare: Terrible. Avoid at all costs. They are not ethical or honest. They take no responsibility for the bugs in their system.
Vorteile:
You can create dashboards, when it works.
Nachteile:
Their founders, support team and their obvious lack of integrity. I had lots of tech issues in the beginning getting it to work. And it seems they also had issues with their redemption system because they claim I didn't redeem it. So they closed my account with no notice, despite having redeemed my AppSumo account on the first day of buying it. They don't care about you as a customer. I showed them the proof of purchase etc. They didn't care. Instead of fixing the problem, they tried to tell me about how "fantastic" their software was and tried to sell me a on a montly billed account.
Antwort von Four Dots
vor 2 Jahren
Hey Anders, We are more than sorry you think we "ripped you off". Reportz' AppSumo offer was launched in May 2018. And was live for the redemption of bought coupons for over 6 months. Although you bought a code from us - it seems you never actually redeemed it. You contacted us in November 2019, but Reportz switched to a 2.0 version in March the same year. After we updated Reportz to v2.0, we automatically closed the coupon redeeming process. The reason why we are 100% sure that you never redeemed your code is that we, on one side, had a lot of our users who forgot to redeem the code. And on the other side, we had a lot of users who thought they never submitted the code, but when we checked our database with the coupon they provided, we found their accounts and gave them access. As mentioned before, you are more than welcome to enjoy an offer we already gave you. We are sad about this misunderstanding, but we hope you will understand. Stay safe All the best from Reportz team
Miljenko
Chief Executive Officer in Kroatien
Verifizierter Nutzer auf LinkedIn
Marketing & Werbung, 2-10 Mitarbeiter
Verwendete die Software für: Mehr als 1 Jahr
Reveals Hidden Data
Kommentare: I really like it and my clients are also glad to have live reporting.
Vorteile:
I'll start with an example: If you are running Facebook Ads, you know that default reporting inside Facebook Business Manager is - limited! Also, it's messy. It would be cool if Facebook has its own analytics tool like Google Analytics, but it hasn't. Now questions: How would you serve your customers with easy, but comprehensive reports? Also, wouldn't it be awesome if you can offer them live reporting on the unique link created just for their eyes? And data is updating in real-time? Conclusion: If you agree with the past arguments, Reportz is the way to go! It offers live reporting with Facebook, Google, and other services. Fast, easy, intuitive, advanced and comprehensive. And it's being updated by the founders. The support is always the top in the class!
Nachteile:
Nothing concrete. Maybe the user interface could be a little bit more modern. But it's functional and that's important.
Antwort von Reportz
vor 2 Jahren
Dear Miljenko, Thank you so much for your feedback. Contact us via Intercom so we can provide you with your reward.
Verifizierter Rezensent
Owner in USA
Verifizierter Nutzer auf LinkedIn
Marketing & Werbung, 2-10 Mitarbeiter
Verwendete die Software für: 6-12 Monate
Reportz is good at what it does
Kommentare: This allows me to show my clients a snapshot of their health.
It helps me frequently show the clients the progress we have made on their marketing, adwords, SEO, and more.
Vorteile:
Reportz basically takes your permissions and organizes the data in various tools like Google Analytics Google Console LinkedIn Paid Ads Google Adwords Some third party SEO tools and more. It's really good at presenting the information in a "dashboard" like format so you can see the information really simply. It's also REALLY good for clients. I run a web agency, and it lets me upload special colors/logos for each of my clients so their dashboard has 100% their branding on it. I really like this feature.
Nachteile:
Some of the information available in the tools they hook into is hard to "get at" from Reportz. I am not sure if that is because the tools don't allow it in their api or if Reportz has just implemented a simplified set of accessibility.
Antwort von Reportz
vor 3 Jahren
Hey there! First of all, thank you so much for your kind words and your honest review! The issue you have with pulling the specific data is not a unique one and we've worked long and hard in the following months after your review and we came up with an entirely new widget creation process. Have you managed to play around with it? Be sure to let us know what you think about it. :)